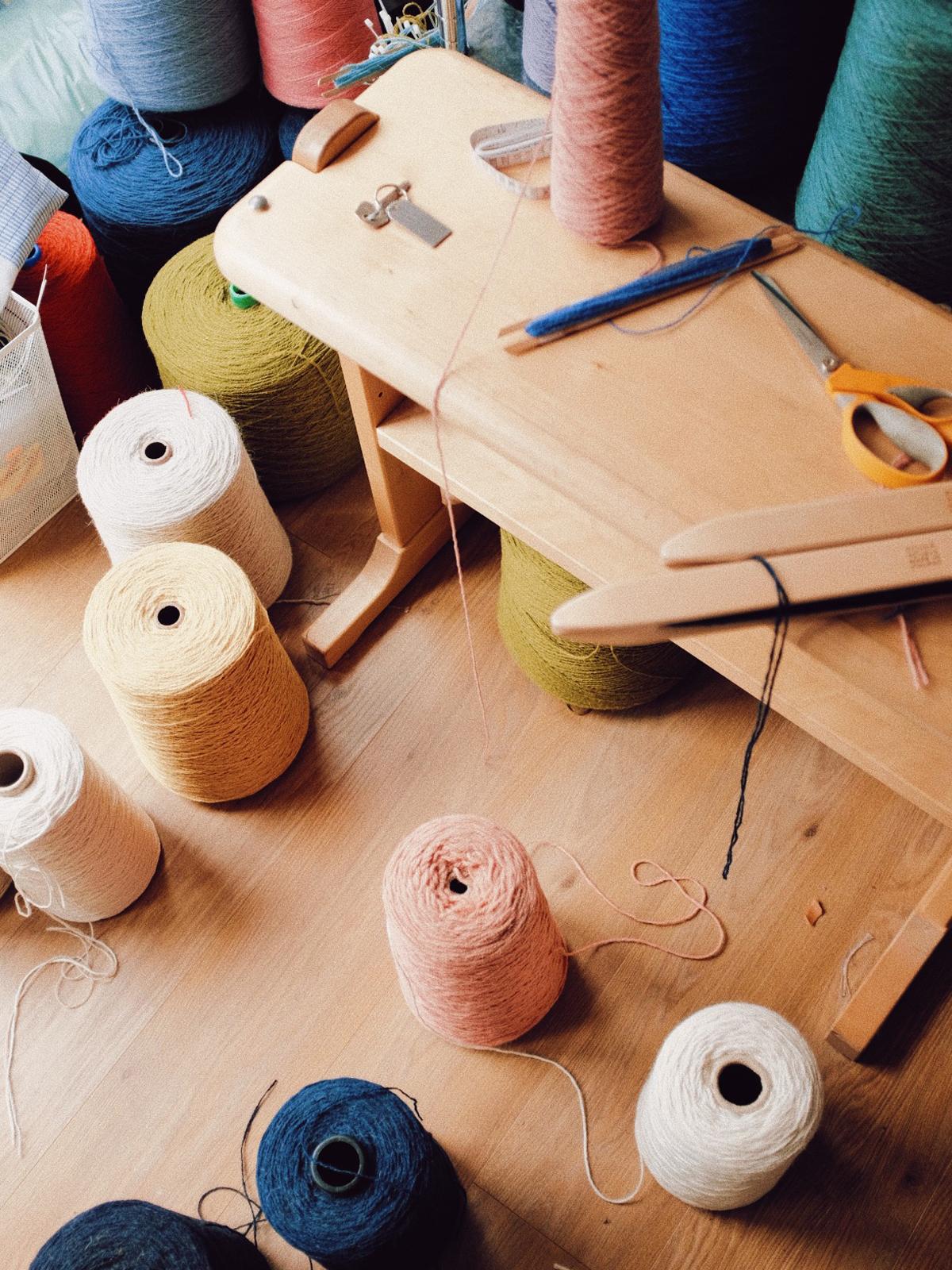 In the Studio
Epoch Textiles
Textile designer Sophie Reeves invites us into her garden studio to talk weaving creativity into historic techniques
Shop Epoch Textiles
With Epoch Textiles, founder and textile designer Sophie Reeves is seeking new creative freedoms within the hand-weaving tradition. Pushing the craft's female-driven history into the future, her Modernist rugs take an abstract approach, seen in vibrant colours and bold, graphic forms. She invites us for a closer look inside her London studio, opening up her practice and telling us how sustainable sourcing makes hers an artform with lasting impact woven through its core.
How did you get into textile design?
I studied textile design for fashion at Brighton and graduated winning the (now sadly finished) Texprint Award, which basically opened a lot of doors for me to be able to work in fashion textile design in various different countries and settings. After a few years, I had a real yearning to get back to designing things for myself, and making things for myself, so set up Epoch.
I think

with

confidence you feel

a

bit more empowered

to

take

from

all aspects

of

life

and

reflect it

in

your own practice.
How would you describe your style in your own words?
I'd like to think it's a mix of a Modernist approach to pattern, palettes which nod to contemporary fashion while still being a continuation of the rich history of female rug weavers.
What are your main sources of inspiration?
I would say this has developed over time. Originally, I was very much influenced by the Bauhaus school of thought, and obviously the elevation of female weavers like Annie Albers and Gunta Stölzl. But now I would say, over the course of designing and making so many rugs, I do find myself influenced by a much broader range of subject matter, whether that be abstract art or a contemporary fashion designer. I think with confidence you feel a bit more empowered to take from all aspects of life and reflect it in your own practice.
What style of prints do you find yourself most drawn to?
If I look around my house, it's a mix of abstract expressionist works combined with a more graphic, type and grid-based aesthetic. We're also lucky enough to have a peer group of friends who make art, so I've been able to get some beautiful paintings – in exchange for the odd rug!
Tell us a little about your space.
I'm lucky enough to currently have my studio in my garden. Originally, I was working out of a production space in London, like many of my peers, however, I think with weaving being such a labour intensive process, that separation from the loom itself wasn't ideal. With the physical aspect to weaving it's much more efficient to be able to take breaks every few hours and then come back to it rather than confine all the work into a regular working day. It's been relatively nonstop – with the amount of yarn I have, there's not a vast amount of space left for personal touches, so it probably does feel a touch un-customised. It's on the to-do list!
'Epoch' literally means "

a

particular period

in

history

or a

person's life" – I'd like my customers

to

feel that they're connected

to

one part

of a

whole
Can you talk us through your creative process?
I always start with a development warp, trying new structures and colour combinations. I started out making fabrics for fashion, so changing my process to creating finished products on the loom was a new challenge. But, as a process it's been a really beautiful transition; you come into the traditional technique of weaving rugs with a whole new approach as I am trying to balance out everything I do as a whole – thematically, palette and design-wise – in much the same way a fashion designer does. The word 'epoch' literally means "a particular period of time in history or a person's life" – what I'd like my customers to feel is that, although they may only own one rug or mini-rug, they're connected to this larger strand of all the pieces I've made for that collection at the time. One part of a whole.
How do you source your materials?
I source materials from surplus yarn from the carpet and rug industry in the UK.
Why is it so important to you to continue traditional craft techniques?
It's a slow process and that's why I love it, it takes you away from the busy-ness of modern life; you can't have distractions or you will make mistakes (which aren't easily fixed!). As mentioned previously, there's a rich history of women in textiles and what we're seeing in the art world with major retrospectives is that we're now in a different era where the idea of craft isn't relegated to being a step below the artist or designer – they can work together.
We're now

in a

different era where

the

idea

of

craft isn't relegated

to

being

a

step below

the

artist

or

designer
How would you describe the Epoch brand philosophy?
A little piece of life for your home.
What's next for Epoch?
Well, currently I've personally made every piece of work we've ever put out – while I'm really proud of that, it does somewhat limit the scaleability of what I do, so behind the scenes we've been working on how we can bring other British craft makers and textile producers who fit with my ethos to enable us to expand the range a little bit – think throws, cushions and soft-furnishings in general.