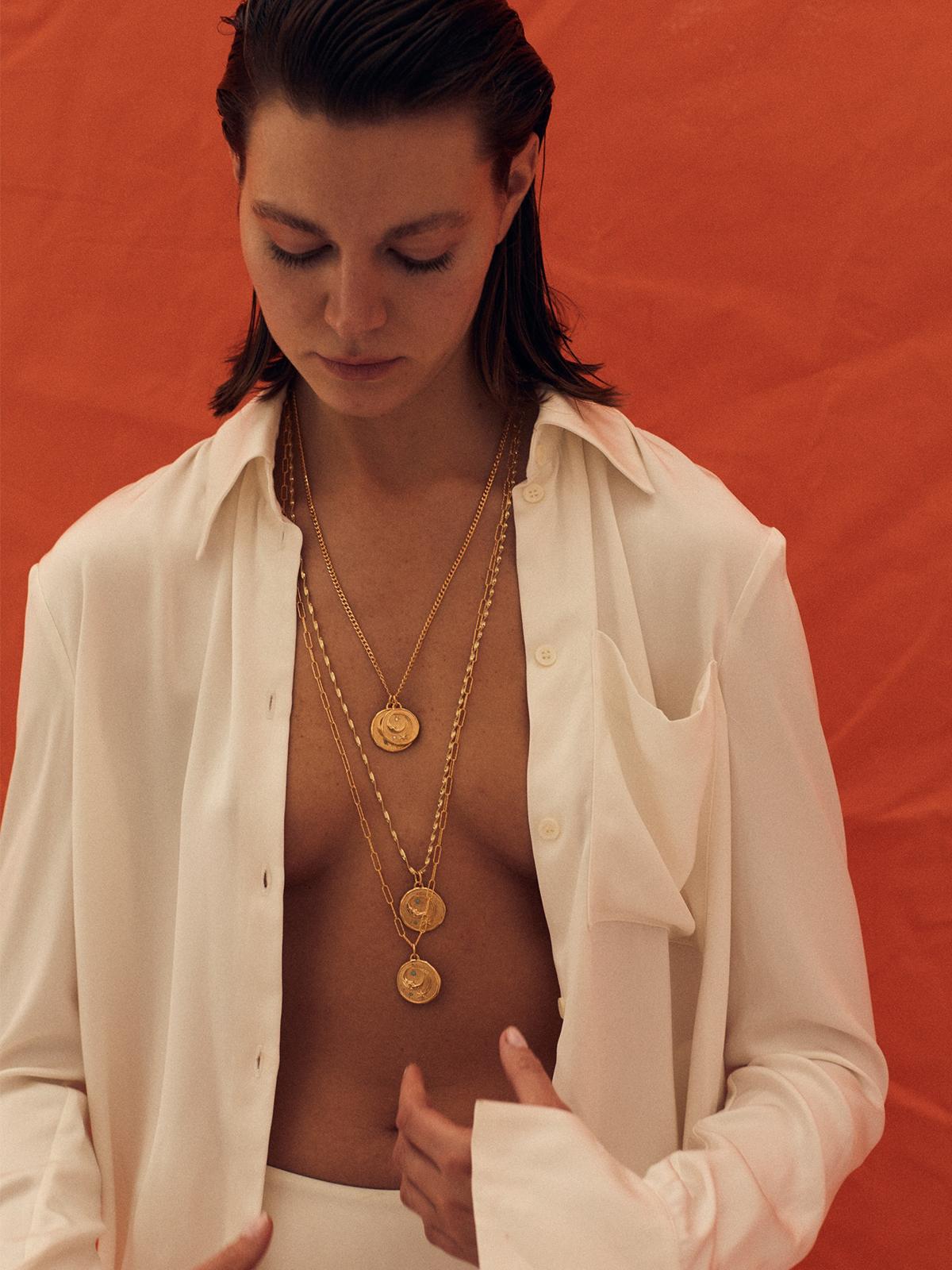 Mythology Redefined
Hermina Athens
Brand founder Konstantina Pantelous talks through her love for Greek mythology and her talismanic approach to jewellery design
Shop Hermina Athens
While working from home as a translator and mother of two, Konstantina Pantelous began making jewellery as a creative outlet that broke away from her everyday routine. With her love for Greek mythology acting as the main inspiration, her symbolic designs soon grew into a talismanic jewellery brand which she named after her daughter, Hermina. We spoke to the designer about how her respect for tradition and the beauty of imperfection translates into modern, charm-studded jewellery.
What inspired you to start Hermina Athens?
Everything started without much thought or planning. It was a personal need of expression for me. I started making handmade bracelets as a hobby that would help me concentrate on something creative. After giving birth to my two kids Achilleas and Hermina, and having a home office as a freelance translator, I seemed to be spending most of my time at home. This was a way for me to escape everyday routine by creating something that I love.
Have you always had an interest in jewellery?
I always loved jewellery with a bold character. I was never into dainty fine jewellery. I remember wearing my mother's faux statement pieces and playing dress-up. Everything that had a symbol on it, I adored. Tiger earrings, snake rings and pendants like old Lira coins were my absolute favourite. My taste for that type of jewellery continues today. Symbols and strong, bold, rough chains are my thing.
What made you decide to name the brand after your daughter?
When my hobby was taken to another level and started forming into a brand, I had to find a name for it. A name that would immediately make you think of a woman but would also have strong and positive connotations for me. My daughter's name was the first that came into my mind and I didn't have a second thought about it.
Greek mythology is one of your main sources of inspiration - what do you like about it?
Greek mythology fascinates me. It is so vast and magical. It is actually how Ancient Greeks explained the unexplainable and a very clever way for them to rationalise natural phenomena. It always amazes me how intricate and interconnected - and entertaining - Greek myths are. Almost like a mastermind has created them. I love the fact that Greek gods are not perfect. They all have flaws exactly like humans, making it so much easier for us to relate to them.
I

always

loved jewellery

with a

bold character. I remember wearing

my

mother's faux statement pieces

and

playing dress-up. Everything

that had a

symbol

on

it, I adored.
Are there any artists who particularly inspire you?
Inspiration is something that can come from anything. I mostly get inspired from feelings, movies and people that I meet. If I were to choose an inspiring artist it would be Salvador Dali and his surrealistic designs and uneven forms.
How would you describe your aesthetic?
This is actually something that changes and depends on many things. My aesthetic is definitely not minimal. I do think of myself as a maximalist but one that does not like to be over-the-top. Everything in moderation as Ancient Greeks used to say.
Why are imperfection and asymmetry important to you?
I think that flaws enhance beauty. They make everything more alluring.
How has Athens shaped the brand?
Athens is a big part of Hermina. It is a city with so many different influences. Not all buildings or neighbourhoods are beautiful but it is definitely not monotonous. It is vibrant, full of life and great juxtapositions and so many flaws and imperfections. Exactly how I like to think of Hermina jewellery!
Can you tell us about your studio?
Our new studio is in the centre of Athens, on the second floor of a neoclassical building that's over a century old. It matches the character of the brand so well as I think our pieces are classical in their core but look so modern and up-to-date. The high ceilings and the natural light that comes through the windows are the aspects I love the most. We make all the designs there, operate our e-shop and prepare all wholesale orders. Plus it is also a space for private appointments where anyone can come and view the collection and purchase anything they like. I am very excited about this new space.
How do your source your materials?
Through a careful selection of certified suppliers. We only import the materials that cannot be produced in Athens.
Greek mythology fascinates me. It

is so

vast

and

magical. It

is

actually

how

Ancient Greeks explained

the

unexplainable

and a very

clever way

for

them

to

rationalise natural phenomena.
How did you build your network of silversmiths and artisans?
We currently collaborate with three different workshops of silversmiths that construct all our silver elements. They are all based in Athens and within walking distance from our studio. The bonds we have established over so many years are very strong and I think of them as my loyal family. It is very important to know exactly who makes your products!
What are your favourite ways to wear and layer your jewellery?
I never take off my Anchor chain bracelet and Ammos cuffs. I love wearing these bracelets every day. It gives me a sense of comfort. It is not the same with necklaces as what I wear always depends on my mood and outfit. My everyday uniform is a basic tank top in black or white and lots of layers of chains and necklaces.
Do you have any idea what you next collection will look like?
We will continue on the same path. Bold charms and intricate chains combined with pearls and semiprecious stones that are unisex. We're planning to add a bit more of a surprise gem sparkle for winter.