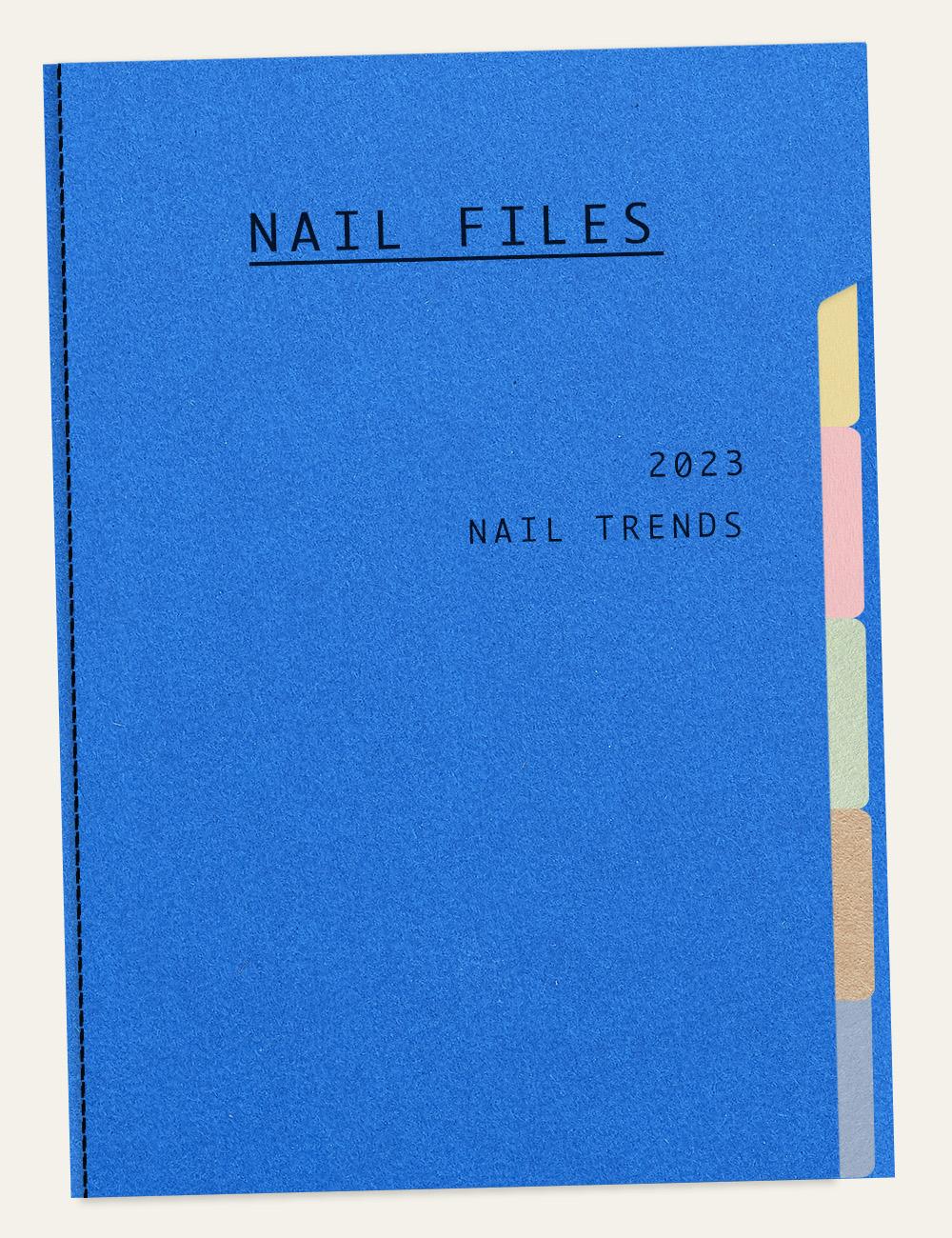 Julia Diogo's Top Nail Trends of the Season
Nail artist Julia Diogo takes us through her five top seasonal trends you need to know about
By: Laura Kennedy
Hers is the name to know in expert skincare manicures. Having built a stellar reputation and a social media following off the back of the signature skincare manicures that have beauty editors whispering reverently about amongst themselves, Julia Diogo (aka @paintedbyjools) will soon be bringing her unique expertise to Liberty. Expect perfect, detail-oriented work, an intricate, skin-first approach to hands and nails and (of course) the best manicure of your life. We asked Diogo to share her five top trends of the season, and now we're just left to wonder how soon we can try them all before spring rolls around.
Liquorice
There is something timeless about the liquid black finish of a perfectly groomed nail. Shorter nail lengths tend to make statement colours more wearable for every day, and Diogo has become known for creating her ultra-neat signature block black manicure. "It's just so elegant on everyone", she says, but it offers something more to people who feel a nude is too understated or a little boring. Go glossy or matte with your topcoat to add variety, though for a lasting manicure, keep in mind that a gloss finish usually proves more durable over time.
Georgian Blue
Georgian blue is as much a mood as a colour – both traditional and subversive, understated and daring. This classic navy shade works with every skin tone and is a contemporary reinterpretation of the classic winter nail. The boldness of the colour works with the clean lines of Diogo's work, creating a tasteful look that still somehow offers personality and just a little bit of bite. With a block colour, Diogo says, every detail must be perfect to achieve the smooth, perfected look her work is known for. "I finish the nail with Biosculpture Evo gloss top, which leaves the nail looking glossy and flawless".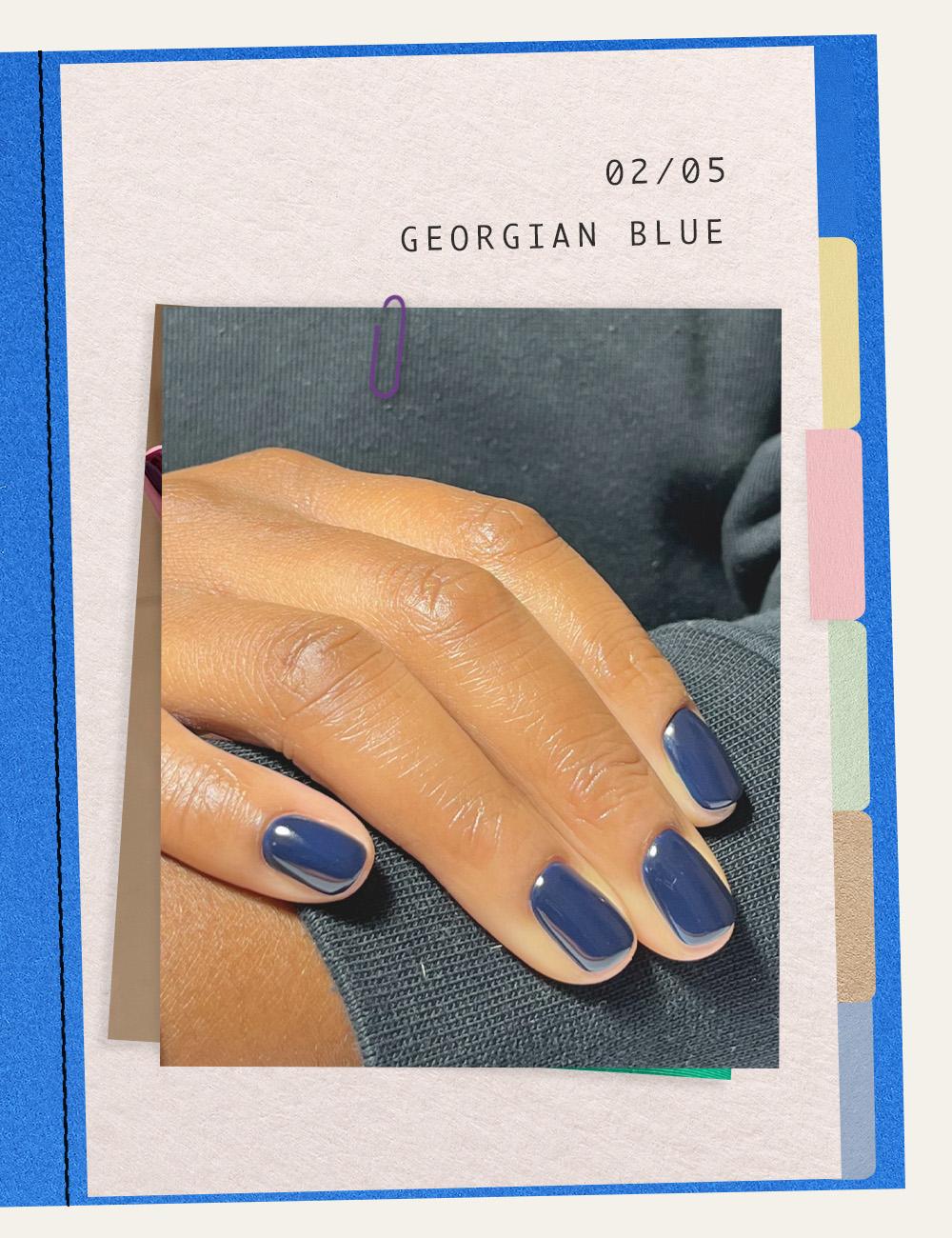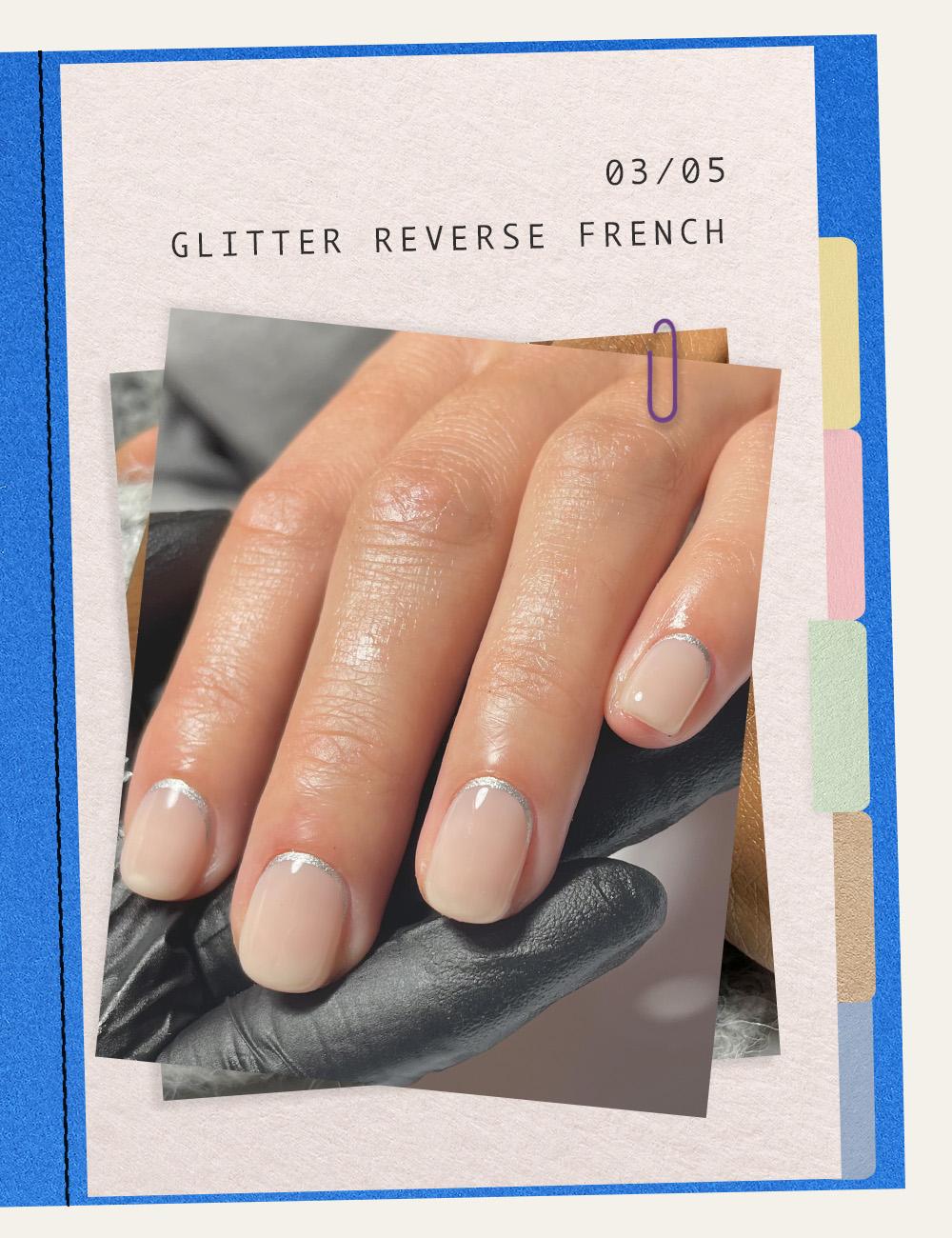 Glitter Reverse French
February may not be traditionally considered glitter season, but Diogo advises that there is a chic way to play with glitter right now; it just entails a less-is-more approach and embracing the unexpected. The Reverse French is all about ratios. "A nude base shade chosen to compliment your individual skin tone is applied to the nail", says Diogo, Then, the cuticle area of the nail is haloed with a whisper-thin seam of light-catching, molten sparkle rather than the tip – Diogo is known for her perfect, thinner-than-thin freehand lines. The effect is as subtle as it is luxuriant, says Diogo, "adding a little fun to the architecture and chic finish of this manicure" by inverting the classic French.
Black Micro French
Diogo declares that her tasteful and practical take on the French mani is going nowhere this season. To get the most of the look and pair practicality with aesthetics, Diogo says she usually keeps nails short, chooses a nude base shade designed to perfectly compliment skin tone, and then hand paints the black French tip. The result offers a little seasonal edginess but is also "super chic and elegant", Diogo says. "It can be adapted to all nail lengths, too", she advises, so if you prefer some length, the Black Micro French is still a great option.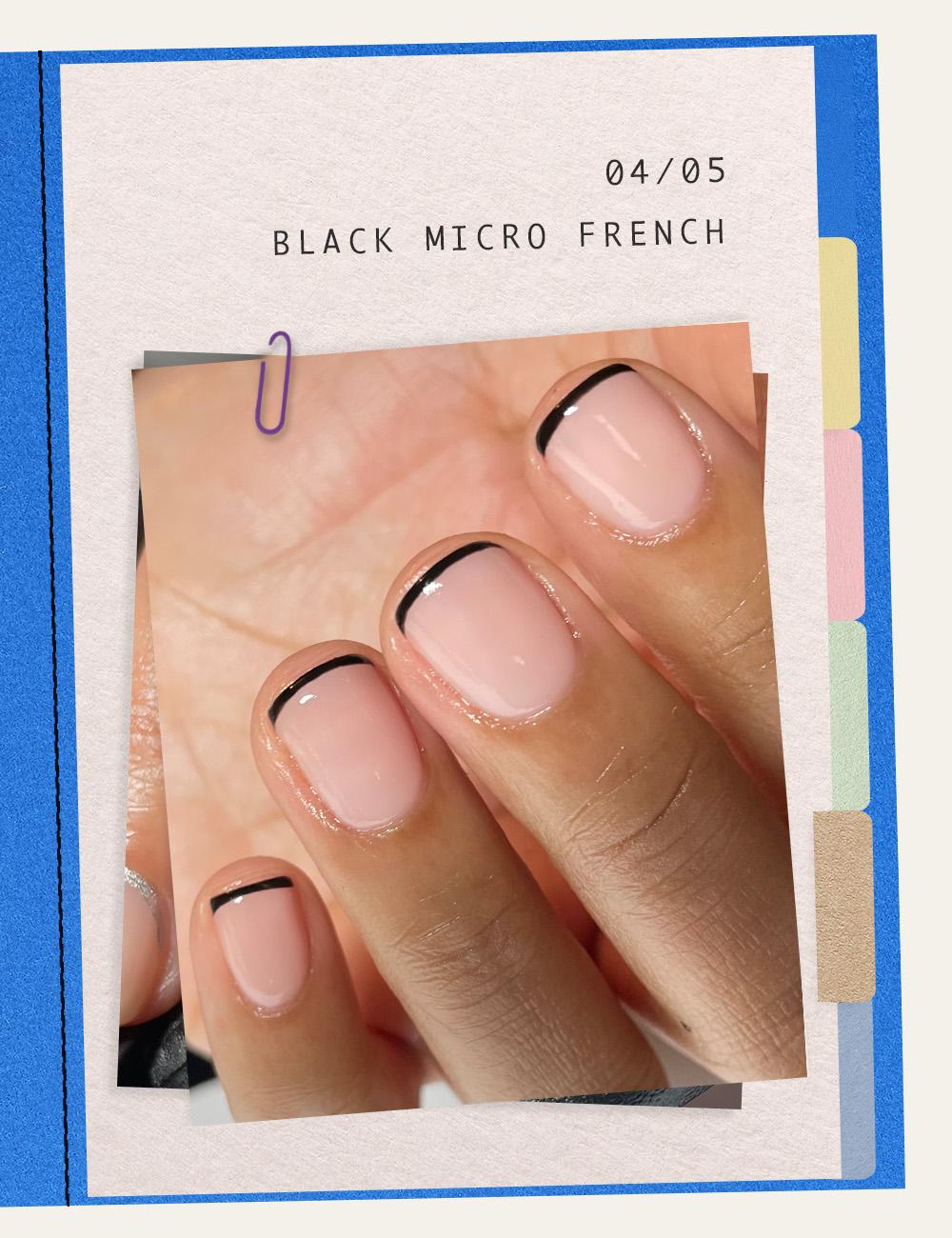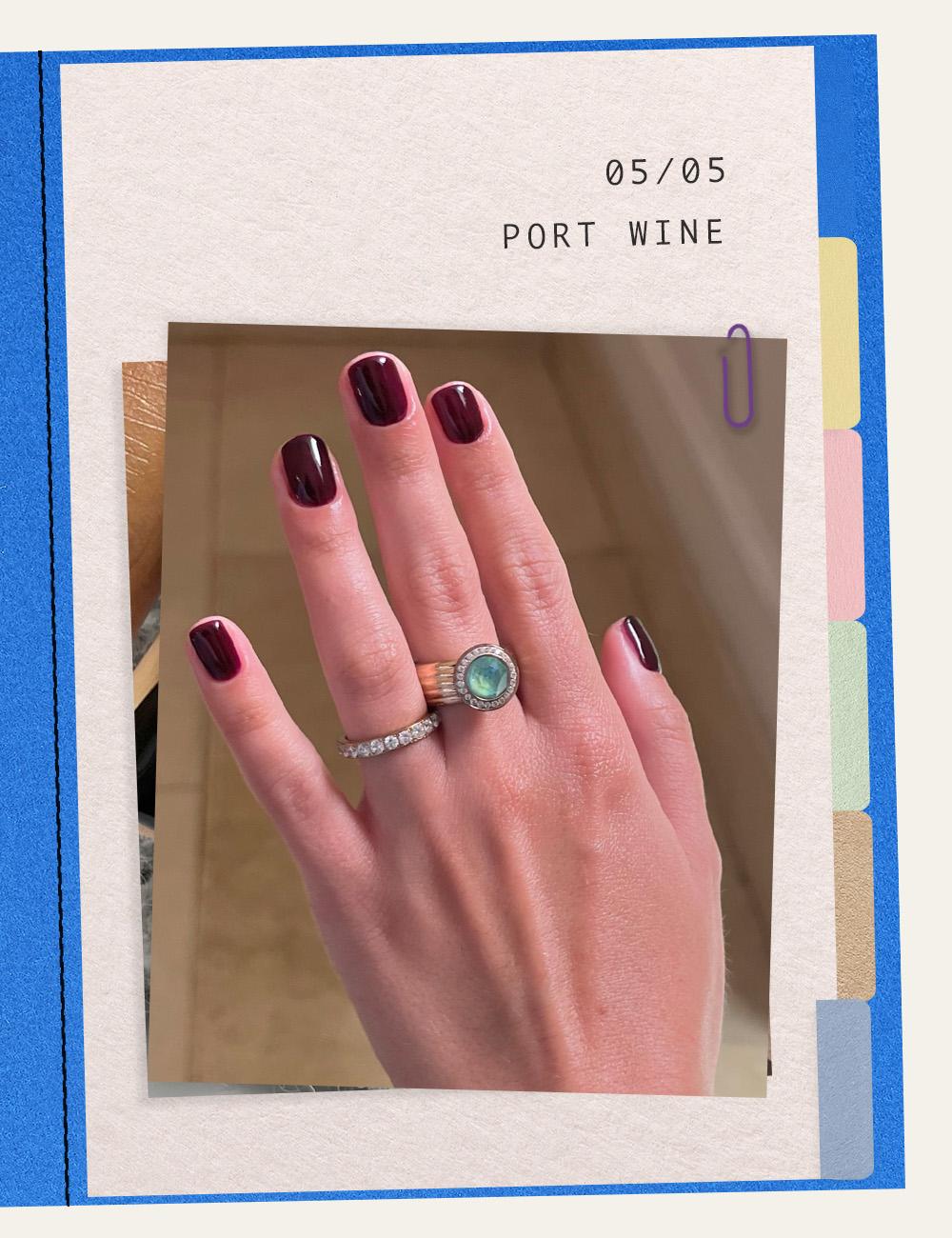 Port Wine
A scarlet nail may be timeless, but Diogo decrees that red's moodier older sister, which is closer to a port or Bordeaux shade, is adding depth this season. "It's an elevated, chic reinvention of the classic red nail", says Diogo, "and it goes with other seasonal tones, making you look instantly put-together." She's right – this shade works with everything from forest green or black to cream or beige, making it a staple for winter. Diogo favours a hyper-glossy topcoat to exhibit this rich colour to maximum effect, but you can also go matte for something a little bit unexpected and interesting.