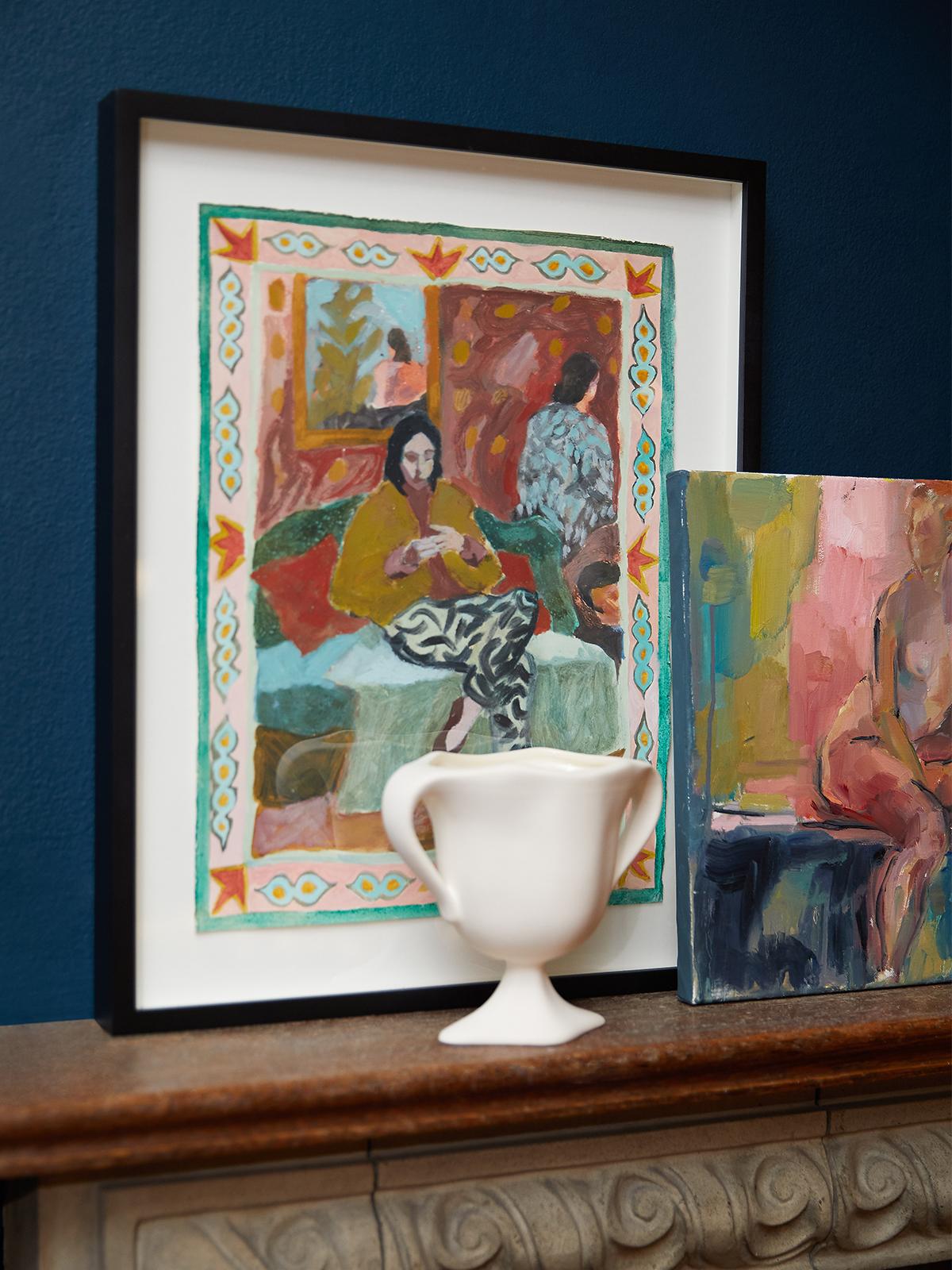 Artist in Residence
Katy Papineau
Inspired by William Blake's London, artist Katy Papineau filters observations through her imagination, bringing the focus inwards to realise intimate mixed media paintings
Shop Katy Papineau
By: Team Liberty
"In a very simplistic way, as a figurative artist, it's brilliant to live in a place where I always have so many people to look at," notes London-based painter Katy Papineau, who attributes her artistic understanding of the city to visionary poet, painter, and printmaker William Blake. "I usually carry a little sketchbook with me so I can draw my fellow passengers on the bus or tube."
Papineau discovered Blake whilst studying at the Royal Drawing school, and came to see London through his eyes – illuminated by his vivid explorations of poverty, revolution and the power of imagination. "Looking at Blake helped me understand how I could use painting to interpret my surroundings through the idiosyncrasies of my own mind," she says of the artist who resided in the capital two centuries before her. "He has a very particular way of interpreting and telling stories." Through his art, she learnt to filter tangible observations through her own creative lens; transforming external shapes and colours into themes she was considering internally.
I'm really interested

in the

idea

of a

home

and

what it means. How we choose to influence the spaces we occupy

and

how those spaces make us feel.
Although some of her "best experiences have been drawing outside on the streets of London", Papineau chose to turn her focus inwards – honing-in on interior spaces and their imposing intimacy. "I'm really interested in the idea of a home and what it means," she says. "How we choose to influence the spaces we occupy and how those spaces make us feel." It's an idea that has become all the more prevalent in the wake of the coronavirus pandemic: "A lot of my paintings depict a contemplative pause or lull. No one is talking, no one is doing anything in particular. And it does feel like lots of us are going through a big lull at the moment."
Papineau's riding out the 'lull' at her home in Newington Green, North London, which sits in the triangle formed by Dalston, Stoke Newington and Highbury. "I live on a street with lots of grass and trees," she shares. "It's perfect for people and dog-watching from the top floor flat I share with my boyfriend." Under normal circumstances, if she feels cloistered by her surroundings, visiting London's wealth of galleries restores her artistic rhythm. "I like going to draw from the early Renaissance paintings in the Sainsbury Wing at the National Gallery," she says. "Some of them are really imaginative, funny and strange. While I'm there I always go and look at Piero della Francesca's The Baptism of Christ and The Nativity, my favourite paintings in the gallery."
But far from inhibiting her creative practice, the London lockdown allowed her to be absorbed by the walls around her – and the spaces in which her fellow urbanites inhabit. Her mixed media paintings portray decorative interiors and repetitive patterns, deepened with texture and intensity – each one a fascinating study into the meaning of private space within a bustling city.