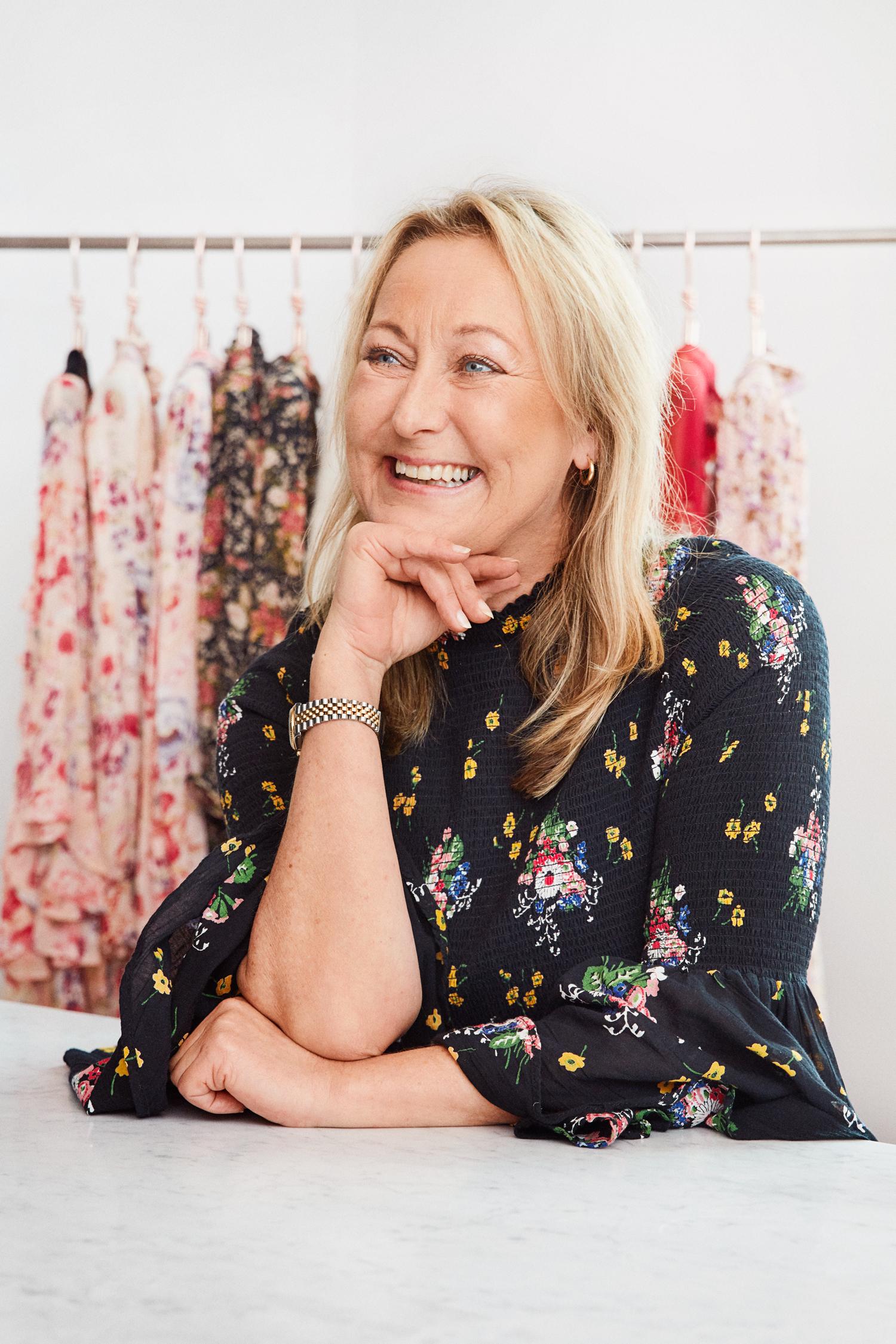 Beauty by Design
byTiMo
Norway's sustainable romance - byTiMo founder Tine Mollatt on forging a feminine brand that stays true to her values
Shop byTiMo
By: Team Liberty
Offering up a line of romantic, vintage-inspired dresses, Norwegian fashion label byTiMo is a leading force in its homeland's green mission – all thanks to environmentally conscious creative director and founder, Tine Mollatt.
"byTiMo is not what you necessarily think of as Nordic," says Oslo-based Tine Mollatt of the feminine, print driven fashion brand she founded in 2004. "It's not minimalistic or as clean as many other Scandi brands are." While byTiMo may not conform to Norway's 'functional' design approach, the ethical, eco-concious brand is undoubtably helping its homeland in its mission to become climate-neutral by 2030.
We work

with

long-lasting trends, long-lasting fabrications

and a

sustainable

and

ethical production process
After years of working in the high-street fashion industry, Mollatt grew tired of seeing unfair policies and low quality materials used to create cheap trend-driven clothing, so she forged a brand for the conscious consumer. "I wanted to create my own brand, a brand that had all my values," she tells us. "We only work with manufacturers and factories that have the same values as us, everyone is taken care of, and the production process is sustainable and ethical."
This drive for sustainability is fundamental to every byTiMo piece; all water is recycled during the small-scale production process, and the brand uses a slower dye process than the commercial style, which requires less chemicals. "We work with long-lasting trends, long-lasting fabrications and a sustainable and ethical production process." Mollatt reveals.
Mollat's design career is rooted in theatre, which is evident in her appreciation for fabrication. After training as a dancer, she began making costumes for the Oslo Opera House. "I loved everything about the colours, costumes, the curtains and the drama" she recalls. Today, flowing satins, transparent georgettes and soft, yet structured organza inform byTiMo's romantic, vintage-inspired aesthetic – but the pieces are toughened by a sense of strength and power. "I create for the 'new romantic' - the girl that likes to have a conscious relationship with what she wears and puts on her body, the girl that stands up for what she believes in." Mollatt tells us.
I create

for the

'new romantic' -

the

girl who likes

to have a

conscious relationship

with what

she wears

and

puts

on her

body
As well as environmental, Mollatt's designs are also a response to political and cultural issues. "I always have the current climate in mind when creating, may it be political, environmental or cultural" she says. "When I created the Spring Summer '19 collection, the world climate seemed quite uncertain and disruptive. With Donald Trump, Brexit and everything going on, I wanted to create a light and floaty collection to shed some lightness."
As with Norway, Mollat's mission isn't over yet. "We have always wanted to grow steadily and organically," she says. "We also dream of doing even more for the people at the factories we work with, perhaps creating our own factory, or working more with local production. I hope the keywords for the future are honesty and transparency, smaller scale productions, long-lasting and ethical."