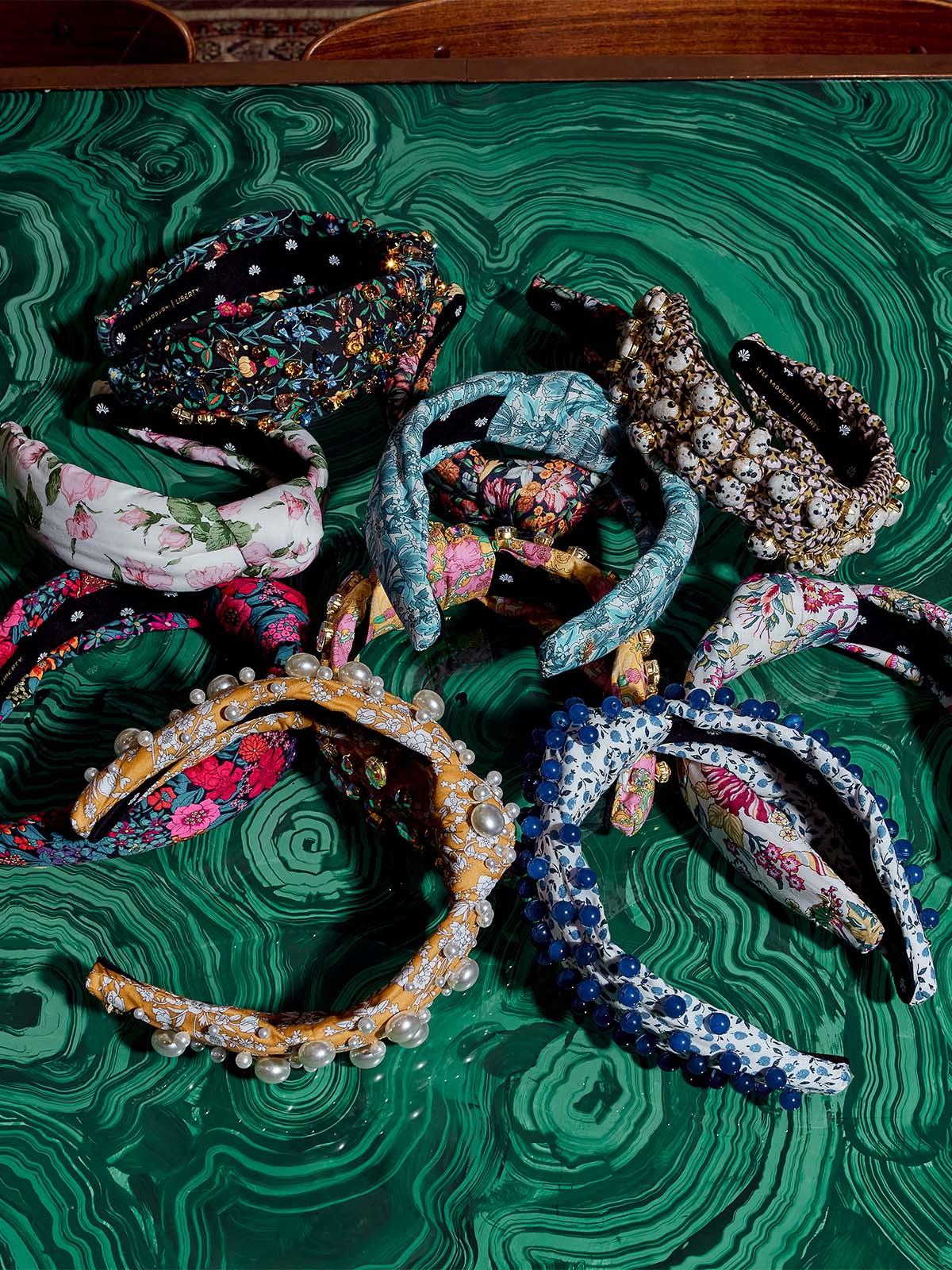 Craft on Craft
Lele Sadoughi x Liberty
The accessories designer gives us a behind the scenes look at her new and exclusive collaboration with Liberty
Shop the collection
In a meeting of two maximalists, Lele Sadoughi's signature embellished headbands and scrunchies have been reimagined in quintessential Liberty florals for an exclusive capsule collection. We spoke to the designer about her creative process and how her team transformed Liberty's inimitable Tana Lawn™ cotton into a collectable line-up of handcrafted hair accessories, adding an extra layer of craft to our iconic fabrics.
"To be able to collaborate with Liberty is a dream. I have fond memories of wearing Liberty dresses as a child, using Liberty fabrics as a trim designer in New York, and going to London to see my jewellery proudly displayed at the Liberty store."
I adore colour

and

selected prints

that

not only work alone,

but

together represent

a

rainbow

of

options.
"Our office is in downtown New York and I travel between there and Dallas to see my team. We have all experienced a different process this year, and this collaboration was made possible by sending swatches back and forth and working with the Liberty team over video calls."
"It was a thrill to not only go through the new winter collection, but also have the opportunity to sift through archival and classic prints. I adore colour and selected prints that not only work alone, but together represent a rainbow of options. I believe our ten print collection perfectly represents the bold florals, ditsy prints, geometric lines and classic florals."
My process

to

select prints is usually emotional,

so

I go

with

my first instinct. I am always drawn

to a

tonal palette

with a

few pops of colour.
"My process to select prints is usually emotional so I go with my first instinct. I am always drawn to a tonal palette with a few pops of colour, such as a dash of magenta against a dark forest green, a turquoise amidst calming blue, or a classic pink next to an unexpected muted amber."
"We work a few seasons ahead to make sure we produce everything on time. Not only are all the headbands and scrunchies hand knotted and hand assembled onto each band or elastic, but the embellishments are also applied by hand and take months to create."
Not only are all

the

headbands

and

scrunchies hand knotted

and

hand assembled

onto

each band

or

elastic,

but the

embellishments

are also

applied by hand

and

take months

to

create.
"There is no formal process to choosing the embellishments. I like to bring out the prints, so often I incorporate complimentary crystal colours or pearls against a creamy print. I try to keep it unexpected with bold, chunky pieces on a dainty floral, or small sprinkles of crystals on a bold print."
"I'm thrilled that our headbands have become collectable. Like the prints of Liberty, they are seasonless and can be worn for years and decades to come. We have so many ladies of Lele who collect our headbands and scrunchies and share them with their communities. They are beautiful to look at and instantly make a statement."