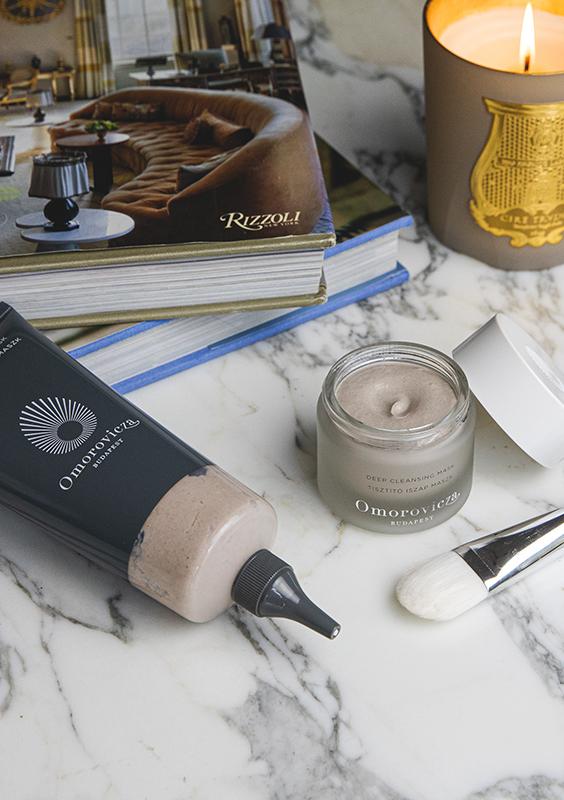 Top Tips to
Take Down Blemishes
From maskne to hormonal breakouts, consult our guide to address blemish-prone skin
Shop Acne Treatments
One of the most widespread and challenging concerns to tackle, it can take years of trial and error to get to grips with acne – and, with face masks added into the mix, unwanted spots are even rife among those who've never had them. So, whether you're breaking out for the first time or you're accustomed to the battle, consider making these small switch-ups to find your blemish fix…
Deep Cleanse
Omorovicza Deep Cleansing Mask
Pore blockage only leads to blemishes – so, when skin feels oily, congested and out of control, deep cleansing is essential for stopping impurities in their tracks. Omorovicza's Deep Cleansing Mask is a white clay-based detoxifying formula that deep-cleans pores from the inside out. Use regularly to keep a tab on problem skin, or apply topically as an overnight spot treatment that shrinks pimples by morning.
Shop now
Double Cleanse
Dermalogica Clear Start FlashFoliant
For stubborn breakouts and persistently dull complexions, employing AHAs and BHAs at the beginning of your routine will wipe out pore-blocking dead skin cells, paving a squeaky-clean path for the skin care that follows. Dermalogica's Clear Start range is well-versed in blemish control – and this exfoliating cleanser addresses existing breakouts, whilst keeping future ones at bay. Use it to rebalance skin after cleansing away dirt and makeup with a gentle, conditioning formula.
Shop now
Embrace Acids
(MALIN+GOETZ) Resurfacing Face Serum
The idea of acids may be daunting, but the right ones in optimum concentrations prove a wonder treatment for spots. This clarifying miracle serum by (MALIN+GOETZ) features glycolic and lactic acids – both AHAs which occur naturally in foods – to perform scrub-free exfoliation, absorb excess oil and smooth skin texture. Get ready to glow.
Shop now
Upgrade Your Tools
Decree Scrupulous Cleanse Technical Wash Cloth
One for the skin care minimalists who know that when it comes to breakouts, sometimes less is more – this technical wash cloth from Decree buffs away makeup and impurities with the simple addition of warm water. A saviour for sensitive skin types that are averse to change.
Shop now
Hit the Spot
31st State Spot Control Gel
Prevention is always better than cure – but skin sometimes misses the memo. Keep a topical solution on hand to stop pimples in their tracks; this clean formula is armed with acne-averse tea tree, anti-inflammatory witch hazel and antibacterial manuka to answer your complexion's SOS calls on cue.
Shop now
Hydrate!
Le Labo Basil Face Lotion
Don't be tempted to skip the hydration step in lieu of an oily complexion; fulfilling skin with the moisture it needs actually prevents sebum hyper-production. A luxury problem skin is likely long overdue for, this moisturiser from Le Labo's Sensory Personal Care range prizes soothing chamomile, hydrating shea butter and antioxidant apple extract – as well as an expert basil and verbena scent.
Shop now