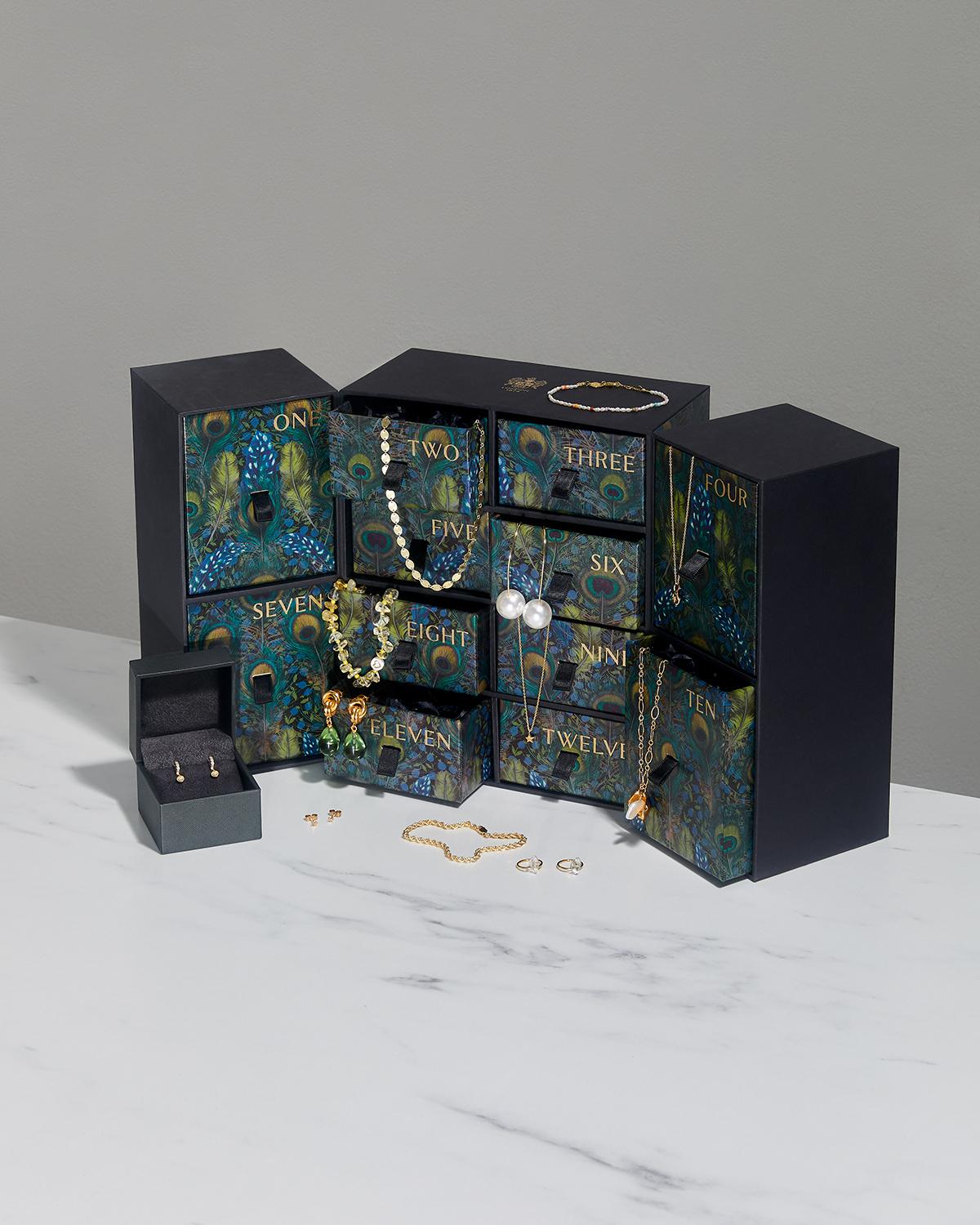 The 12 Days of Jewellery Calendar Is Here
If you're going to get your hands on Liberty's brand new jewellery countdown, you'll need to move fast
By: Team Liberty
First, Liberty brought you the Beauty Advent Calendar, the industry's original, packed full with cult products to revolutionise your routine. Next came the Liberty Men's Advent Calendar, a curated edit of the very best in men's grooming and beyond. But in 2022, prepare to covet an entirely new kind of countdown: The Liberty 12 Days of Jewellery Calendar.

A treasure trove of jewellery hall gems, each of the 12 drawers contain a new piece you're bound to love, from sweet, sentimental pendants to the kind of earrings that go with just about everything. In other words, it's an entire capsule wardrobe of jewellery pieces for every outfit eventuality.

But – and it's a big but – if you want to get your hands on one of these limited edition calendars, you'll have to move fast. So first add yours to basket and then read on for a little more insight into Liberty's brand-new festive countdown.
How Much Is the Liberty 12 Days of Jewellery Calendar?
Offering exceptional value, the brand new Liberty 12 Days of Jewellery Calendar costs only £845, yet houses over £1,400 of incredible jewellery finds from all four corners of our iconic jewellery hall.
What's Inside the Liberty 12 Days of Jewellery Calendar?
Liberty's expert jewellery buyers have meticulously selected a tight edit of incredible jewellery finds from brands you'll know, love and no doubt own, as well as some under-the-radar labels bound to become your future favourites. Expect a mixture of everyday earrings to stackable pendants and even joy-inducing, mood-boosting bracelets. Those who like a surprise, avert your eyes, otherwise (spoiler alert), here's what you'll find inside:
ANNI LU Tutti Bead Pearl Bracelet
DINNY HALL Bijou Mini Star Pendant
BY PARIAH Rose Cut Gem Hoops
SHYLA Chunky Knot Earrings
LIBERTY 9ct Gold Ianthe Star Diamond Pendant
LIBERTY 9ct Gold Plain Chain Necklace
ASTLEY CLARKE Polaris White Sapphire Earrings
KENNETH JAY LANE Long Wire Pearl Drop Earrings
TBALANCE Citrine Gold Heart Crystal Bracelet
OTIUMBERG Gold Eternal Twist Bracelet
AURUM & GREY 9ct Heart Stud Earrings
ALIGHIERI Exclusive The Globe of Night Necklace
RACHEL JACKSON Sunburst Chain Necklace
Is the Liberty 12 Days of Jewellery Calendar Worth it?
We've certainly made sure that it is. Our expert jewellery buyers have hand-selected 12 precious pieces from across the full spectrum of fashion and fine jewellery brands, each one versatile enough to slide seamlessly into any wardrobe. Designed to offer a little uplift in the odd downtime between Christmas and the New Year, our 12-day countdown makes for the perfect gift, or even a treat for yourself, kickstarting your jewellery collection for 2023. Better still, you get a lot of bang for your buck. Aa mentioned, the 12 Days of Jewellery Calendar houses an impressive £1,400 worth of jewellery gems yet costs only £845.
When Does the Liberty 12 Days of Jewellery Calendar Go on Sale?
The Liberty 12 Days of Jewellery Calendar has finally hit shelves, but with only a limited number of these special collections available, you'll need to shop quickly. Once secured, be sure to return to our interactive unboxing which fills you in on why you'll love each and every piece.
Need a jewellery fix before launch day? Let us take you on a whistlestop tour around Liberty's iconic jewellery hall…
Those unsure how best to elevate their jewellery collection, let Liberty steer you in the right direction with our latest drop of expert advice and curated shopping edits
Translating Liberty's artisan craftsmanship and rich history of design into a new, wearable form, Liberty's own jewellery line are future heirlooms in the making.
In search of a fresh jewellery find? Discover Liberty's line-up of (or new-to-you) jewellery designers to inspire your next purchase.