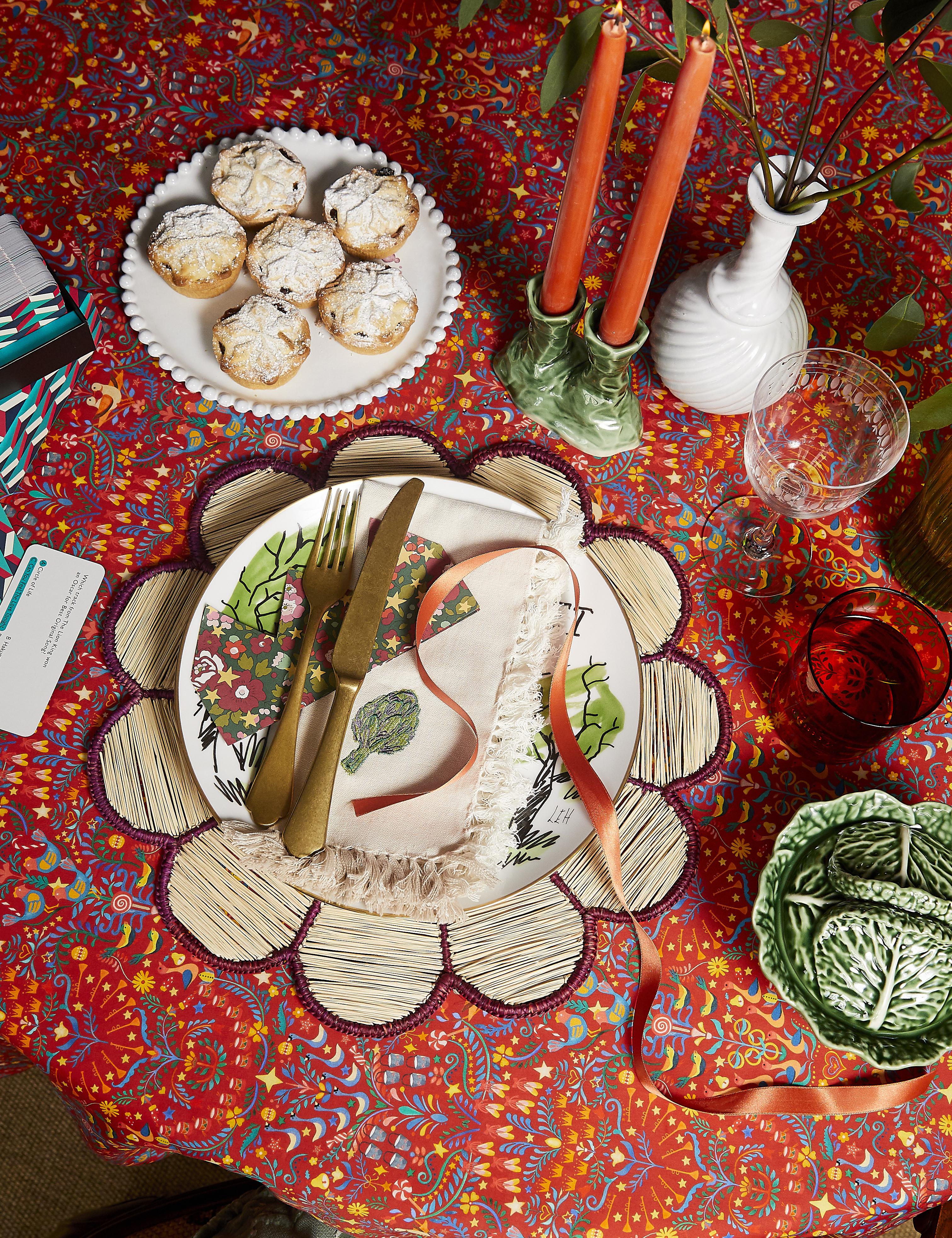 The 'Scape Artist
Make Your Feast Extra Festive This Christmas
From the traditional red and green through to a more subtle sense of festive style, these are Liberty's favourite Christmas table ideas
By: Charlotte Olby
Let's face it, we all know the best part of Christmas is gathering around the table with your loved ones to tuck into a veritable feast of spuds, sprouts and stuffing. There is truly nothing more merry than spilled gravy, strewn crackers and bubbles aplenty. But on top of planning the perfect dinner party menu and gifts for everyone on your list, creating a magic (rather than manic) Christmas dinner table can end up on the bottom of your to-dos come December 25th. Your dining table is the spot where you make some of your fondest memories, and Christmas is no exception, so it pays to make the most of your holiday tablescape. Whether you're hosting this year, or relegated to the kids table at Grandma's, here are our favourite table decor looks for this festive season. 'Tis the season, after all.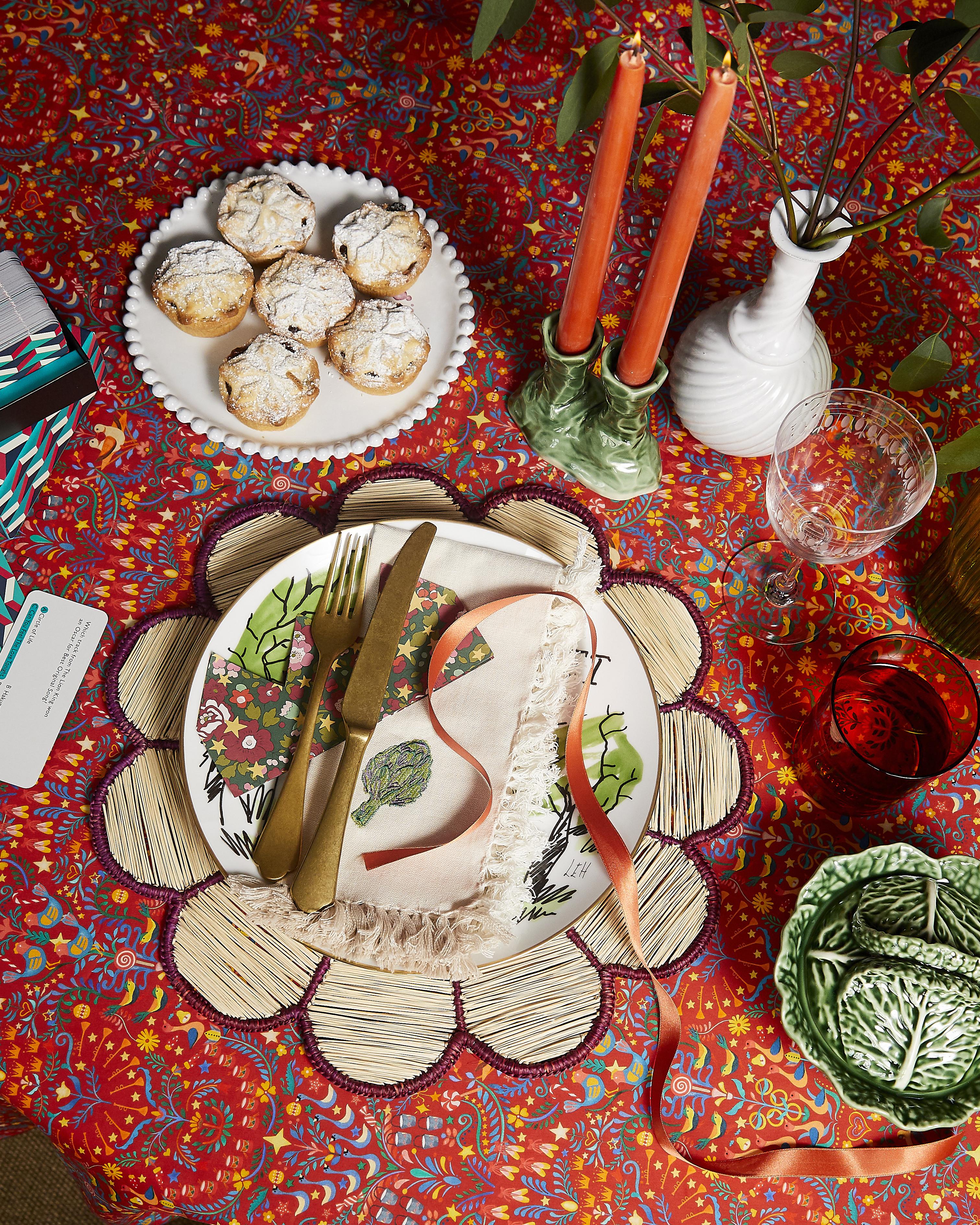 The 12 Days of Christmas Table
If you're a festive traditionalist through and through, we're talking forest green and berry reds, this might just be the setting to invoke the Christmas spirit in you. There is immediate comfort in the time-honoured colour scheme that runs through our Limited Edition Liberty 12 Days of Christmas Tana Lawn™ Cotton, £29.95 - featuring pear trees, swans swimming and lords leaping - and encourages a playfulness when used as a canvas for your place setting.

To keep the look fresh and modern, select the brightest berry red glassware and look for patterns in your crockery and table linens that sit happily together without being too matchy-matchy. For any dinner, the most special moments are in the detail, so once your table is set create a magical atmosphere with candlelight, mince pies and gag gifts to promise extra big smiles round the table.

This is the place to add extra dimension with scents of spruce, spice and clementine and get crafty with your own #LibertyCraftClub tablecloth project, home-made place names and simple foliage arrangements. Celebrate togetherness in style by providing each guest with a Liberty beauty or accessory cracker, and dot table games around so that there's fun to be had between courses. Don't forget to feast liberally.
The Instagrammable Table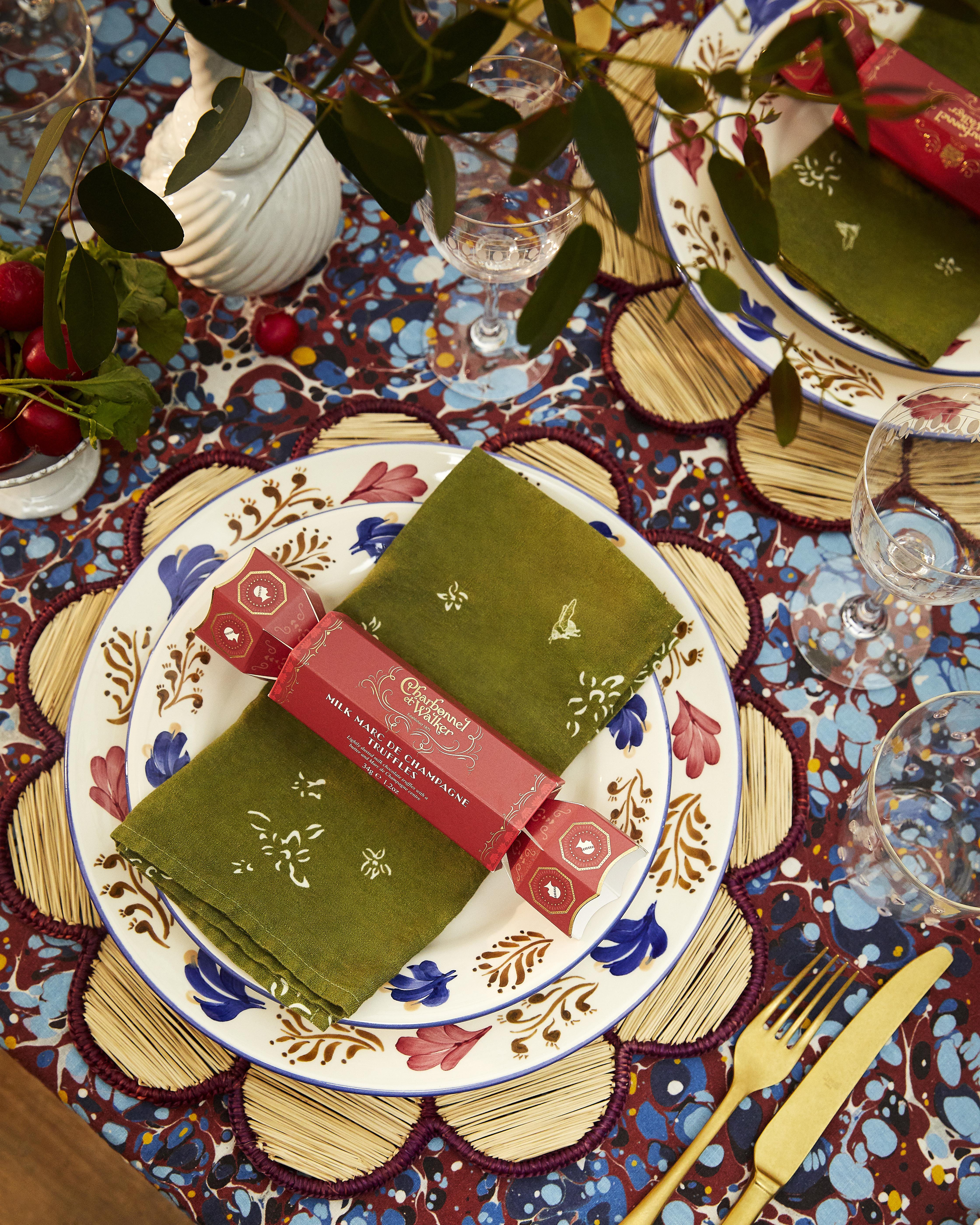 For those of you who are looking to serve up a visual feast without being too overtly festive, this look is opulent enough that it is sure to impress your guests while the pieces can be reused from season to season. From fall-inspired centrepieces of abundant finds from the vegetable patch to marbled linens and hand-painted crockery, this tablescape has all the components of a viral sensation.

Start to build your table with a statement dark tablecloth from Summerill & Bishop, then choose your mainstay: the charger plate. A scalloped edge instantly brightens up the table and helps to bring in a natural element with handwoven raffia. But, there are no rules here. Try rethinking the typical Christmas colour scheme with warm burgundy and fern greens, accented with gold in the small details. Mixing in vintage-inspired pieces by Astier de Villatte work a treat for this look and give your stage a final flourish with chocolate-filled crackers.

Perhaps best suited to a Christmas breakfast, Boxing Day brunch or family-style dining, with platters of shareable treats, this place setting picks a theme and runs with it unabashedly - and without formality. Keep a bar cart nearby to create a home bar for post-dinner cocktail making and allow the festivities to spill into New Year's and beyond.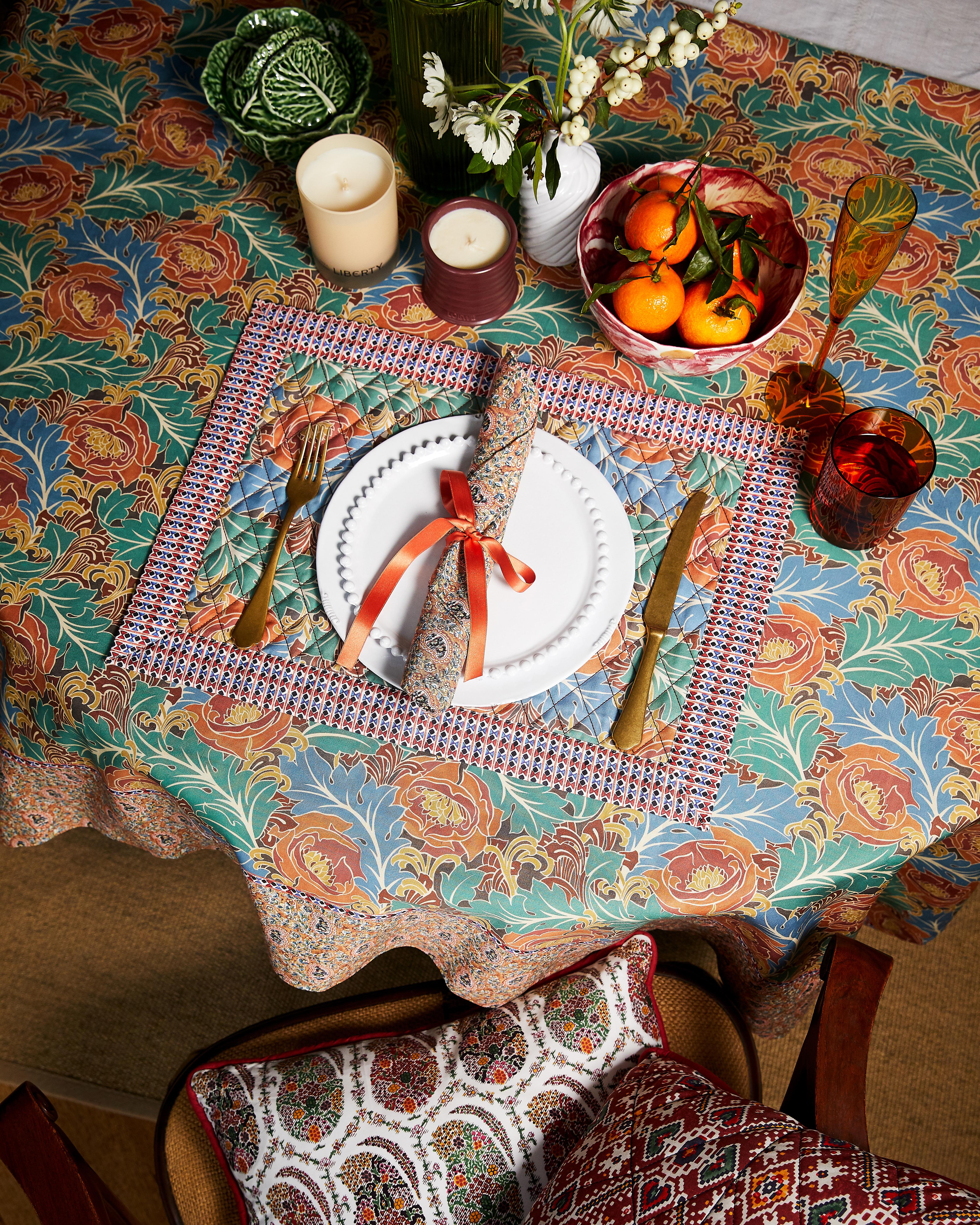 The Cabana x Liberty Table
Decking your entire home (not just the halls) for Christmas can feel like a mammoth task. If you're looking to get ahead early without filling your home with nutcrackers in November, an unconventional Christmas table gives you the tools to wow your friends and family all winter long.

Adding a little extra flair to the table can exalt your Christmas meal from a meal to an unforgettable dining experience. The Cabana x Liberty collection's signature Edwina Poppy tablecloth, £425 is evidence that non-traditional Christmas colours work well and by adding pattern-on-pattern, your table offers an element of eclecticism. The collaboration, which takes its inspiration from both creative houses, hammers home the notion that Christmas is a time for extravagance; this isn't the time to do anything by halves. Be generous with your decor, fill it to the brim with colourful glassware and create a cosy ambience with candles in all candles and sizes (just be sure to not layer too many conflicting scents). Keep everything cohesive with a rich colour palette and make dinner a comfortable affair with plenty of cushions on chairs – don't forget, you're in it for the long haul.

The best tablescapes will consider everything, right down to the smallest touches. Think adding ribbons to napkins, sprigs of rosemary and pine cones for place settings and bowls of season fruit. Invite friends and family to find their seats, toast with eggnog and let the eating begin.