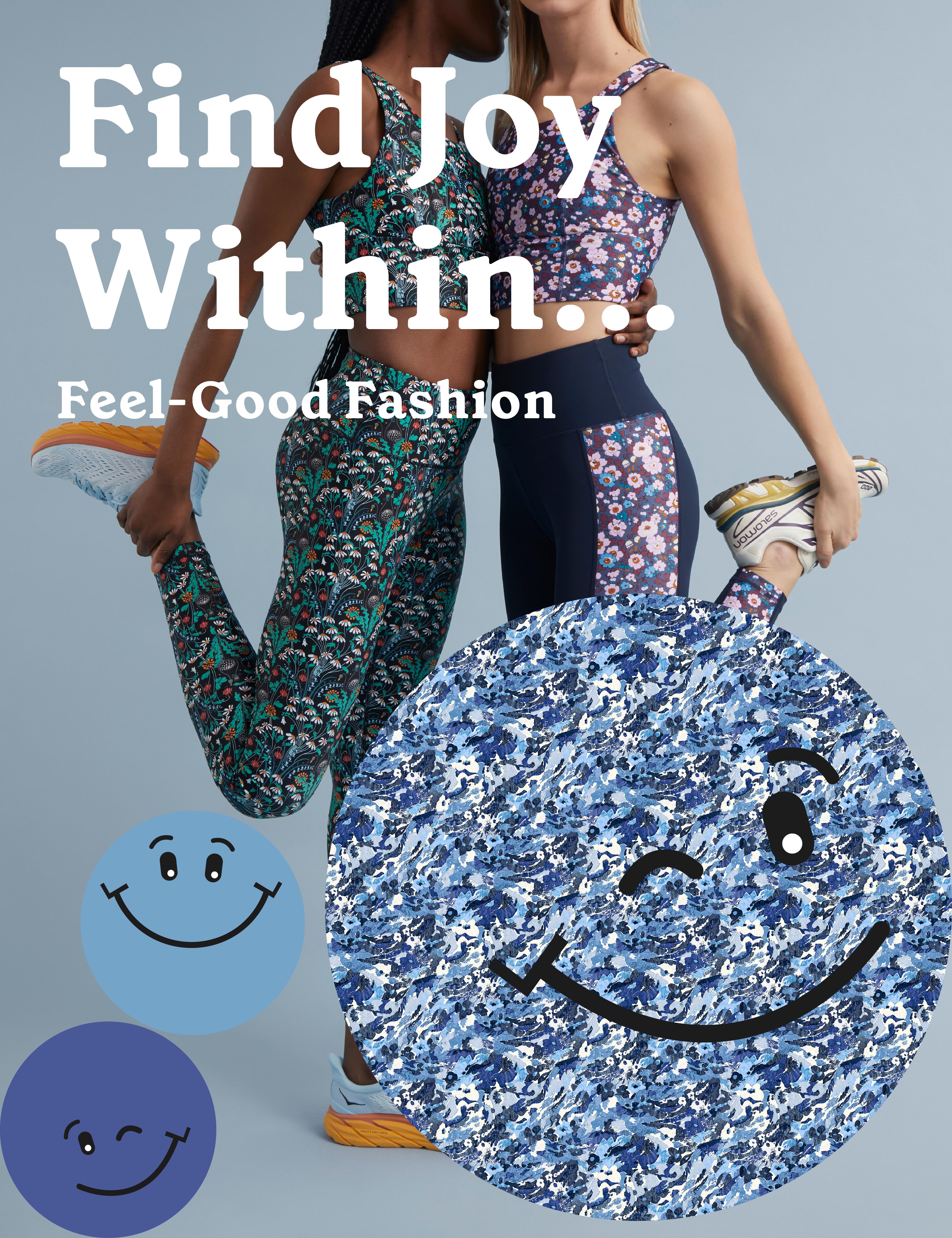 Find Joy Within
And Breathe: Liberty's Stress-Free Guide on What to Wear to Yoga
Are yoga classes part of your 'new year, new you' initiative? If so, here's what to wear
By: George Elliot
So you've vowed to take up yoga this January, right? As a new year's resolution you actually plan on maintaining this time around? When it comes to this mind-enhancing, body-stretching promise, your outfit can either help or hinder your meditative state, so requires careful consideration. That's where this handy Liberty guide comes in. Featuring the five fundamentals every budding yogi needs, your path to a boosted mind, body and soul starts here…
The Leggings for Loosening Up
Bending into 'downward facing dog' from 'cobra' is, well, a bit of a stretch, so getting a pair of leggings that aid your flexibility like Liberty's Betsy Panel Leggings, £95 should be first on your to-do list. Developed with both comfort and movement in mind, their figure-hugging fit is designed to be supportive and flattering. Prefer to go all-out with prints? If so, the Alpine Leggings, £95 - patterned all-over in hand-designed Liberty florals - are perfect for maximalists on the move.
Shop now
The Top of the Class
Your tops should be silhouette-shaping too; anything baggy will either ride up when you're extending your arms or fall down awkwardly around your neck when arched over. To avoid such frustrations and to keep your zen state intact, look to Liberty's Betsy Running Top, £135 with its relaxed yet form-following design of breathable body panels. Yoga might look serene, but its positions make most break a sweat - especially in 'hot yoga' classes. Cut for extra ventilation, Liberty's Alpine Crop Top, £65 will keep you cool, calm and collected.
Shop now
The Extra Layer
Signed up for studio-based classes? Maybe you fancy alfresco yoga in the great outdoors instead? Either way, it's worth having an extra, cold-cancelling layer to slip into if needs be. Ganni's Smiley Relaxed T-Shirt, £85 will help keep any chill at bay and with its logo embossed design, it'll keep style seekers on trend with logomania too. You'll also need to get to and from the session, which is easier said than done at this drizzly time of year. Made from a water-resistant ripstop fabric that's adorned in an iconic Liberty print, the Betsy Windbreaker, £195 proves that practicality and artistry needn't be mutually exclusive.
Shop now
The Helpful Hair Accessories
Hair accessories may be smaller but they play a big role; the last thing you want to be doing is fumbling around trying to keep a piece of hair out of your face while the class changes position without you. Enter: THE UNIFORM's Velvet Padded Headband, £40. Available in a variety of colours to suit your look, this exercising essential will lock in your locks nicely. To further fix in place any unruly strands, opt for Tort's Cora Hair Clips Set of Two, £45. With 90s fashion trends back in fashion's favour, they'll earn you style kudos too.
Shop now
The-Bigger-the-Better Bags
Last up: a bag that's big enough for your non-sartorial essentials (think: mat, water bottle, yoga strap and brick). Liberty's spacious, technicolour Dawn Iphis Marlborough Tote Bag, £550 is fit for purpose and doubles up as a rather elegant work bag. If you're more of a minimalist, forget the little black bag and instead get yourself a BBB (a big black bag) instead. Crafted from durable nylon ripstop and complete with a transparent branded card slot to the front (ideal for a gym membership card), Acne Studios' Post Ripstop Tote Bag, £330 comes highly recommended.
Shop now