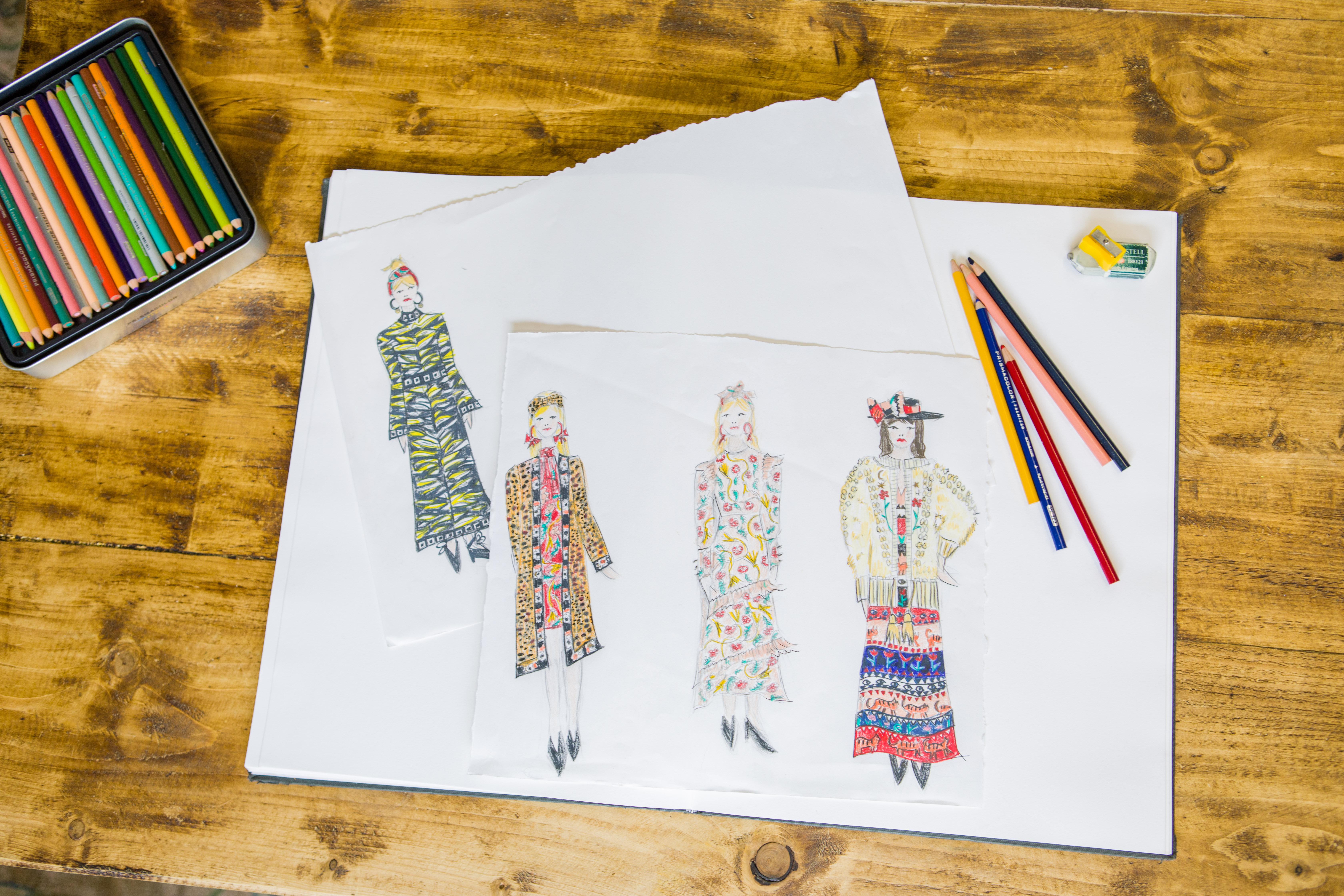 A self-confessed maximalist, model-turned designer Hayley Menzies' eclectic aesthetic channels the spirit of London's Portobello Market - the buzzing collector's paradise where her namesake fashion line initially found its feet. Her small, considered collections are brimming with vintage references – but it's her own boundless creativity that gives them their free-spirit. We took five with Menzies to talk raves, worldly travels and Notting Hill.
How did you cultivate your unique aesthetic?
When I was growing up my parents couldn't always afford the latest and coolest fashion some of the other kids were wearing at school. So, I developed a fondness for thrift stores and would reinterpret the latest trends with secondhand and vintage pieces. I guess my style also reflects a lifestyle. I felt a true sense of belonging when I started going to raves back in the '90s. I would embellish lacy knickers and bras with a feather boa – usually in white so the UV light would pick me out and the MC would give me a shout out. My aesthetic is all about being noticed.
Is your line an expression of your personal style?
Yes. But I have so many different styles, it all depends on what day you catch me. I'm gradually introducing more elements of my style into the collection…
Do you weave personal stories into your collections?
Absolutely – most pieces have a story. Whether inspired by a vintage treasure I've discovered on a journey or a piece I've designed for an imaginary girl who creates her own magical stories whilst wearing it!
How do you want people to feel in your pieces?
Empowered, individual and that anything is possible.
Where's home?
Home is where my cat, Mouse, is. She's my heart. And she's in Notting Hill!
Where's your design studio?
Notting Hill, we have a cool railway arch with a huge disco ball!
Can you tell us about your creative process?
My muse is always at the forefront – my girl is well-travelled, spontaneous, a little wild and not afraid of being 'too much'. It could be a souvenir from a trip, a vintage find from a market or a landscape. Once I have created my theme I research, create moodboards, hand-sketch prints and characters and experiment with colour.
Which materials are you drawn to?
I adore luxury materials made from pure fibres including silks, superkid mohair, merino and alpaca. With sparkles sprinkled on top.
M

y

collections

are so

heavily inspired

by the

wonderful animals

and

wildlife

on our

planet. I

t would be a

massive contradiction

and

feel insincere

if we

mass produced

and

manufactured outside

of

Europe.
Where do you source them?
I go to Florence annually for my yarns which are predominantly Italian and my silks and cottons I have printed in the UK.
What's your starting point when designing a new collection?
It honestly changes each season… It's quite a holistic process, at least for the moment. It's this creative freedom I am passionate about and it shines through in my collections, I do hope this never changes. However, conjuring up the theme and star character is always a key starting point.
How do you achieve a sustainable practice?
My collections are relatively small and considered. We source as locally as possible and I personally visit our factories several times a year and nurture incredible relationships with key suppliers – which are incidentally both mother-and-daughter run factories! It's vital to me on both a personal and business level to be respectful of sustainable practice – after all my collections are so heavily inspired by the wonderful animals and wildlife on our planet. It would be a massive contradiction and feel insincere if we mass produced and manufactured outside of Europe.
What are your most cherished memories of Portobello Market?
Definitely meeting my lovely customers, many of whom are still loyal brand ambassadors now! I loved the market, its characters and the buzz of Portobello every weekend. I didn't much enjoy the super early mornings though!
How much has changed since you started up your stall?
Wow, where to start! So much has changed but what's remained is my daily feeling of gratitude to be creating. I mean really how lucky am I? I make fashion! I'm living the dream!
Can you tell us about some of the people you work with?
I can say this with my hand on my heart. The wonderful talented women (and two men) I work with have such a deep level of dedication and love for what they do. It's this level of passion that has propelled Hayley Menzies into the brand that we are today. I'm talking from our mother-daughter run factories to my little team in London – we all share the same vision.
Do you have advice on how to style your pieces?
She who dares wins! Do try shrugging a knit over one of our silk dresses and popping on a matching hairband.
And finally… yoga, or rock and roll?
Haha… depends what day you ask me! Fridays I'm likely to be feeling very Kate Moss, especially now that Fashion Month is over - we've ruled and conquered and I feel like letting my hair down! Mondays I'll be ohmming all the way to yoga! On a serious note, I live a pretty balanced lifestyle. Take away the party and my spirit will curl up. But take away the yoga and my soul will cry!