Knot Me: How to Layer Necklaces Without Tangling
The layered necklaces trend is here to stay. Discover our fool proof tips for layering necklaces – no tangling necessary
By: Charlotte Olby
Learning how to layer your necklaces might seem an easy prospect in theory, but in practice, this isn't a throw-on-and-go situation. The art of necklace stacking is one that requires a little strategic thinking. Here are Liberty's tried and tested tips to achieving a fail-safe, tangle-free, statement stack.

Read More: Jewellery Gift Ideas for Every Kind of Love
It's not a one-size-fits all method. To stop your necklaces fighting for attention, try mixing up the lengths. Consider starting off with a choker, then add in a mid-length necklace (or two or even three) and finish with a long pendant.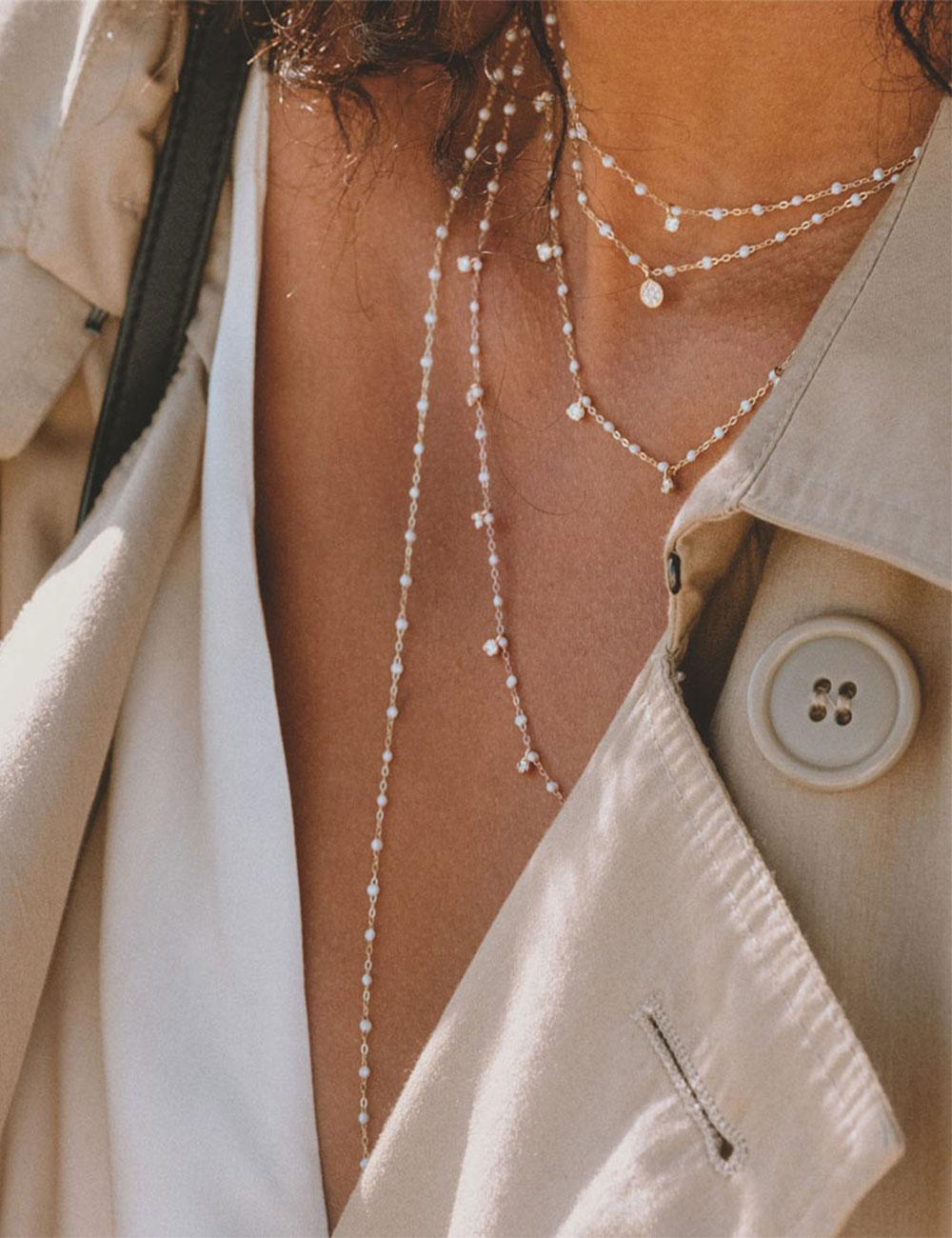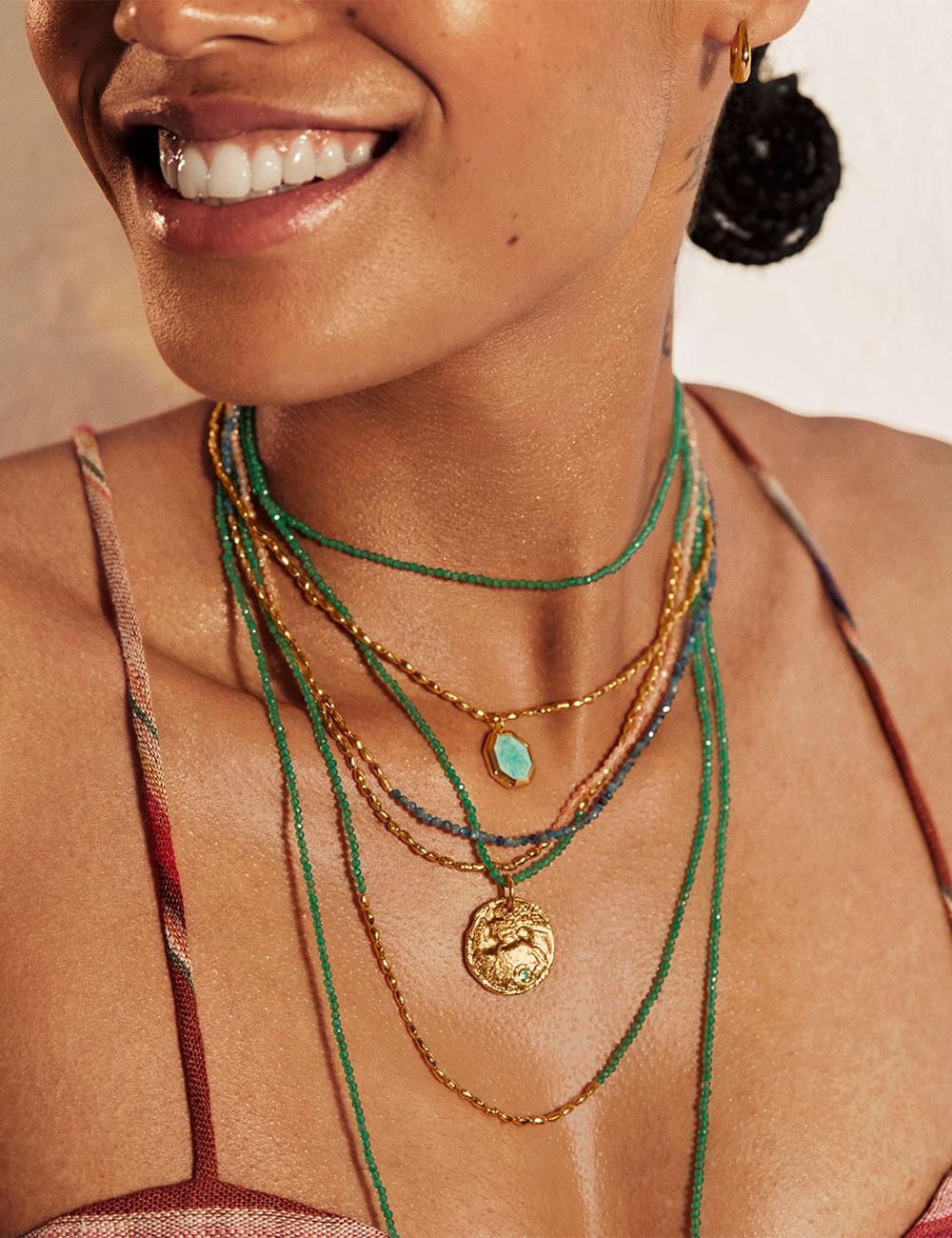 Selecting one statement necklace helps to create a centrepiece for your look. Let this main attraction do the talking while the rest of your pieces work as the support acts. When picking your statement piece, it should depend on the neckline of your outfit (essentially it's like a frame for your necklaces). High and low necklaces are easiest to style around as they give you more of a canvas to work on. A long chain with a charm or pearl pendant will draw attention lower down, or a dainty, choker necklace will keep the focus on your collarbone.

Read More: The Ultimate Jewellery Care Guide
Lightweight vs Heavyweight
Opt for a mixture of chunky and skinny chains, as well as different textures (think beads and bobbles), to encourage separation. The heavier pieces will have a tendency to 'anchor' as a base, allowing the lighter weights to join the necklace party in harmony.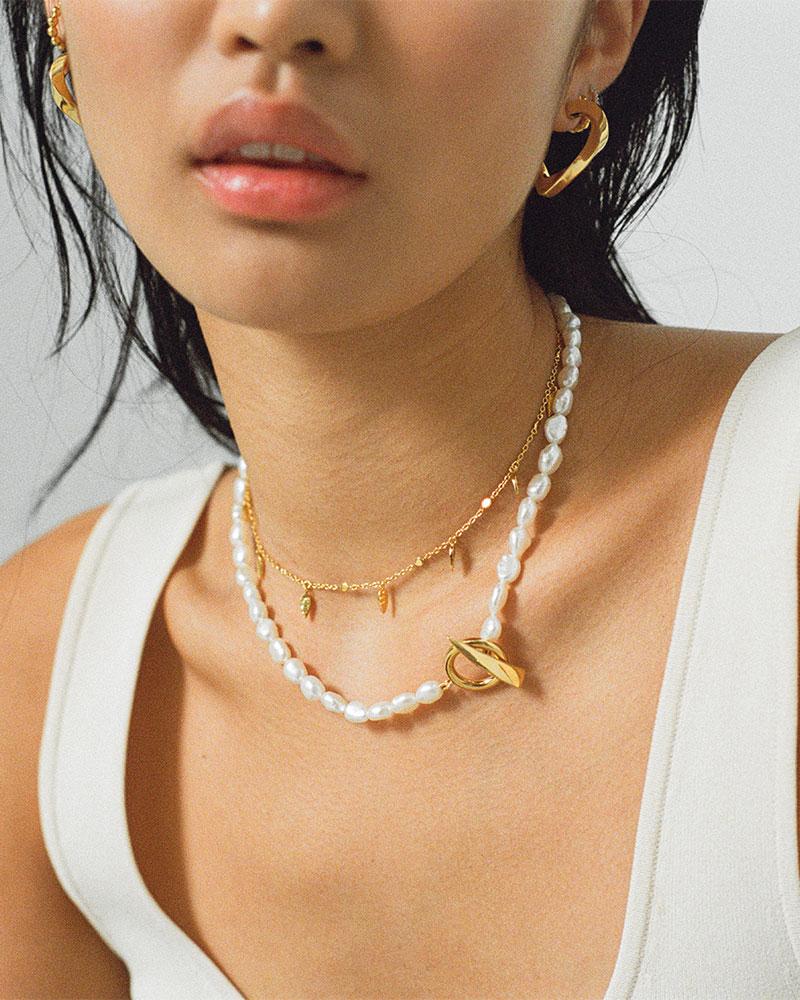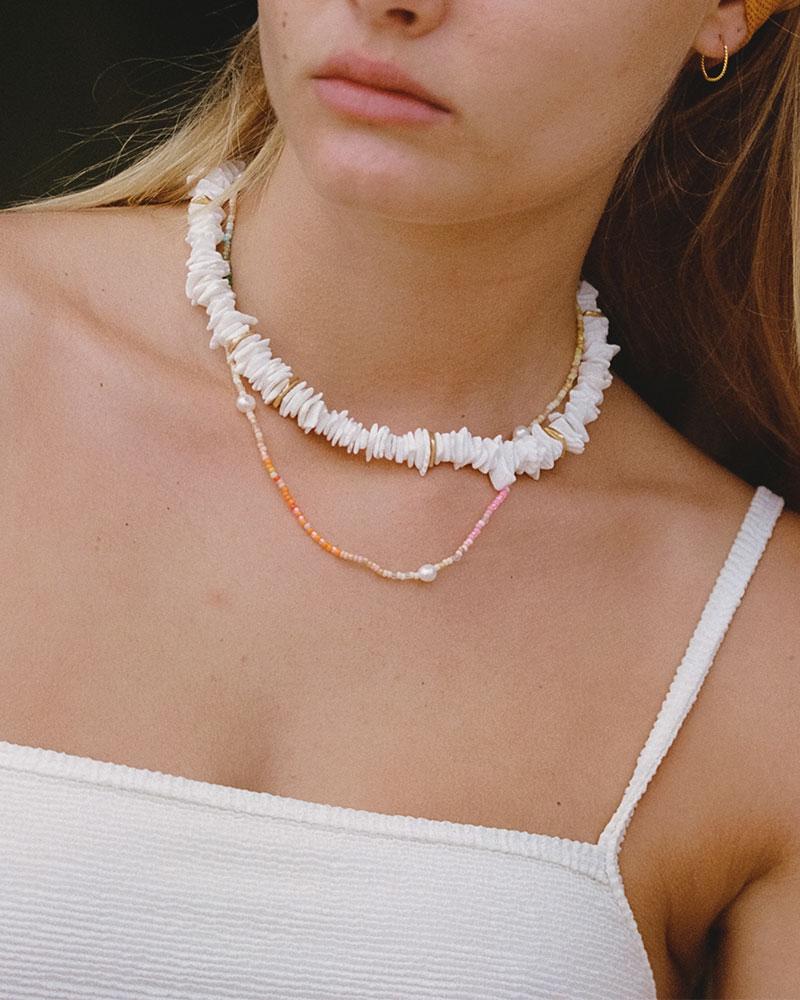 For a more disruptive approach to layered necklaces, try wearing different metals simultaneously. There is beauty in eclecticism, and you get more varied combinations so you can mix your look up on different days depending on the balance of silver to white, yellow or rose gold.
When layering in the summer, opt for a colourful curation of mixed materials to achieve a boho-chic vibe. You minimalists out there may be tempted to stick to your delicate golden layers, but summer is the time to experiment with colour. Pairings like pearls and colourful beads, and leather and woven cords and charms, can imbue a sense of casual cool. Natural materials like shells and raffia are also great for reinforcing the vacation aesthetic.

Read More: Colourful Jewellery Brands to Know About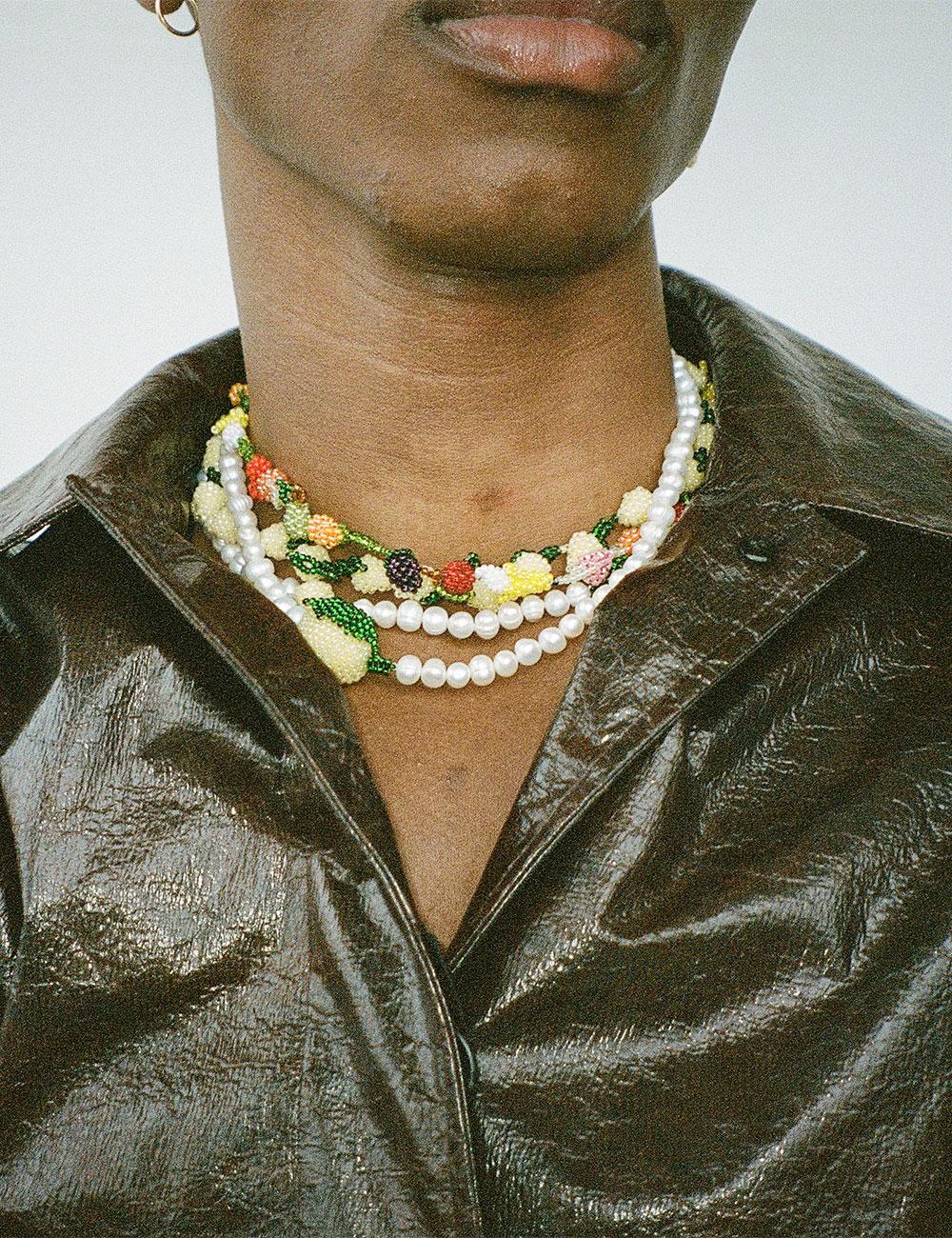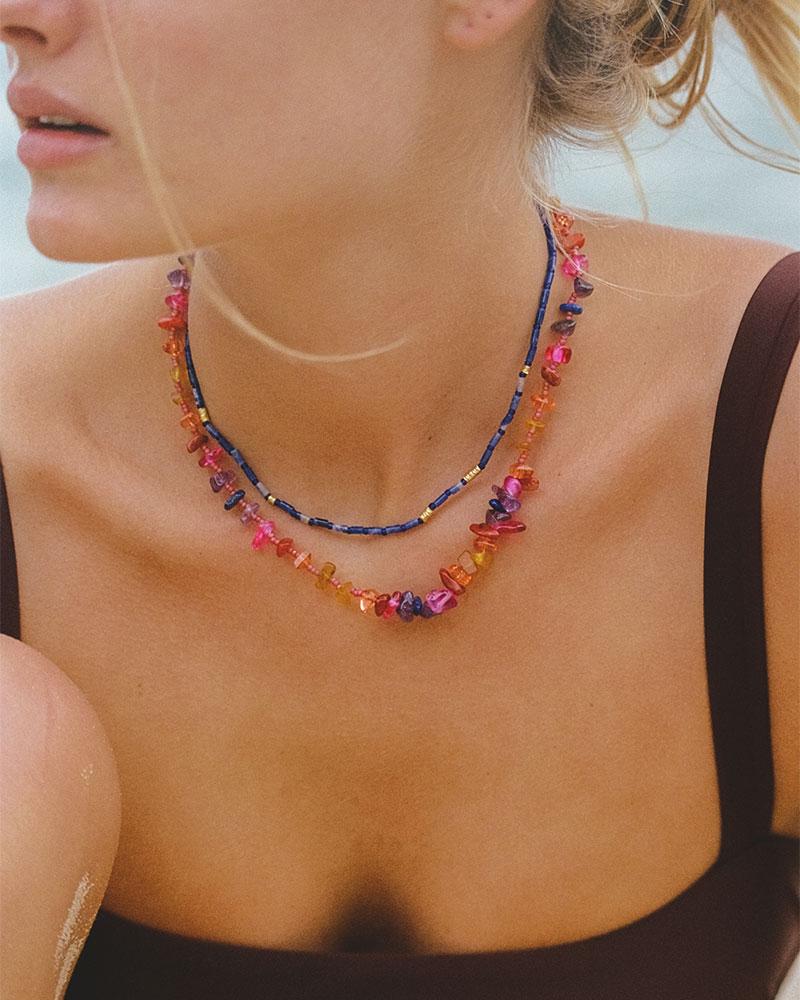 Three is the Magic Number (Sometimes...)
If you're new to stacking necklaces, then layering three necklaces is a good place to start. This is because odd numbers create a nice variety and give you the option to sandwich your favourite pendant in the middle without it looking too cluttered. Of course, this isn't a golden rule – by all means, go for as little or less as you like. Just ensure you prevent tangles with a simple rule: use necklaces with different chains or materials, mixing dainty and chunky. The chunkier chains will stay in place, perfectly socially distancing themselves from your more minimal pieces.
A Liberty Layering Trick
This clever trick will not only save you the stress of getting your necklaces in a tangle, but you can also adjust the length to your desired style as they're now on one continuous loop.

1. Put two necklaces on as normal, then spin them around so the clasps are on your front
12. Unclasp each necklace
13. Re-clasp each necklace to the link in the other necklace
14. Twist back to the front and voila!
The Ultimate Detangling Hack
Even the best laid plans sometimes go awry. If you find yourself or your necklaces tied up in knots, try this trick:

1. Lay your knotted jewellery on a hard surface, spreading the chains out around the knots.
2. Unclasp any closures
3. Gently tap the centre of the knot(s) with the pointed tip of a pair of tweezers until the knot starts to loosen, then ease the tangled sections out with them until you get a clear section. Repeat until you're all undone.