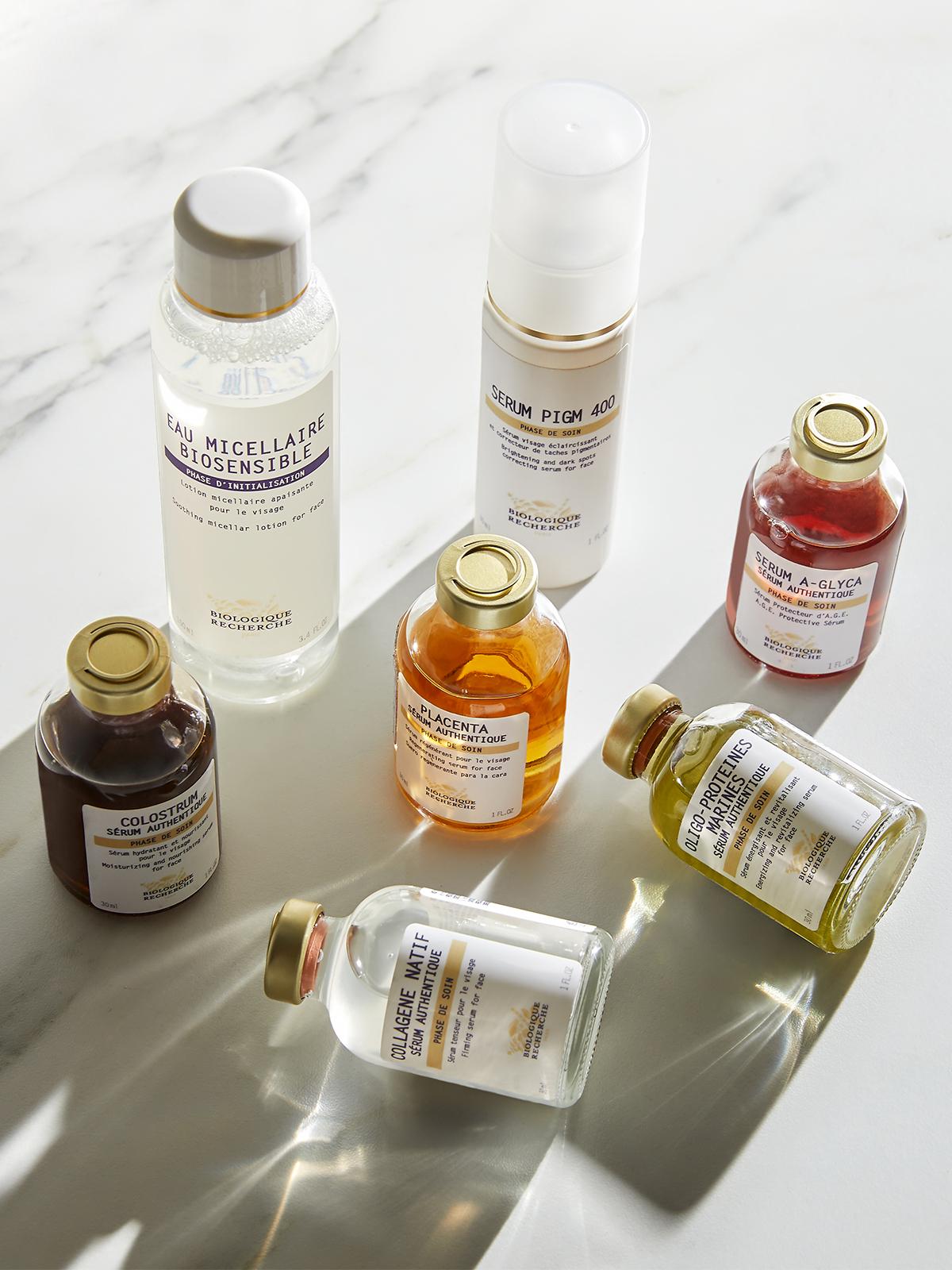 Biologique Recherche
Find Your P50
What's your concern? There's a P50 for that – meet your match with our guide to Biologique Recherche's cult exfoliating toners, and transform your skin in 50 days
Shop Biologique Recherche
Those familiar with Biologique Recherche's P50 Ritual are likely the ones whose skin you envy – spot the tell-tale signs in that good-as-new, baby-soft, brighter-than-bright complexion you'd classified unachievable. Well, we've got news: the secret's out, and – unsurprisingly – it's Parisian. Yes, perfect skin is just around the corner (50 days away, to be precise), and it comes by way of Biologique Recherche's ingenious peeling lotion…
A clinical acid toner that promises to renew the skin over the course of 50 days, the core P50 formula exfoliates, regulates excessive sebum production and restores the skin's pH with a gentle peeling effect. An advanced complex of raw ingredients and AHA, BHA and PHA exfoliants are cold-formulated for maximum potency, and hold the power to control a range of concerns by encouraging skin to regenerate. Allowing everyone access to their best skin, the lotions are tailored by type – so which one is right for you?
BEST FOR: THICKENED / RESILIENT SKIN
LOTION P50
The purest and strongest form of P50, the original Lotion is not one that every skin type can take. Its high acid concentration and fast-penetrating performance work wonders for thicker skin types, and the addition of antiseptic thyme essential oil and myrrh makes it particularly effective on complexions keratinised from conditions like dermatitis and eczema.
Shop Lotion P50
BEST FOR:
ANTI-AGEING
LOTION P50V
With added vitamins, antioxidants and walnut extracts, P50V offers extra nourishment to protect skin from the ageing process while addressing the symptoms that often come with it. A hero at fading pigmentation, brightening dullness and improving loss of tone, it works on a mature or devitalised complexion to yield it smoother, firmer and luminous beyond belief.
Shop Lotion P50V
BEST FOR: REACTIVE SKIN
LOTION P50W
Even the most problematic skin gets a piece of the action – thanks to P50W, which takes a gentler approach with its slow-penetrating formula laced with calming agents to soothe irritated skin. Arnica performs an anti-inflammatory action to comfort and rebalance skin prone to acne, redness, allergies and sensitivity, whilst the signature P50 ingredient complex gets to work on a long-term solution.
Shop P50W
BEST FOR: HYPERPIGMENTATION
LOTION P50 PIGM 400
The latest addition to the line-up, P50 PIGM 400 is superpowered with additional antioxidants and brightening agents to address hyperpigmentation. Flavonoids and wasabi extracts help to regulate melanin synthesis, evening out skin tone by lightening dark spots for a bright and radiant finish.
Shop P50 PIGM 400
Build up your skin's tolerance gradually by diluting the product for the first two weeks of use.
- Once every evening, apply a few drops of your P50 with cotton pads dampened with cold water for the first two weeks of use
- Be careful not to rub, and only pass over each area once
- If your skin shows no sensitivity to the product, switch to dry cotton pads for the remainder of the treatment course

CRAVING SOME EXPERT ADVICE?