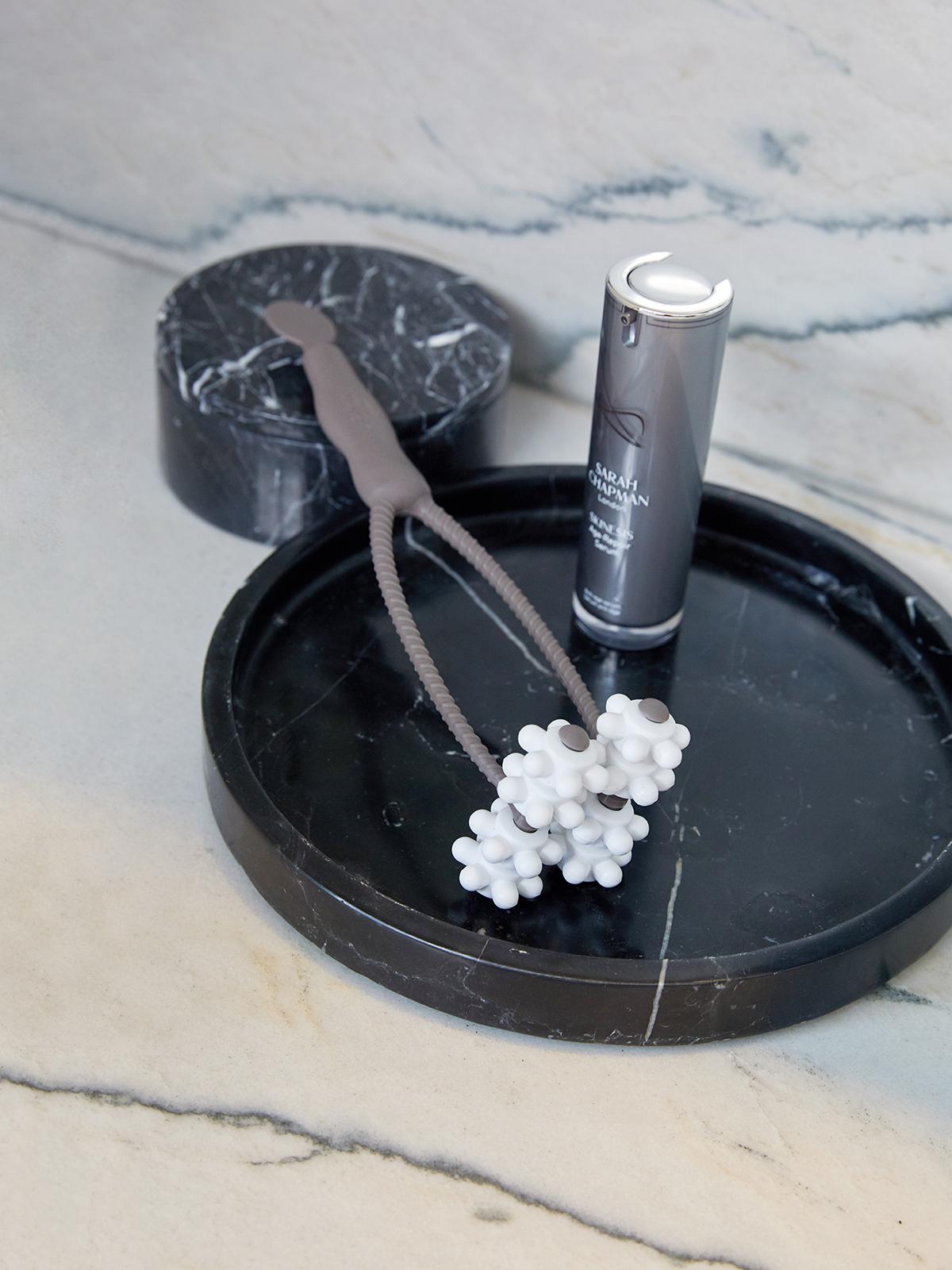 If you're ready to upgrade your at-home skin care regime, advice from an industry famous facialist is a great place to start, and Sarah Chapman is one of the world's finest. The renowned – and royalty approved – skin expert is the founder of science-led brand Skinesis, and as the collection lands at Liberty, we talked to the woman herself. Here, she shares her essential tool kit and insider insights for achieving a post-facial glow – no spa access needed.
Cleansing

is a

hugely underrated step –

and

I don't just mean

a

makeup wipe!
Rapid Radiance Cleanse | Ideal for revitalising dull or congested complexions
Professional Cleansing Mitts | To smooth and instantly brighten
... Overlooked by many, removing any grime, makeup, pollution and sebum that collects in the pores allows skin to function properly.
Pro Hydro-Mist Steamer | An ionically charged micro-mist that penetrates deeper than regular steam, for supercharged results
... Most of my clinical facials start with a steam: it purifies pores and boosts hydration levels, leaving skin silky and supple.
Pro Pore Refiner | To dislodge stubborn blockages and deliver a glass-skin effect
... If you suffer from congestion, use after steaming, when impurities will already be softened. This intelligent device mimics professional extraction techniques like thermo-therapy and ionic cleansing.
I always recommend using

a

targeted eye product –

the

skin around

the

eyes

is

extremely thin

and

delicate,

so

signs

of

ageing

often

appear here first
Platinum Stem Cell Eye Mask | Lifts sagging skin, smooths fine lines and de-puffs, for a visibly refreshed effect
... My cutting-edge mask features a pioneering tri-ocular design that targets the eyelid, browbone, crow's feet, and undereye, with a ground-breaking complex of collagen-boosting peptides and rejuvenating plant stem cells.
3D Moisture Infusion | To soothe and hydrate skin
... This scientifically advanced mask is made from eco-friendly bio-cellulose that envelops the face like a second skin, delivering a dose of intense hydrators and comforting rosewater.
Intense Hydrating Booster | Delivers long-lasting hydration with a featherweight feel
Ultra Recovery Booster | Probiotic-infused to boost skin's natural defences and counter sensitivity
... As the weather grows colder, our skin can lose vital moisture and become dry and dull. Counter this with a few drops of the Intense Hydrating Booster: a performance-proven serum, with low molecular-weight hyaluronic acid and moisture magnets.
Skin regeneration increases dramatically

at

night: cell renewal doubles

between

11pm

and

4am
Overnight Facial | Delivers smoother, firmer, younger-looking skin with the famous Skinesis glow
Overnight Facial Supplement | To support and strengthen the skin from within whilst you sleep
... A potent combination of protective antioxidants, brightening vitamin C, rejuvenating vitamin A, and powerful peptides, I formulated my award-winning Overnight Facial to work synergistically with skin's natural regeneration process. Combine this elixir with my health-boosting supplement.
Facialift | To boost circulation and flood cells with vital nutrients and oxygen
... Overnight Facial's cashmere texture provides the perfect base for a facial massage. Rolled over your complexion, Facialift's 48 nodules mimic the signature massage used in all Skinesis facials, promoting the rosy glow that's achieved with a professional facial.
Comfort Cream D-stress | To lock in hydration and leave skin supple, healthy and radiant
... Finish with this rich, buttery cream: it's brimming with hyaluronic acid, strengthening ceramides, and advanced skin-defence actives to restore your complexion's moisture barrier.