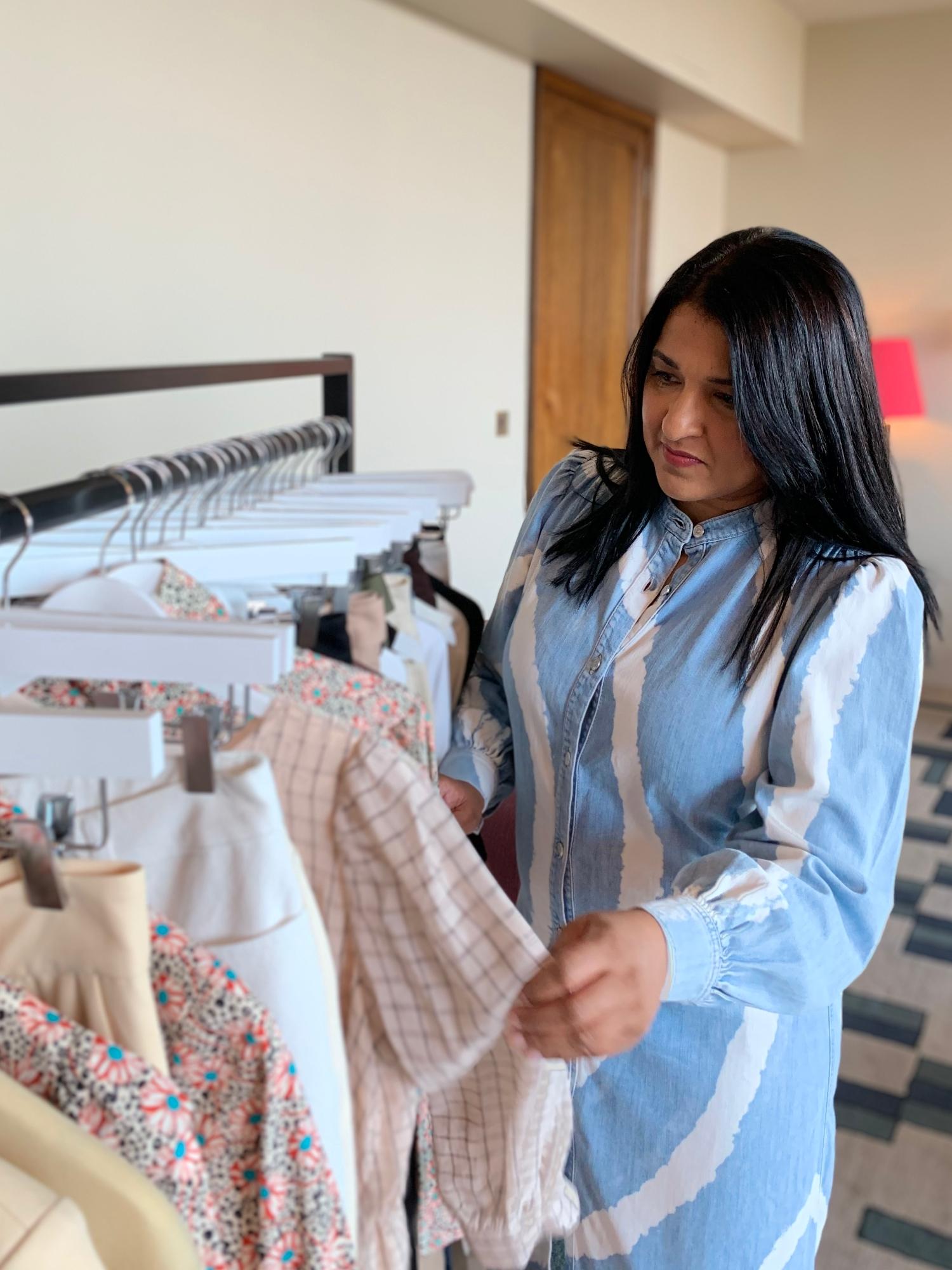 Make It Last:
Aligne's Dalbir Bains
With two decades of industry experience behind it, Dalbir Bains's new womenswear project knows to put your needs first.
Shop Aligne
Womenswear label Aligne arrives at Liberty with an admirable reputation - a basics brand that focuses on the working woman, yet holds her other needs in equal esteem. The desire to play, to make a difference and also be economical all play an equal role in Aligne's design practise. Here, the brand's founder Dalbir Bains chats to us about the importance of cradle-to-grave garment design and her brand's progressive not patronising approach.
Can you tell us a bit about what lead to the decision to found Aligne – do you have a history in the fashion industry?
I have spent my whole career in the fashion industry and have loved every minute. I have always worked with affordable fashion and in recent years was keen to find ways to not only create sustainable fashion, but to sustain the fashion industry itself. To make an impact, you have to have reach, so I set out to create an affordable contemporary fashion brand that most people who love fashion could relate to.
What does authenticity mean to Aligne?
Honesty, passion and transparency are the first things that come to mind. At Aligne, we always acknowledge that we are not perfect, not as people or as a brand. However, we work with a purpose and that is to create a brand that is striving to be the most sustainable that it can.
What are some of the industry issues at the core of Aligne?
The consumer has been led to believe for a long time that fast fashion is normal, more is more. Our relationship with fashion, as consumers, has been skewed and for too long the fashion industry has been supporting that appetite for disposable fashion without considering the impact. Many retailers also see the idea of becoming sustainable as a significant change of direction and fear the change and ultimately don't embrace it. The reality is that every retailer can do something, however small.
How important is sustainability to Aligne?
Aligne was created to show that all fashion should be as sustainable as it can possibly be. At Aligne, sustainability is all-inclusive. We have a cradle-to-grave strategy from design and conception through to production, retail, rental and resale of our garments. We want the entire life cycle to be as sustainable as possible.
At Aligne,

we

always acknowledge

that we are

not perfect,

not as

people

or as a

brand.
How does Aligne reconcile the industry's focus on newness with sustainability concepts?
Fashion always needs to be inspiring and interesting, and newness plays a part in that. We make forever pieces, for example our Connie jean, made from 100% organic cotton or our recycled cashmere jumpers, so for us it's about new pieces, but they are wear now and love forever pieces that will be in your wardrobe for a long time.
What are some of the brand's favourite materials to work with? Where does Aligne source its fabrics?
Our favourite fabrics to work with are organic cotton, LENZING™ ECOVERO™ viscose, recycled cashmere, and recycled polyester. We always use as close to 100% of these fabrics in all our garments.
We also recognise that using fabrics that exist is more sustainable than the creation of any sustainable fabric, so we are really excited to launch our deadstock collection this season. It uses beautiful fabrics that have been out of use for longer than 12 months and allows us to bring them to life within our collection.
Sourcing sustainable fabrics as close to our production and consumer is a key part of our cradle-to-grave strategy. Our fabrics and production are predominantly made in Europe or Turkey, facilitating truck transportation by road rather than sea or air.
What are some of the criteria the brand use to select the factories it works with?
Our factories relationships with sustainability are extremely important to us. We only work with factories whose sustainability ethos matches ours. All the factories we select to work with are ethically audited to ensure the highest standard of working conditions and health and safety conditions.
Their manufacturing processes can really impact sustainability, so we try to support those factories who have clever technology like Jeanologia, a method that reduces water usage by at least 50% in denim production.
Now onto the clothes themselves! Where does the brand look for inspiration and what are the references you return to time and time again?
Aligne is created in London and for our team, London is the beating heart of style and the cultural hub of fashion. We take inspiration from all over the world, but the brand is very British at heart. All of our fashion direction takes us back to who the Aligne customer is. She is confident, she dresses for herself, she's self-assured and loves fashion but also loves the planet too. Her style is timeless but never boring… timeless, considered and unique.
Aligne's designs are at once high-quality, on-trend and ready to be pulled out season-upon-season – how did you align these seemingly juxtaposing aesthetics?
Fashion is only sustainable if you love it and wear it all the time, so trend is the driving force behind Aligne. We will always create trend pieces, but we ensure they are love-now-wear-forever styles. Then, once we have created that collection, we will put it through our rigorous sustainability and quality criteria. We always will be led by fashion, but it must be underpinned by the highest level of sustainability, so any product that doesn't hit our criteria, won't make the range.
How important is it to you that the back story of these textiles is told alongside their sale by retailers?
We don't want to blind our customers with information. Fashion is something we all love and enjoy, and we believe it shouldn't become technical or laboratorial. It's important however that consumers know a few things to help them understand their purchase, such as country of origin and how far the garments have travelled or what fabric it's made from or how you can buy jeans with less water consumption etc. We don't want our customers to have to filter through our collection to find what is or isn't sustainably made, we promise that everything in our collection is, from the garments right through to the packaging and labelling.
We always share transparency about sustainability certificates, country of origin, percentage of sustainable fabric in a garment so customers can take as much or as little information as they wish. In the end, sustainability is a judgement but transparency is our focus.