A Chat With… Darla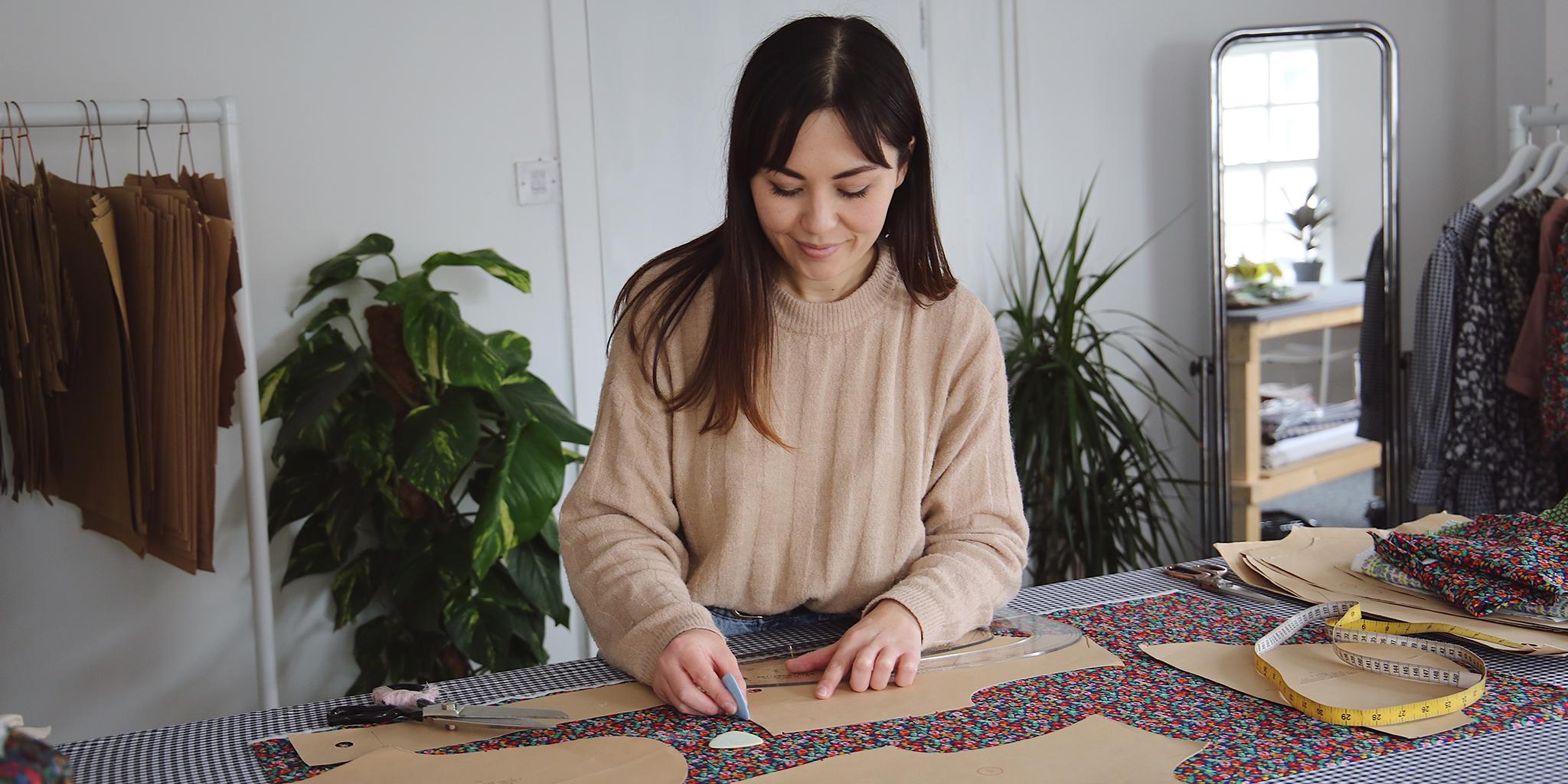 Celebrating Liberty's global community of print-loving creatives
The #LibertyCraftClub is a global network of designers and artists who connect over their shared love of Liberty print – here at Liberty HQ, we always love to see what you've been making. In this instalment of the Liberty Fabrics Makers series, we chat to Amy from Darla, a dreamy slow-fashion womenswear brand all handmade in the UK – look out for the new Darla collection, launching in February 2022.
Could you tell us a little bit about yourself and your brand, Darla?
I was born in London but grew up in the Northwest where I studied clothing technology and pattern cutting, before completing a degree in Fashion and Business at London College of Fashion. For the last ten years I've been working in the fashion industry as a freelance designer for high-street brands as well as creating custom pieces for stylists in fashion, TV and music. I also used to run another fashion label with a much lower price point, but closed this in 2018 when I decided to switch to slow fashion.
I

n

2019 I launched Darla –

a

premium slow fashion brand

that

celebrates the beauty

of

bygone eras

with

handmade-

to

-order British designs.
What inspired you to create your own brand?
My Dad is one of my biggest inspirations – he came to the UK at 18 as a student, and at the same time had to provide for his family back in China. He set up a business in the '80s and worked hard for years to make sure his family had what they needed. This encouraged me to set up my own business so that I could do the same. My mum has always emotionally supported all the decisions I've made throughout my career, and my partner Patrick motivates me daily to live life on my own terms – creatively and consciously.

Starting a brand was a way to express my own vision and fashion style freely, without adhering to trends or sales targets.
Where are you based, and how big is your team?
Last year we moved our studio to Wigan in Greater Manchester, which is where I grew up. I still absolutely love London and split my time between both places on a weekly basis, but Wigan just seemed to make sense in terms of studio space. We're an online business so we can technically operate anywhere and the type of working space that we desired just wasn't feasible in London.

I think more and more creatives are starting to realise that London isn't the only place you need to be to run a successful business. Wigan town has such a rich manufacturing history and an abundance of skill sets, there used to be numerous clothing factories here and someday I really hope there is a resurgence. This can only happen when companies move here, and jobs are created in these fields.

This year I hired three local people who may have headed to bigger cities to find similar creatives roles. I'm happy to create the opportunities as I'm motivated to pass on my skill set to a younger generation who may not have had the chance to do it in my hometown. There is a total of five of us at Darla, it's a small but sustainable operation.
Your pieces are made-to-order, 'slow fashion' – can you tell us about the ethos behind this?
As part of our slow fashion ethos, we aim to take into consideration all aspects within our supply chain to operate as sustainable as possible. Most of our pieces are hand cut, sewn and finished in-house and our made-to-order model means that we're able to prevent a huge build-up of stock and produce less waste – any waste we produce is turned into small accessories or used in our packaging. We also work with a lot of deadstock and end-of-line fabrics throughout our ranges, which means that some styles can be very limited edition and exclusive. While we are not 100% sustainable, we actively seek ways to make changes throughout our processes to make sure we are headed in the right direction.
What is it you love about using Liberty prints?
I've been a fan for years – I almost applied to work in the Fabrics department, just so I could be part of the team! The quality of Liberty Fabrics is simply unmatched, and it always give me confidence working with them. To me, the print designs are a melting pot of a thousand stories, eras and cultures from around the world, while also being so quintessentially British at the same time.
What inspires you creatively?
I've always had a love for the silver screen and old Hollywood movies, I love the stories, the romance and the way they dressed – I try to emulate this in our collections by telling stories with the clothes I design rather than trying to be too commercial, it's more about the craftsmanship for me. I've been collecting vintage dress patterns for years and have even re-worked a few old patterns into the Darla collections.
There's something nostalgic

and

special about opening

an

old pattern, creating

a

sample

from

it

and

trying it on…
Finally – do you have a favourite Liberty print?
My favourite Liberty print has to be Betsy from the Classics collection. No matter what season is it or what I'm designing, I'm always drawn to this print. I would absolutely love it to be a wallpaper, and would happily cover the entire studio in it!
Liberty Fabrics lovers – we always want to see your creations. Upload and tag us with #LibertyCraftClub so we can see what you've been making, and maybe we'll feature your work in our next series instalment.