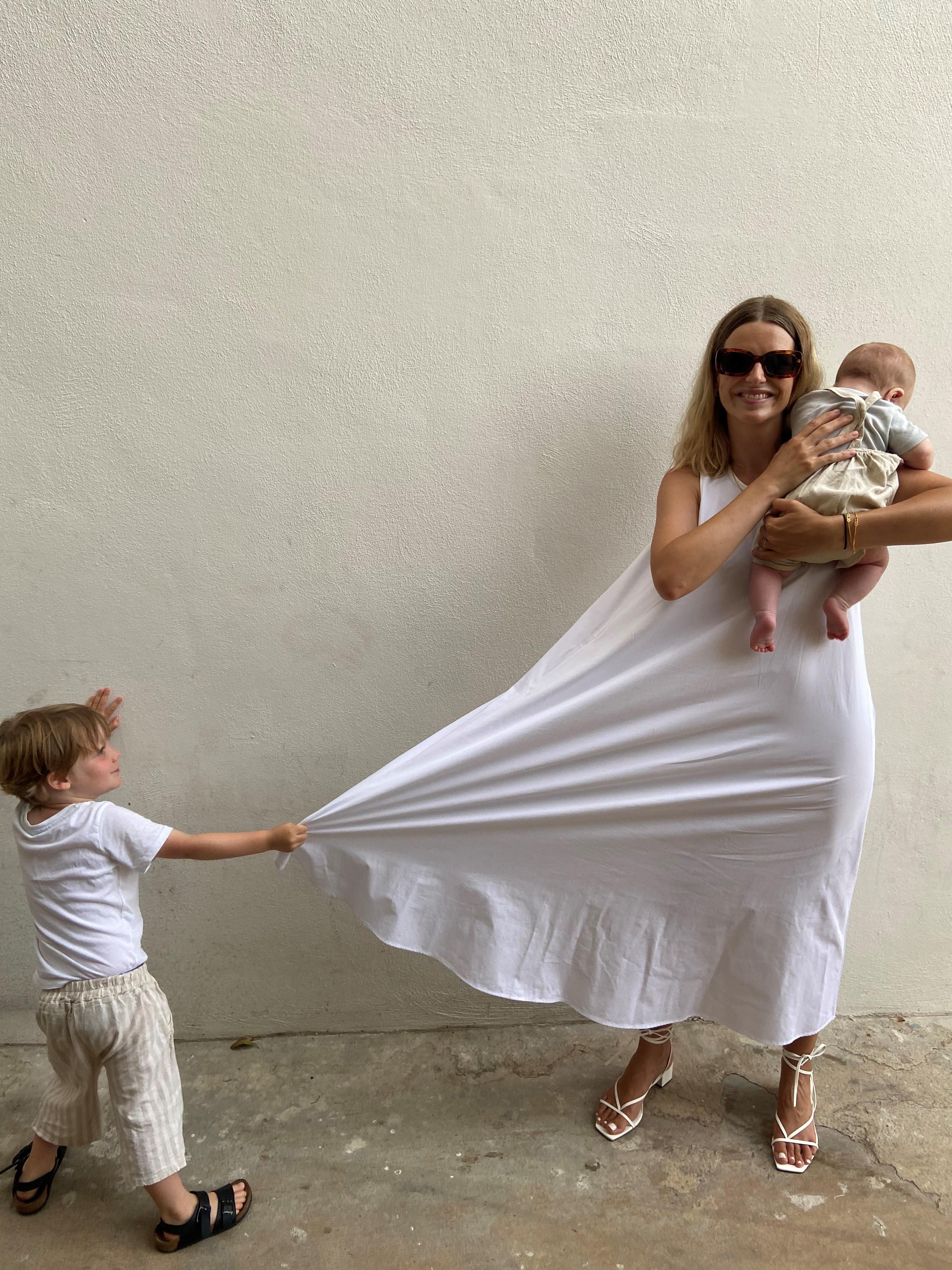 Motherhood Diaries: Emma Grant
The second mother to feature in our series is Emma Grant, founder of Binibamba.
Motherhood Diaries is a testament to modern-day parenting; from life-changing tribulations, to joyous milestones - and all the chaotic bits in between. Each month, we'll uncover a refreshingly honest account from the Liberty community, with the aim to support women who might otherwise feel frustrated, isolated or overwhelmed. Here, we invite all maternal figures to speak openly about their journey to motherhood, find light in each narrative and ultimately, a sense of solidarity.
Introducing Emma Grant, creator of the newly venerated kids' brand, Binibamba, known for its sustainably sourced sheepskin liners and accessories. Mother to two boys, Otto, 3 and Ozzy 3 months, Grant shares her own experience of motherhood, from the importance of female friendships, to indulgence and the joy of sleeping in.
I have always loved children. My mum always tells stories about me mini-mothering my two younger brothers, so I suppose I always have been maternal. For me, motherhood is LOVE. That moment when you hold your baby in your arms for the first time, those snuggles and just seeing my little babies grow is so magical. Being a mum to my two boys has let me see the world again through their little eyes. I think I've been very lucky with my pregnancy journey. With both my boys, I only had very mild morning sickness and both pregnancies were happy and healthy, although they say it's carrying girls and the hormones that make you feel awful - so we'll see if I go for round three!
For my first pregnancy, I did NCT, hypnobirthing and did lots of reading, but honestly, chatting to friends was the most helpful. I think women are more open and honest about their experiences of motherhood. There are massive ups and downs and I did find it a shock adapting to my new life as a mum with my firstborn. The lie-ins are suddenly gone, you're no longer care-free and you have a little baby that needs you. It is a big change and having friends that had been there was a big support.
You're going about

your

usual day-to-day, going

to

work, seeing friends, doing all

the

usual things,

but at the

same time, growing

a

whole new life inside

of

you. It's such

a

special time

and as a

woman, I'm just so

in

awe

of

our bodies!
I loved having a bump and found it such an incredible experience. I really did feel so productive while pregnant. You're going about your usual day-to-day, going to work, seeing friends, doing all the usual things, but at the same time, growing a whole new life inside of you. It's such a special time and as a woman, I'm just so in awe of our bodies!
It's not all plain sailing. Being a mum is the most demanding job in the whole world. Increasingly though, I find women are being very open about the hardships of motherhood. It's no longer about keeping up with the Jones', it's about supporting one another, mama-to-mama. There's nothing like that knowing look and smile from another mum across the park when you're wrestling your sulky toddler, to let you know you're not alone. It lifts your spirits. I do have to say though, the greatest challenge in motherhood so far has to be sleep deprivation - what I would do for a lie in!
With my first child, I was still working as a buyer so I threw myself into maternity leave life and took a year out. This time is very different, having BINIBAMBA and a business of my own. It has been much more of a juggling act, so while I have been taking it much slower, I am trying my best to work around the boys.
Starting BINIBAMBA rather than going back to my buying job after I had Otto was a very conscious decision, as I wanted to have more time with him while he was little. I loved the travel and trips when I worked as a buyer but the hours were long, and after having him, I really wanted to be home more. I probably work harder now than ever before, but being in control of my own time (I work three days a week while he's at nursery) has helped me find the perfect balance. I am still finding my way now that my second child has arrived, and for sure it's a right old juggling act (isn't that motherhood!). It's far from perfect, but I feel so lucky to have grown two beautiful babies and a business that works around them and my new life as a mama of two.
I've found that with babies, you can take them with you and carry on seeing friends and go out for dinner, with them in tow. It's once they're toddlers that they need to be home for naptime and bedtime. So now, where you would once find me at the pub, the pub comes to us. We take it in turns with our friends to host drinks at each other's houses, so everyone is happy! Or the best tip...get yourself a good babysitter!
I find women

are

being very open about

the

hardships

of

motherhood. It's no longer about keeping up

with the

Jones', it's about supporting one another, mama-to-mama.
My advice to my younger self would be to enjoy those long lie-ins (I am forever telling my brother this!), travel the world, whether that be on holidays with friends, or fun work trips. Be spontaneous and just lap up those years of having no responsibilities, because the next chapter of bringing babies into the world will be even more amazing, involve a whole lot less sleep - but will fill your heart with more love than you could ever imagine. For mothers-to-be, I would say to indulge, sleep-in, treat yourself to some pampering and enjoy the magical ride.
I have so many favourite Liberty kids' brands and products. I absolutely love Faune and its beautiful dresses – they look like they're from a beautiful, French antique market. Also, Nights by Wonder for the best pyjamas. My son has a few pairs - I just wish they did adults sizes. Oh, and of course BINIBAMBA! It really is a dream come true to see my brand stocked at Liberty!