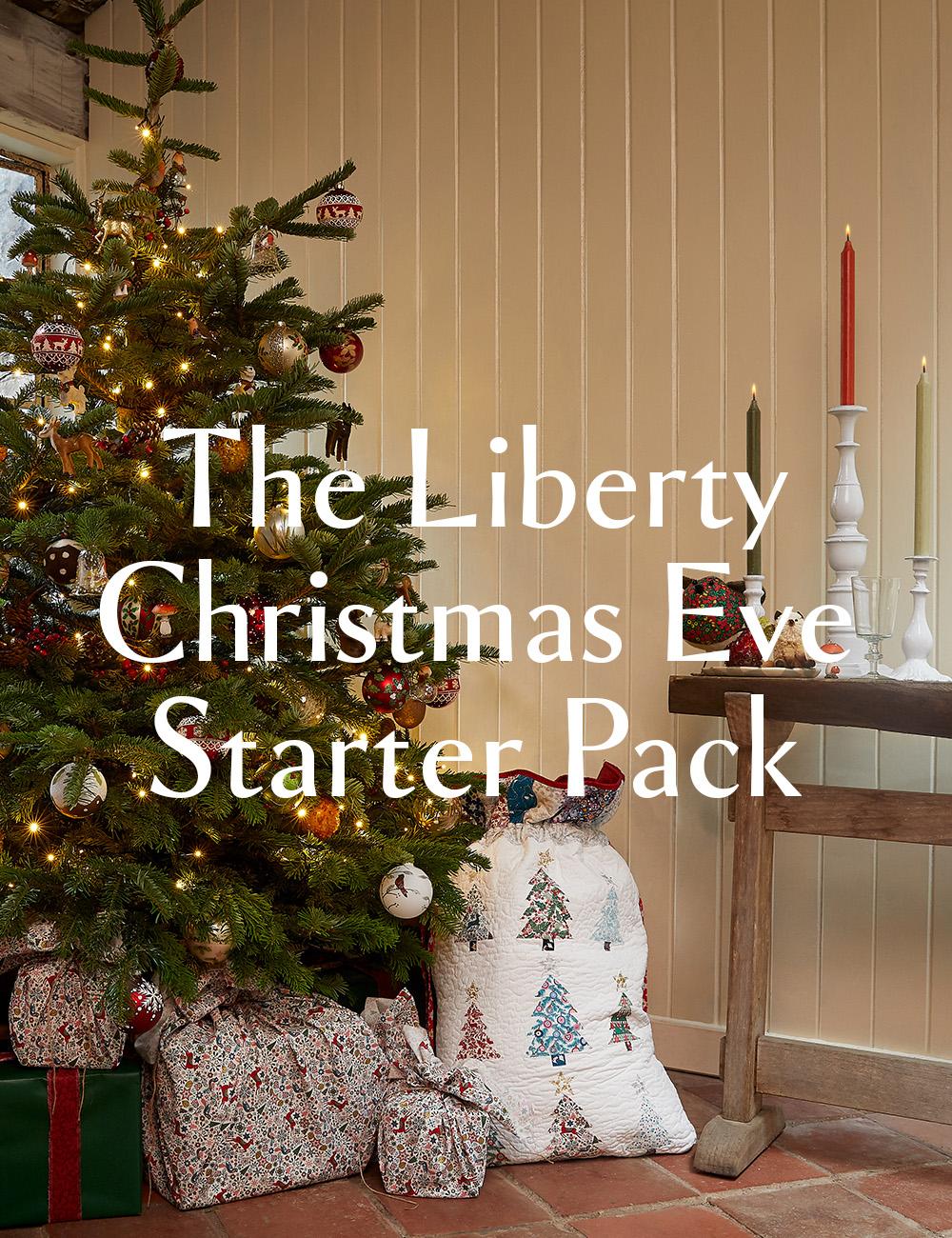 Liberty Starter Pack
Make the Day Before Extra Special with a Christmas Eve Box
A personalised Christmas Eve Box full of festive treasure will spark magic before the big day. Enter: The Liberty Christmas Eve Starter Pack.
Christmas Eve, one of the most magical nights of the year. The mince pies are warming, the mulled wine is simmering and the carols are playing. But, there's always room for a little more festive sparkle. Of course, every household has their own festive traditions, from making a wish as you stir the Christmas cake to wearing the same festive jumper every single year, but this year at Liberty we are proposing a brand new tradition, one that will bring that extra dusting of joy: a Christmas Eve box. So easy, so effective. Fill a box with all the gorgeous things guaranteed to get you ready for the big day. Because every Christmas Eve should come with silk pyjamas, scented candles and a glow giving face mask. Right?
The Outfit
Leave the cute Santa patterns to the kids, save the Christmas jumper for tomorrow and slip into something altogether more stylish. Lounging around the house in a pair of matching silk satin pjs is our favourite way to kickstart a few days of indulgence, especially when its in Liberty's latest launch of luxury pyjamas.
Shop Now
The Mood
You're sick to death of the smell of cinnamon, cloves and pine and it's not even Christmas Day yet. If there's ever an excuse to light your 'best' candles, it's now. So fill the house with fragrant aromas, because we'd all really prefer a relaxing abode to Santa's grotto.
Shop Now
The Little Beauty Therapy
Presents are wrapped, turkey is basting, guest beds are made. You've thought of every thing and everyone, except for yourself. Take a little time out and indulge in some skin recovery; this do it all skincare kit will have you glowing just in time for stocking opening.
Shop Now
The Family Friendly Treat
No doubt there will be some little sticky fingers rummaging through your Christmas Eve box. Hands off the silk pyjamas! But pass around these festive chocolates and everyone in the house will be happy.
Shop Now
The Adults-Only Treat
Yes, you've left out a little drink for Santa but after the mania of December you deserve a little pick me up too. Drink with ginger ale, water or on its own and enjoy that sweet announcement that Christmas really, truly, finally is here.
Shop Now