The 'Scape Artist
How to Throw A Liberty Garden Party
From sumptuous evening dinners to elevated barbecues and the ultimate picnic, we've got all the garden party ideas to get you planning ahead of summer
By: Laura Kennedy
Now the British weather has finally decided to join us, it means just one thing – all socialising for the foreseeable is being relocated to the garden. Whether you're an outdoor enthusiast or the furthest thing from a green-thumber, your outdoor space is far more than just a garden. It's an outdoor room – an extension of your home and the perfect venue to gather with loved ones all summer long.

A garden party instantly makes guests feel more relaxed. With the right preparation and setup, your garden can be transformed into an enchanting dinner party location on a balmy summer's evening, a formal but fun afternoon tea complete with the essential tiny cakes and cucumber sandwiches, a casual help-yourself barbecue, or a relaxed picnic party.
Garden Party Ideas to Win at Barbequing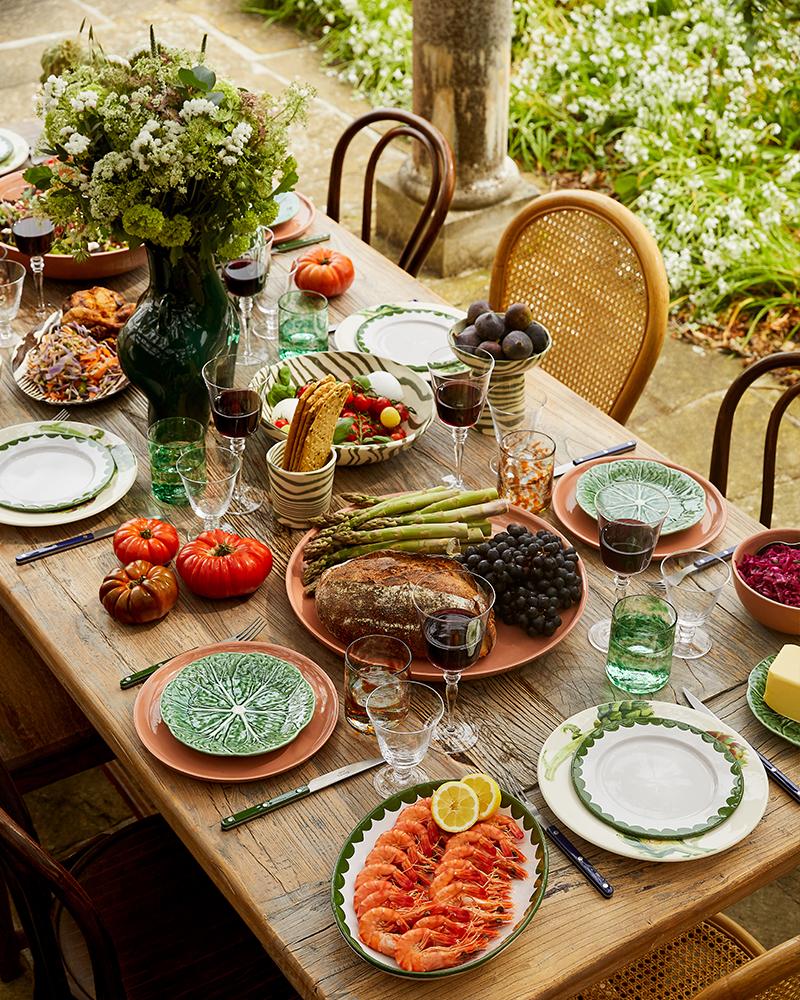 While a barbecue is lovely in theory, there's inevitably a point when everyone is standing about waiting hungrily and the person cooking starts to feel watched. Counteract such awkwardness by adding a richness to the setting by laying out gorgeous, giant plates of salad, bread and cheese and all the other stuff that will please anyone who's getting hungry or just doesn't fancy a burger. Pile it all onto a table and stack crockery so that everyone can just dig in. This will take all the pressure off, look sumptuous and keep everyone content.
Garden Party Ideas for Formal Dining
This is an event for the planners, those who enjoy the event planning process and luxuriate in curating the little details. A Liberty-approved way to create a more formal outdoor dinner is matching your cushions to your tablecloth and napkins, which brands like Coco & Wolf do really well. Having textiles everywhere feels really sumptuous. Rich, matching fabrics will certainly bring a formal feel to your dinner setup. The fabric will be the star of your table, so plan the dishes, candles and glassware around it, picking up on one or two colours to tie everything together.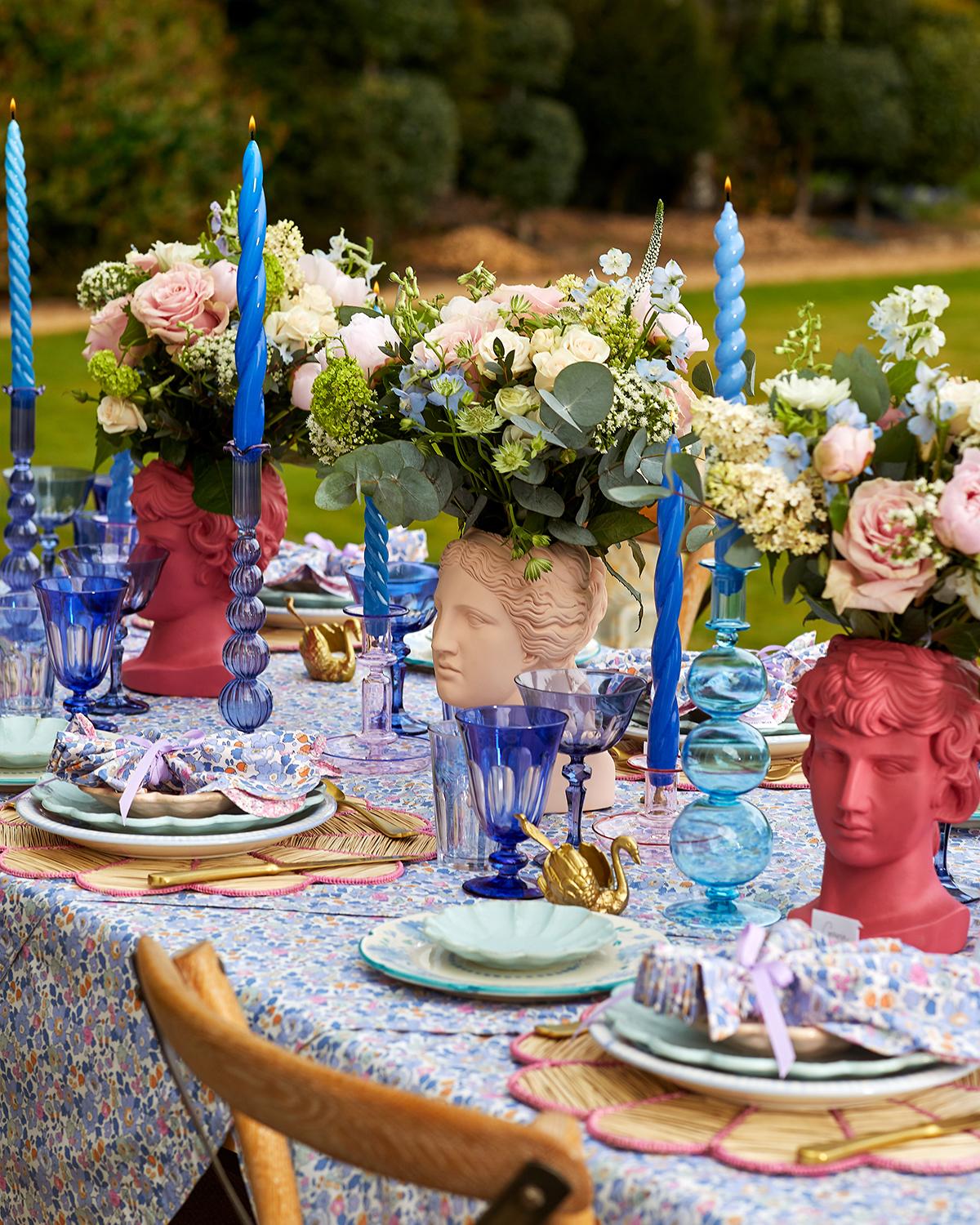 Garden Party Ideas to Elevate the Home Picnic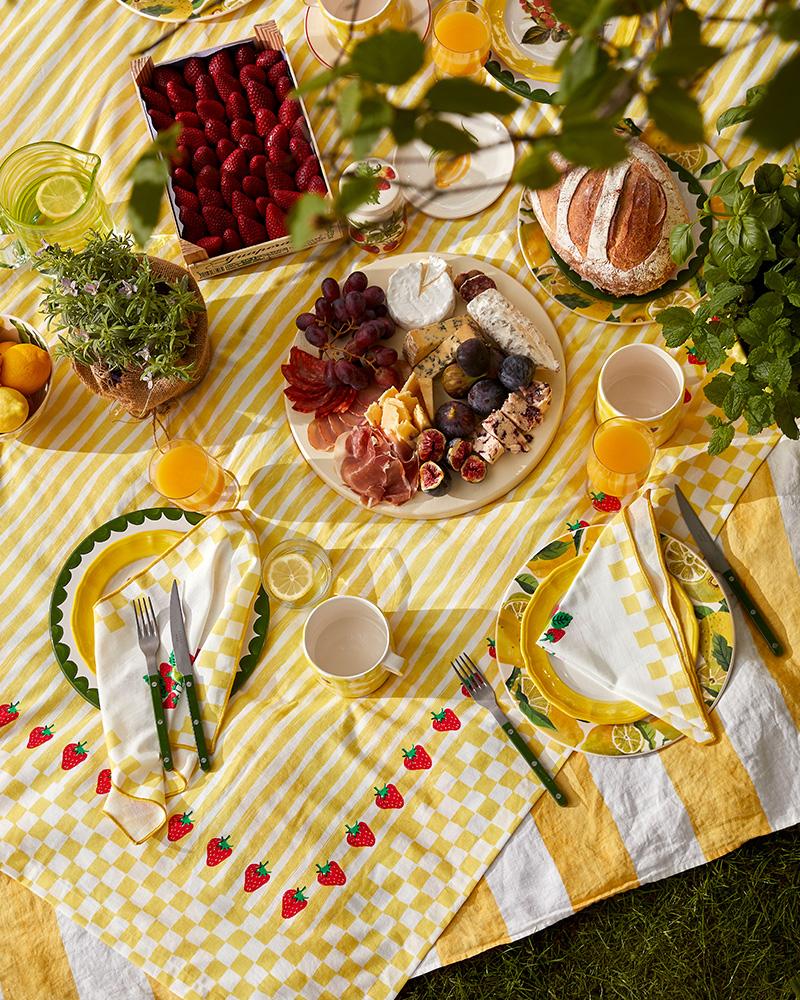 If you're picnicking at home, be sure to choose the most beautiful backdrop that your garden offers. People will invariably take pictures, so set up near a wall of climbing jasmine or a flowerbed that smells incredible, should you have one. Picnics do present logistical issues that other sorts of garden party don't. While it's lovely to have flowers on a table, they might fall over if set on an uneven surface. Instead, opt for a more convenient alternative for your centrepiece and opt for potted plants like mint or lavender. The mint is functional, too, because it scents the whole experience for your guests.