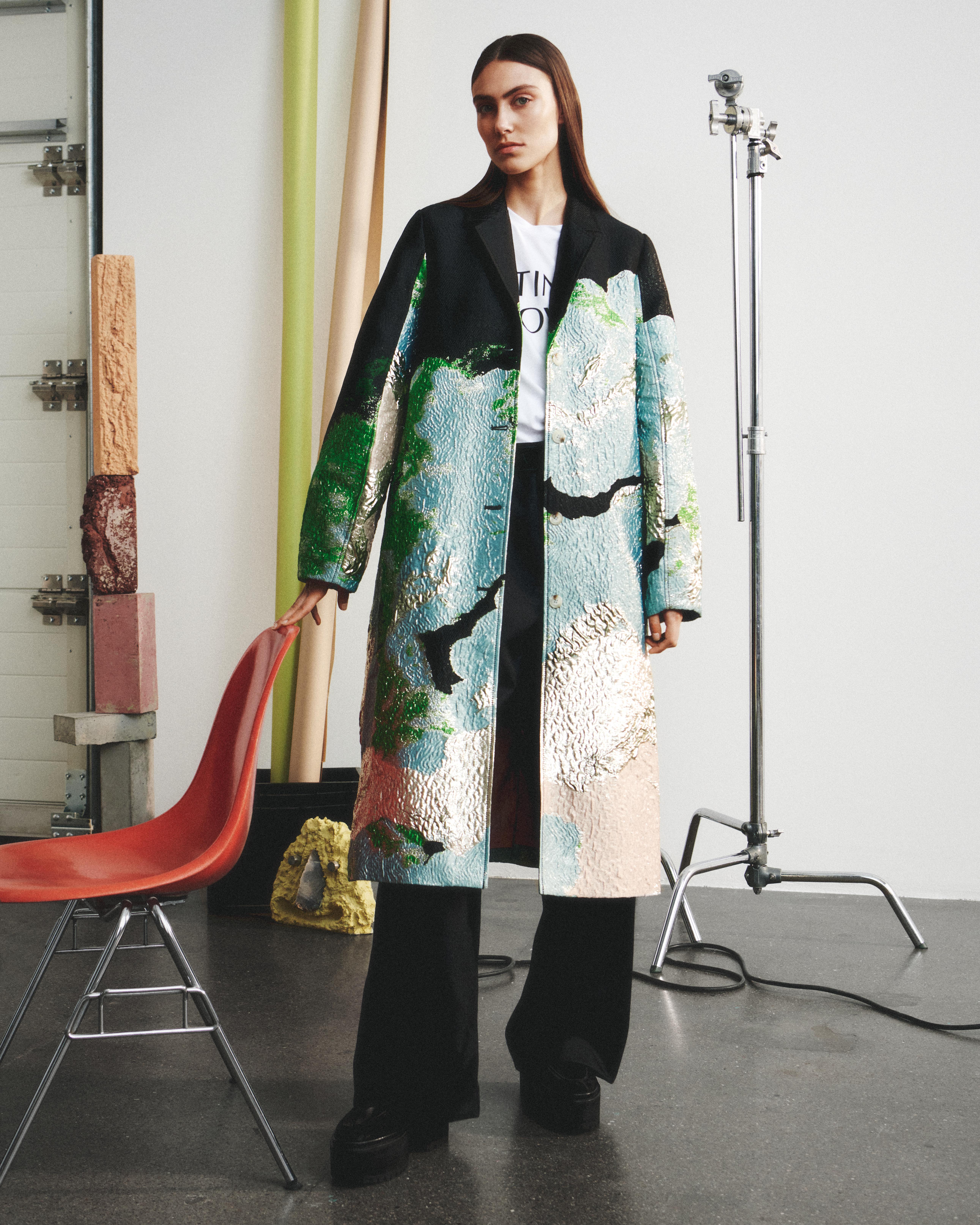 Liberty Meets: Stine Goya
Fashion designer Stine Goya sits down with Liberty to discuss her eponymous label, how she's challenging the notions of Danish design and why Liberty is her brand's natural home
By: George Elliot
When Stine Goya launched her eponymous, story-telling womenswear label in 2006, she wanted to explore a new side of Danish design by introducing playfully cut, bold colours and vivid patterns into a landscape that for years has been dominated by minimalism and muted palettes. With sculptural silhouettes, pastel hues and artistic prints now firmly established as Stine Goya signatures, and as her beautifully disruptive designs now call Liberty's legendary fashion department their home, we thought we'd take five with Goya to discuss her formative early years, how she wants to empower women to be self-expressive and why she's always had her eyes set on Liberty.
When did you first become interested in fashion?
The interest has always been there – as a young model, editor and now as a designer – my life has always been intertwined with the industry. It's the ultimate form of expression – a way to show the world who you are or want to be. I love how clothing plays a critical role in how people feel and act.
Did you always know you would work in the industry?
Each role that I have had over the course of my career has felt quite organic and like a constant evolution. I don't feel like I have known anything different then working in some aspect of the industry so for me, it's like second nature.
Where did your love of colour and print come from?
Contrary to popular opinion – Copenhagen is full of colour. I am constantly inspired by the design of the city, it's palette and the summer light. I'm drawn to exploring these elements and embedding my work with bold cultural references that seem in contrast to the subdued palette often associated with Denmark and by extension with Scandinavia. Colour lifts your mood and changes your expression – it's fun and bold.
Can you tell us about your time at Central Saint Martins – what were your key takeaways from your time there?
CSM taught me to have an open mind - we were exposed to such a high calibre of talent that my experience helped me to form a higher understanding of my personal direction and vision. It was an amazing experience to leave Denmark and find myself challenged in a way that wouldn't have necessarily been possible if I had stayed in Copenhagen.
Did moving to London have an impact on your aesthetic?
Definitely – it's hard not be influenced by London. The city is a confluence of eras – an incredible place where history meets modernity and contemporary trends actually come to life. Studying, living and working in such incredible city will always hold influence to my work. It gave me a new perspective to design with.
Stine Goya

is a

contrast

to the

Danish "Law

of

Jante" –

which

stands

for the

idea

that you

shouldn't stand out from

the

crowd. I

am

proud

that my

collections

are

bold

and

empower women

to

express themselves.
Was it ever your intention to rebel against Scandinavian simplicity?
I've never felt like I was rebelling – more that I was showcasing a side of Danish creativity that hadn't previously been explored. Scandinavian style is varied and practical but fun and adventurous. Stine Goya is a contrast to the Danish "Law of Jante" – which stands for the idea that you shouldn't stand out from the crowd. I am proud that my collections are bold and empower women to express themselves.
How has the fashion landscape changed since you started out?
Years ago – fashion was centred around the capitals Paris, London, Milan and New York. Now trends are more heavily influenced by satellite cities like Copenhagen. We have always had such a strong creative feeling in the city, so it's really exciting that now the industry is coming here to explore that.


I

feel the

evolution

of

STINE GOYA

has been quite

ORGANIC

and

stayed true

to our

brand values

of being

ARTISTICALLY DRIVEN, PLAYFUL

and

BOLD.
Have you evolved as a designer?
With each collection, my design narrative grows and develops as I become more experience and more confident in my vision. While I am different woman from 10 years ago, I feel the evolution of Stine Goya has been quite organic and stayed true to our brand values of being artistically driven, playful and bold. I think this constant red thread aligning each collection has led to our popularity over the years – there is a clear feeling of what Goya design is and how it will make you feel.
You were previously a model, has this shaped the way you design?
Modelling makes you acutely aware of how pieces feel, flow and drape – which I think has definitely helped in my design process. It's has been quite beneficial for me to experience different sides of the industry – you understand the customer, you understand the business, you understand the marketing, you understand the visuals – you create a holistic idea of where your brand is and a vision of where you want it to be. My goal is design collections that feel true to all my experiences.
How do you want women to feel in your clothes?
I want women wearing Stine Goya to feel comfortable and confident expressing their individuality. It's inspiring for me to see women wearing the brand in their own way – it's always a nice surprise to see your collections imagined and styled in a new way. It definitely fuels me to keep evolving and keep growing.
Does seeing the way your designs are worn on social media influence future collections?
Social media gives you an insight into your customer base that can help to develop future collections. Our followers are often quite vocal about their favourite styles, colourways and fits - so we have an idea of the key pieces from each collection that will most popular. We aren't dictated by our customers of course – we want to keep challenging their ideas season on season, but we of course take their comments on board.
Do you think social media has influenced the way designers create today?
I can only speak for myself, but I see social media more as a source of inspiration than a means of influencing or dictating the creative process.
What's your starting point when designing a new collection?
The team and I usually take a couple of days out of the office, to delve into research of a particular theme or point of departure. Having this space gives me the clarity to design and explore ideas with more focus.
Where do you seek inspiration?
It can be from a book, a movie, a trip – inspiration comes from my everyday experiences. I'm forever thinking about what I can do next.
Why did you choose to launch at Liberty?
Liberty is the quintessential London destination. For me it feels like the ultimate shopping destination. The building, the brands – everything feels part of a bigger story. From my days studying at CSM to now, Liberty has been the ultimate goal so I feel so humbled to now see my collections on the shop floor.
Any advice on how to style the latest collection?
Don't be afraid to mix and match all the prints together. Layer up and have fun with it!