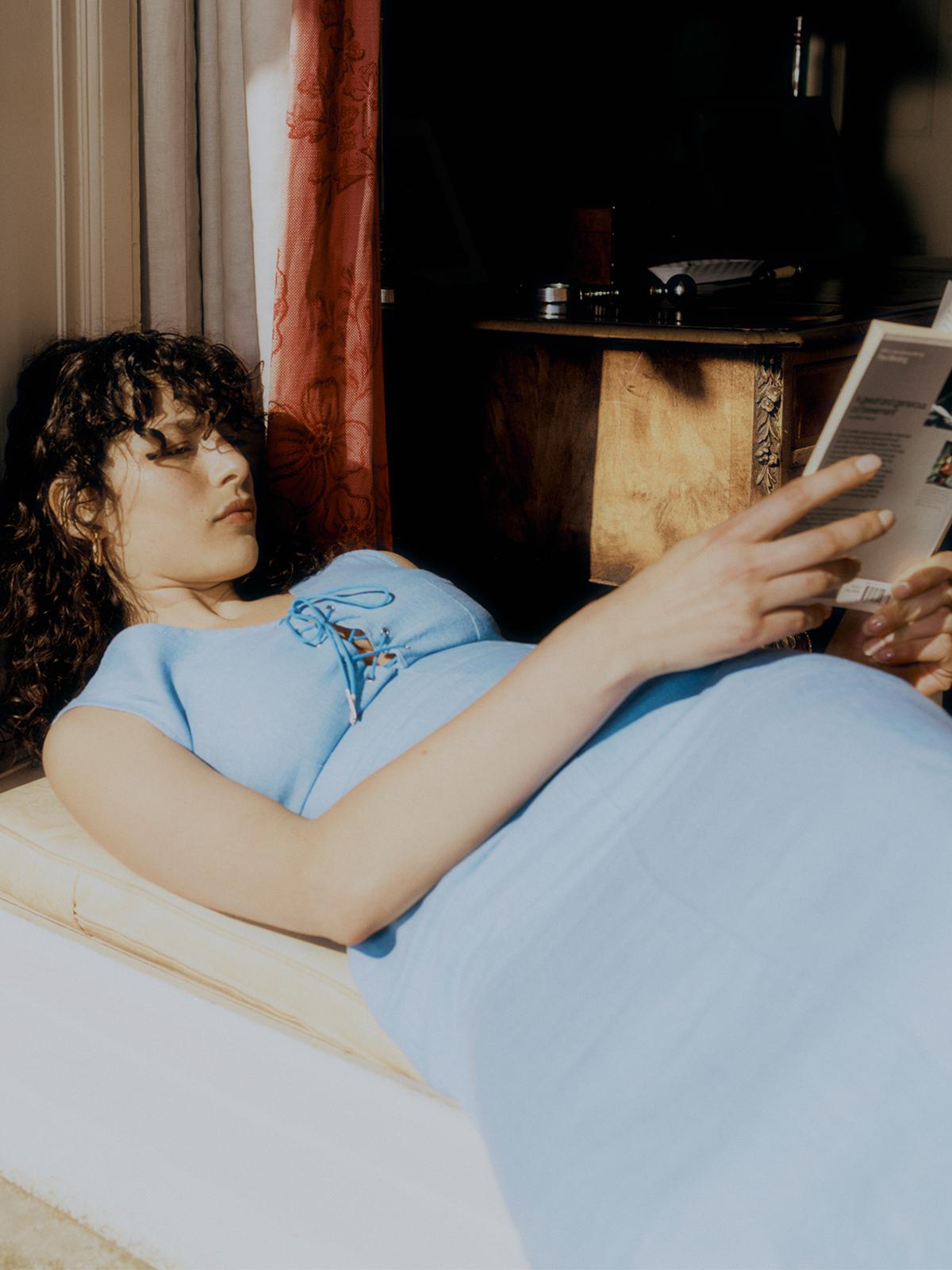 The Sisterhood
Paloma Wool
The brand's founder, Paloma Lanna, talks artistic inspiration and the women that make her
Shop Paloma Wool
Back for another season, exclusively at Liberty, the past few years have seen Paloma Wool evolve from Instagram fashion project to a brand of global renown whose audience awaits its every move. Launched by Paloma Lanna in 2014, the Barcelona-based brand's sell-out collections of soft linens, graphic weaves and Mediterranean colour palettes are presented through minimally styled, ethereal imagery that has become its signature. Here Lanna fills us in on her creative journey – and finding strength and inspiration in her Spanish sisterhood.
How did Paloma Wool come to fruition?
I always aimed to create my own fashion project because I grew up with my parents building their own brand, Nice Things Paloma. S. However, it wasn't until I understood how to evolve my idea of a 'fashion brand' that I started Paloma Wool. So, I created this multidisciplinary concept where I could focus on artistic exploration and not follow certain established fashion industry standards.
How would you describe the aesthetic of the brand?
I think of the aesthetic as free and organic; it's something that happens and looks natural because it's not trying to be anything besides what it is. Colours and compositions are particular to my personal vision and I think that is heavily influenced by my surroundings: good weather, nature, the sea and Barcelona. I personally photograph all our campaigns which gives the project a visual consistency. I like to study the space and ideas that evolve around the act of getting dressed and love telling the stories behind our pieces. Collaborating with different artists around the world with whom we share values is also very important for us, it enriches our capacity to express things through different disciplines and perspectives.
"My greatest source

of

inspiration

is

women. It's really important

for me to

acknowledge all women,

from the

women who surround me

like my

mother

and my

friends,

to all the

women

who

follow

the

project."
Is there a certain feeling you want your clothes to evoke from the wearer?
Paloma Wool is made up by a team of women of close friendships that support and respect each other a lot. I hope the project speaks and inspires other women to create and express themselves freely with respect towards themselves as well as everyone and everything that surrounds them. That's what I would like to evoke to anyone wearing Paloma Wool. It is something I make special reference to because women helping other women, building and creating things together is an important message I hope the project reflects.
What are your main sources of inspiration?
My greatest source of inspiration is women. It's really important for me to acknowledge all women, from the women who surround me like my mother and my friends, to all the women who follow the project. Another essential source of inspiration is the arts. I always imagined Paloma Wool as a platform that brought together artistic disciplines, I learn so much from meeting and working with different people. I love to think of Paloma Wool as a place where the arts meet and things happen.
What's the starting point when designing a new collection?
There's not an established starting point; sometimes I think of random concepts I'd like to express, sometimes it all starts with a fabric, sometimes with a combination of colours I've seen in a painting. I like to think of things as a whole, where each part of the process, from the initial idea to the final picture we post on Instagram, is relevant to each other. Again, colours are a fundamental creative engine here, in fact, selecting and putting colours together is one of my favorite parts when designing a new collection.
You're based in Barcelona, in what way does this influence your collections?
Barcelona is a small, easy and friendly city located between the mountains and the sea. I feel comfortable and at home here. This city is where I learn about beauty and friendship.
Why did you choose to bring the brand to Liberty?
We've been looking for the perfect home for our project in London for over a year now, we were lost for words when the opportunity with Liberty arose. I used to visit Liberty every single time I came to London as a girl with my parents, I would have never believed something of mine would have a place here. It's a dream.