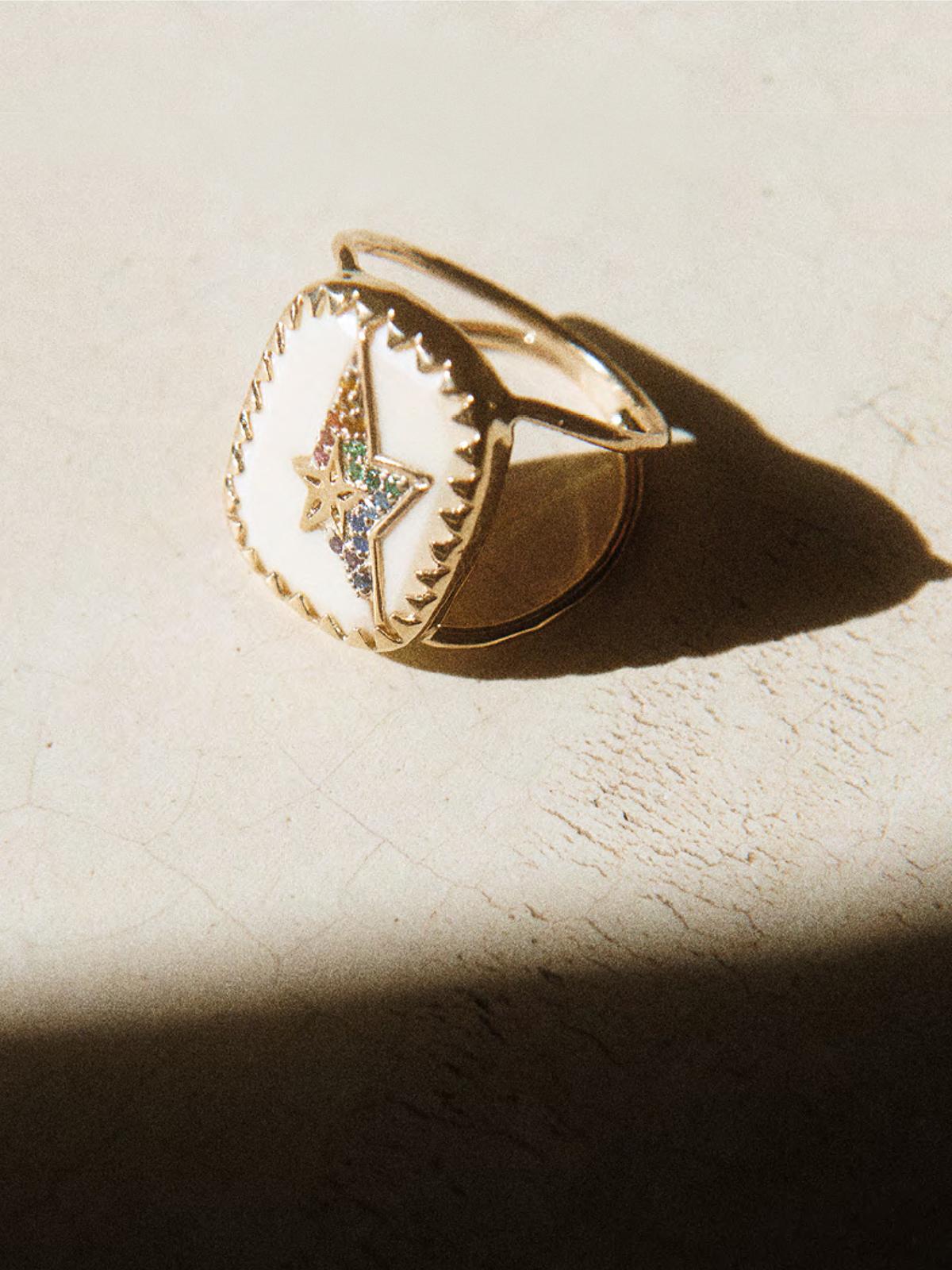 Natural Progression
Pascale Monvoisin
An unexpected move to the French countryside proved to be the artistic anchor Parisian jewellery designer Pascale Monvoisin never knew she needed
Shop Pascale Monvoisin
Metro, car, café terrace or gym floor, Pascale Monvoisin has sketched jewellery designs from just about every square foot of Paris, the animated city she's called home for 20 years. "I can work anywhere," explains the designer, a one-time in-flight cabin manager whose handmade talismans reflect her own wayfaring spirit. "The only things I need are a notebook and a pencil… I have a real collection!" But when the coronavirus pandemic forced her city to lock down in mid-March, she temporarily upped sticks to Normandy – and the stillness of the French countryside has proven to be more creatively stimulating (and harder to leave) than she could have imagined.
Monvoisin's current base is the "charming country home a few miles from the sea" that she and her composer husband bought as a weekend hideaway a decade ago. It's served as a brief stopover for their family in the years since; offering a two-day breather from working commitments when schedules allow. But since deciding to "retreat there and wait for the storm to pass" earlier in the year, Monvoisin has found herself energised by the rural silence that surrounds it.
SHOP PASCALE MONVOISIN
Untethered from the thrum of city life that has always provided her with inspiration, Monvoisin has witnessed "nature transform…the detail of a leaf nibbled by a caterpillar, a sunset and the sound of the wind in the trees" from her window. Surprising herself, she decided to create a permanent working space and a home for her nomadic notebooks. "I repainted, changed a few pieces of furniture, bought some new shelves, and a new window to let in more light," she says of her new office, which she shares with her dog Marcel. "I've always painted a lot and I would like to make this space into a painting studio." She also finds headspace in a cabin near the house, "where I shut myself away with my computer for work meetings".
Having dabbled with numerous artistic mediums, Monvoisin approaches jewellery design like a painting; embracing imperfections and leaving the mark of her own hand on each piece. She fuses hand-selected precious stones together with shells and silk thread – enjoying the contrast and contradiction of the materials. In her new surroundings, she listens to podcasts as she brings her designs to life. "Music takes up too much space when I work, I need to let my mind wander," she shares. "I love listening to France Culture when I work. I also relistened to the episodes of a France Inter programme called 'Remède à la mélancolie', which translates to remedy for melancholy."
Despite the idyllic setting for which she is ever thankful, the last few months haven't been without challenges. "We had to face many uncertainties concerning the future of our businesses and what would happen," Monvoisin admits. "But we managed to cope with the difficulties, thanks in-particular to work and the extraordinary drive of our teams. I am very appreciative of the support I received from the people I work with."
Monvoisin now returns to Paris only for the occasional meeting – but, as a creative whose universe is based on new cultures and horizons, cities and all that lie within them remain pinned to her moodboard. "I am someone who creates with images," she says. "I assemble inspiring colours, furniture and travel photos that help me to fine-tune an idea… I love to picture myself in a city!" It's life flip-reversed, and - for now - she's relishing the other side.