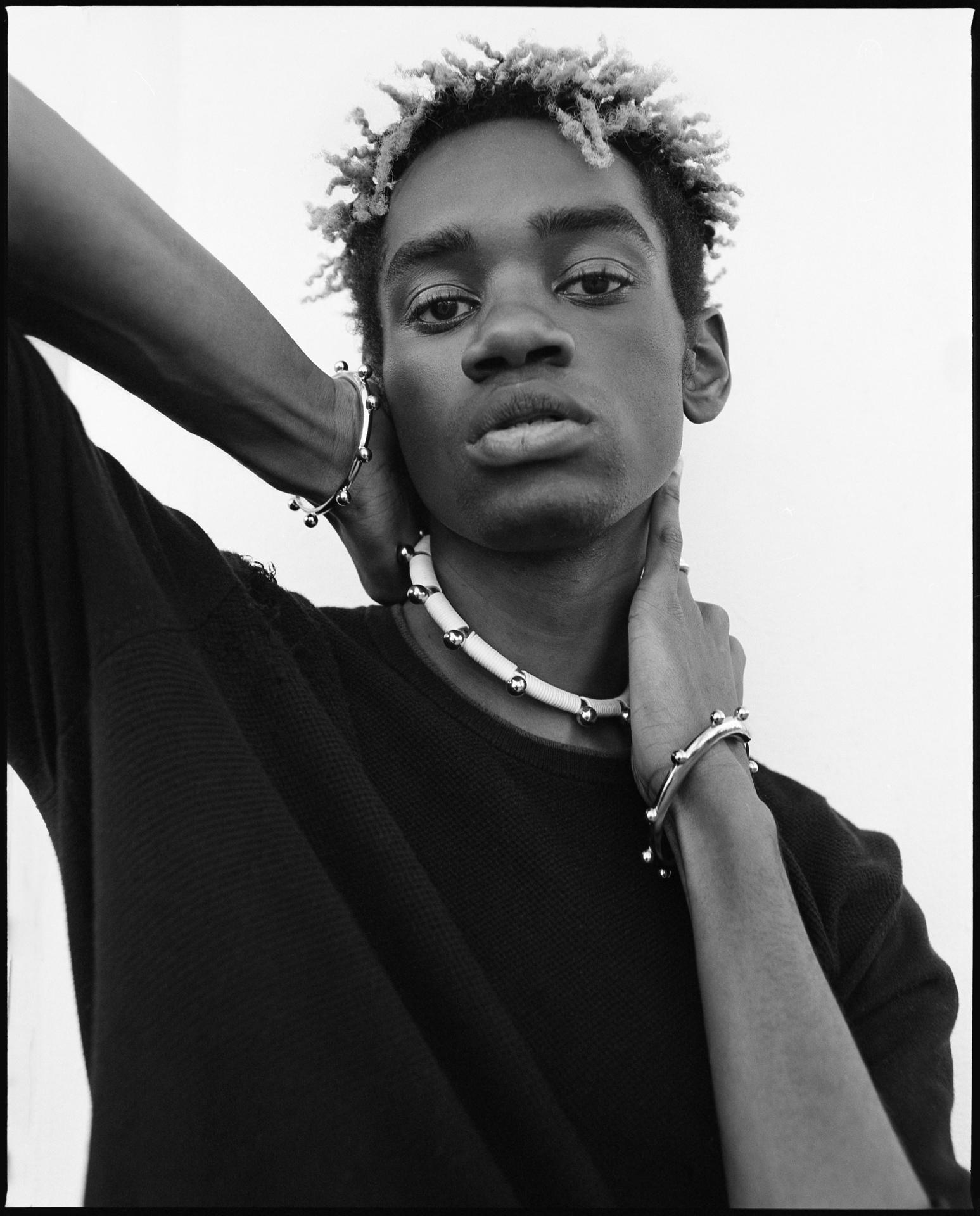 A New Vision of Luxury
Khiry
Designer and brand founder Jameel Mohammed on how he channels specific aspects of the African diaspora into modern, minimalist jewellery
Shop KHIRY
While studying Political Science at the University of Pennsylvania, Jameel Mohammed was told by the CEO of a renowned luxury goods company that true luxury brands could only emerge from Paris and Milan. In 2016, he launched KHIRY – an Afrofuturist brand that aims to subvert the conventions of the luxury sector and make pointed statements about the value of Black lives and cultures. Here the designer talks through the inspiration behind his sculptural jewellery designs and his hopes for the future of luxury.
How did the shortcomings of the luxury sector inspire you to start Khiry?
As an entrepreneur and a born-contrarian, I've always responded to assertions that something was impossible with the will to disprove them. As a person who has studied a ton of entrepreneurial narratives even before deciding to embark on this specific journey as a businessperson and an artist, I was aware that blind spots from established players often create gaps in the market. On a personal level, I refuse to believe that it was acceptable that there would be no players at the top end of the market advocating for a distinctly Black-inspired aesthetic and cultural heritage.
Have you always had an interest in jewellery?
Yes, I've always had an interest in crafting things. Jewellery was an early outlet, from making lanyards and necklaces at the YMCA to eventually making nylon cord necklaces that the Barney's executive team took an interest in and convinced me to focus on jewellery. Jewellery has always been accessible to me as a maker in some ways that even the other categories that I've worked in were not as readily so.
Can you tell us a bit about your design background?
My first professional roles in design were internships at Nicole Miller and Narciso Rodriguez during high school. Prior to that I had been interested in fashion as a means of self-expression. As a multimedia artist throughout my childhood I always applied my creativity to making clothes, to imagining and designing characters and scenarios, and ultimately to building a world. I launched KHIRY in 2016 after deciding that I wanted to use my artistic skills to envision a world that would treat Black folks more equitably, and that would address the sources of inequity in our time. I wanted to wield my access to the presumed authority of luxury in defining what our values are as a society.
How would you describe your aesthetic?
I would say that it's minimal. There's a strong emphasis on line and silhouette and its potential to evoke specific references from throughout the African diaspora and also my own personal history. This focus on form is often paired with a strong penchant for maximalism and embellishment that can elevate simple shapes into opulent and timeless heritage pieces.
Where do you look for inspiration?
I think the inspiration comes to me through my own process of exploration and seeking to understand how the world works and to reflect on my personal experience within it. I love to read, watch documentaries, watch contemporary political analyses, experience dance and art from now and the past and reflect on the ways that iterations of Black creatives have sought to address the inherent inequities that are implicit in the experience of Blackness, and still manage to create something beautiful - to create possibility. This is what I seek to reflect in my own work and create.
I'm constantly reflecting

on

my lived experience

as a

Black artist

and

how it coheres

with

other experiences

of

Black activists, thinkers

and

writers, now

and

throughout history.
How do you choose which aspects and themes of the African diaspora to channel into your designs?
I'm constantly reflecting on my lived experience as a Black artist and how it coheres with other experiences of Black activists, thinkers and writers, now and throughout history. As individual pieces reflect on specific experiences, ideas, possibilities, myths and narratives, they accumulate in a way that makes me able to understand a net message that I want to respond to and that I want to communicate. The individual pieces are like individual sentences in a thesis, or individual notes in a composition. The net collection takes shape in relation to the tensions that the individual pieces explore.
Can you talk us through your creative process?
I always start with a sketch or a series of sketches, and then I will select the pieces that feel the most resonant with the theme that I'm trying to communicate. I'll then start trying to 3D model the individual pieces, where inevitably some new ideas will occur as I start to see 2D pieces take shape in 3D. From there, I connect with various factories to produce and cast the pieces and any desired embellishments in metal. Then we do the final assembly and finishing, and violà!
Do you design with a particular wearer in mind?
No, I design entry points that I think a variety of wearers will gravitate toward. My goal as a designer is not to create a community that is demographically or experientially homogenous, but that is united by a shared vision of what the future could be. As a designer of objects, it's my goal to create pieces that could resonate with the varying perspectives that our clients bring to bear.
Do you have a favourite design from your collections?
No, I think my favourite design is always the most recently sampled. I really live for the process of seeing things realised, and seeing what becomes a favourite of our audience is really resonant. I'm particularly proud of things that I see a variety of different types of folks responding to. As an artist I'm always focused on what's the next thing.
What has been the proudest moment of your career so far?
I was really proud to have been able to work with a group of younger artists to make my most recent collection which included some wearable sculptures and one-of-one garments. To be able to have created that kind of space for us all to reflect on themes that we had personally experienced through the measured exercise of craft was a true dream come true.
What's next for the brand?
I'm excited to be starting some collaborations in 2022 and to continue extending our product assortment in a measured and thoughtful way.
What are your hopes for the future of the luxury sector?
I hope that there's better understanding and respect for a greater breadth of perspectives, and that there is the will to invest the degree of resources in establishing a new set of institutions which can convey these perspectives into the future.