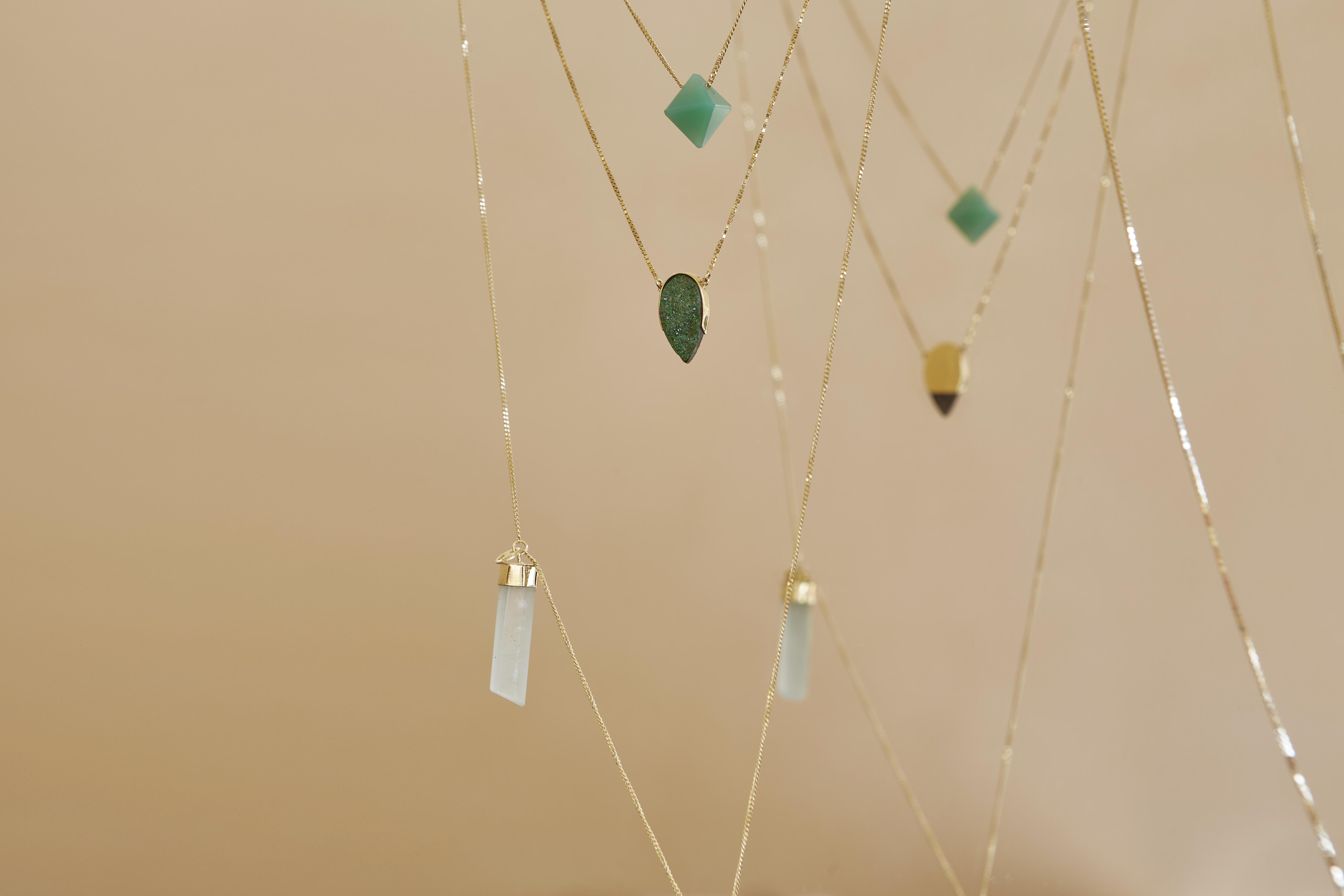 Jewel Purpose
Atelier VM
We meet the creative duo behind the poetic Italian jewellery brand
Shop Atelier VM
Spinning poetry from fine metal threads since 1998, Marta Caffarelli and Viola Naj-Oleari are the dual minds behind Atelier VM. Believing that signature jewellery has the power to become entwined with the self, the Italian label has a story to tell with each and every piece, creating unique designs with hidden meaning. Revolutionising the jewellery-wearing experience, core collection L'Essenziale is set apart by an 18ct gold bracelet with no clasp in sight, invisibly welded on to the wrist to form an eternal strand; allowing you to choose your colour and chain weight and have it tailor-measured in-store.

As Atelier VM lands at Liberty, we caught a moment with the jewel alchemists to talk artistic processes and jewellery that's made to be lived in – literally.
When and how did the two of you meet?
We met at school, in Milan, and have been friends since we were teenagers.
How did Atelier VM come to fruition?
The passion for beauty and design we share is the base – and was the starting point – of Atelier VM.
Can you tell us about your creative backgrounds?
Marta started in her early twenties to work with a contemporary jewellery artist in Paris and became a goldsmith. Viola has been passionate about jewellery since she was a child. She started to create and sell bijoux as a teenager and later studied Industrial Design at IED, in Milan.
How does art and poetry feed into your designs?
The creations of Atelier VM are poetic jewels. Simplicity, lightness and an essential style are the base of these poetics. Every piece has a name and almost always holds a specific thought or story.
W

ith

time,

the

jewellery becomes inseparable

from the

person –

a

knick-knack which

is

part

of the

person itself.
Who or what inspires you?
The inspirations are infinite; they come from situations in life, family, nature, travelling, relationships, encounters etc.
How would you describe the aesthetic of your jewellery?
The aesthetic is composed of a refined and light style and always holds a message which the client feels when wearing the jewellery.
Is there a feeling you hope to evoke from its wearer?
With time, the jewellery becomes inseparable from the person – a knick-knack which is part of the person itself.
O

ur

favourite

is the

Essenziale bracelet.... I

t is a

piece

of

jewellery

that

goes beyond the item itself;

it is an

experience,

a

promise

to

yourself

or those who you

love.
What's your brand ethos?
Atelier VM's ethos is determined by a refined aesthetic, which is never just decorative. An unadorned beauty, which is playful but never ostentatious.
What's the starting point for a new collection?
Each collection starts with a random situation in our lives.
What materials do you work with and why?
We use mainly 18ct gold, but also 9ct, which allows our client to give herself a precious present even in moments of economic crisis. Also, semi-precious stones, diamonds, sapphires, rubies, emeralds and others – always small, not too flashy and ostentatious. Silver, which we used in the beginning for several creations, has slowly and naturally abandonded our world. Just like something that doesn't represent us anymore. Besides these classical jewellery materials we have discovered and used many other, less conventional ones, like acrylic, wood and conch.
Can you tell us about your creative process?
We have two stores and our laboratory in Milan, but our jewellery is created everywhere: on the street, in the night, on the ferry, in the dark and in the light, in five minutes or in long nights, there is no rule and we don't have seasons. When we first started, we both did the design, then we had to organise the work. Today, Viola is designing the jewellery, as she is the dreamer between the two of us.
Of all the pieces you've created, what are your favourites?
Our favourite is the Essenziale bracelet a piece of jewellery which is completely new – a real revolution of classic jewellery. It is a piece of jewellery that goes beyond the item itself; it is an experience, a promise to yourself or those who you love.
Where are your go-to places in Milan?
Strolling along the small streets of the city's historic centre, the small indipendent book stores, the hidden private courtyards and gardens, of which you can find so many in Milan, places of silence within the chaos of everyday life in the city.
Does the city have any influence on your collections?
Of course! Everything has an influence.
Why do you think your pieces will resonate with the Liberty customer?
Because the aesthetic and poetry of Atelier VM and the Essenziale bracelet are a complete novelty for Liberty, a new concept which we are sure the Liberty customer will understand, welcome and embrace.
Shop Atelier VM