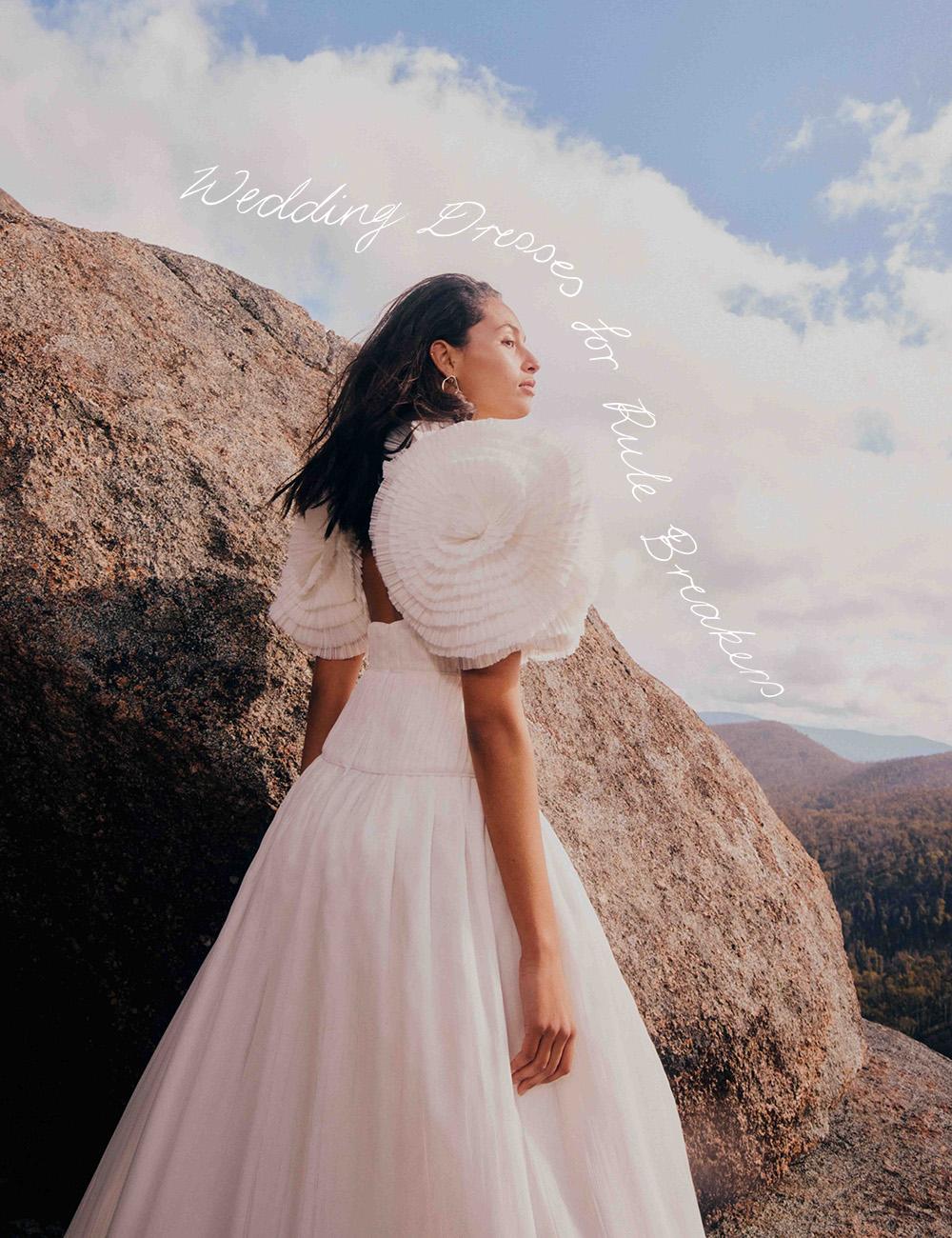 Wedding Dresses for Rule Breakers
For a day like no other, blaze your own sartorial trail by wearing one of the best alternative wedding dresses
By: George Elliot
If we've caught your attention with this, our edit of the best alternative wedding dresses, you're probably among the growing number of brides-to-be that want to rebel against the status quo, who see rules and traditions as there to be broken. And why wouldn't you? After all, weddings are one of life's momentous milestones, so if there's a beautifully unconventional dress that'll ensure yours is remembered for its originality and personal touch, you're going to wear it, right? Here are our favourite wedding dresses that rewrite the rulebook. Expect to fall in love at Liberty.
The White One
If you're thinking about breaking from tradition - but want to do so with subtlety - a white wedding could still be on the cards. Just steer away from any clichés, like fitted bodices, meringue-style skirts, and conventional floral lace. Instead, try Aje's Expressive Pleated Maxi-Dress, £560; it's still white but with its sculptural, flower-like ruffles on either shoulder, it's anything but ordinary. Inspired by 1930s Hollywood - the Golden Age of glamour - Rixo's Liza Dress, £595 is another refreshing take on the time-honoured white gown. Asymmetric in cut and trimmed with ostrich feathers, you'll no doubt glide down the aisle.
Shop now
Shop Alternative White Wedding Dresses
The Colourful One
If you prefer dressing in vibrant colour, the prospect of a white wedding dress probably fills you with dread. The antidote? Tie the knot in something that reflects your maximalist sense style, and boy have we got the gown for you. Enter: The Manifestation by Aje, £690. A celebration of shocking pink and dramatic volume, this billowing dress is probably more you, right? You'll be happy to know that for the modern bride, prints aren't off limits either. With an off-the-shoulder neckline, adjustable waist-belt and patterned with painterly, colourful clouds, Stine Goya's Kian Dress, £230 is just the thing to wear if you're looking to venture off wedding-wear's beaten track.
Shop now
Shop Colourful Wedding Dresses
The Sparkly One
On your biggest of days, all eyes will be on you. But this isn't something to be nervous about, dear unconventionalist; if anything, it's the ultimate opportunity for you to shine in the limelight, literally. Aligne's Gavid Dress, £150 is cut from a lustrous, champagne-coloured foil fabric rather than white tulle so will glisten with every slight move you make. In other words, this midi will ensure you remain rightfully at the centre of attention, no matter what any rogue, etiquette-defying guests of yours wear. For even more glitz, RIXO's Lara Dress, £395 features a high-neckline, bouffant sleeves and a graceful open-back, clad in reflective sequins.
Shop now
Shop Sparkly Wedding Dresses
The Dress that Isn't a Dress
Is there a wedding dress that breaks more rules than one that isn't a dress at all? We think not, that's why either a tailored two-piece or a trousers and standout top combo are both worthy of your consideration. For fans of sleek suiting, look no further than Joseph's Moxon Jacket, £695 and matching Tova Trousers, £445. Cut for a svelte silhouette from soft and shiny silk satin, pair both with some mega jewellery. The best bit: unlike most wear-once wedding dresses, you can repurpose both pieces into a going out-out look in the months after you've said "I do." Looking for extra edge? Aje's cropped Expressive Pleated Top, £305 and iridescent Gracious Trousers, £230 are a perfect match for wedding season's balmier climes.
Shop now
The Black One
If the above are not quite out of the box enough, might we suggest breaking with current customs by reviving a tradition of old: black wedding dresses. Dating back to at least the 19th Century, these once frugal frocks were chosen for their reusability, but have now been reinvented, making them perfect for the chicest of minimalists. A-line in shape and featuring a fold-down neckline, Totême's Wool Cotton Dress, £480 has all the hallmarks of a couture gown, so promises to be awe-inspiring. While Stine Goya's Elena 3D Floral Dress, £360 is an elevated take on the little black dress and embellished with textural floral embroidery. A dress to remember.
Shop now
Shop Black Wedding Dresses