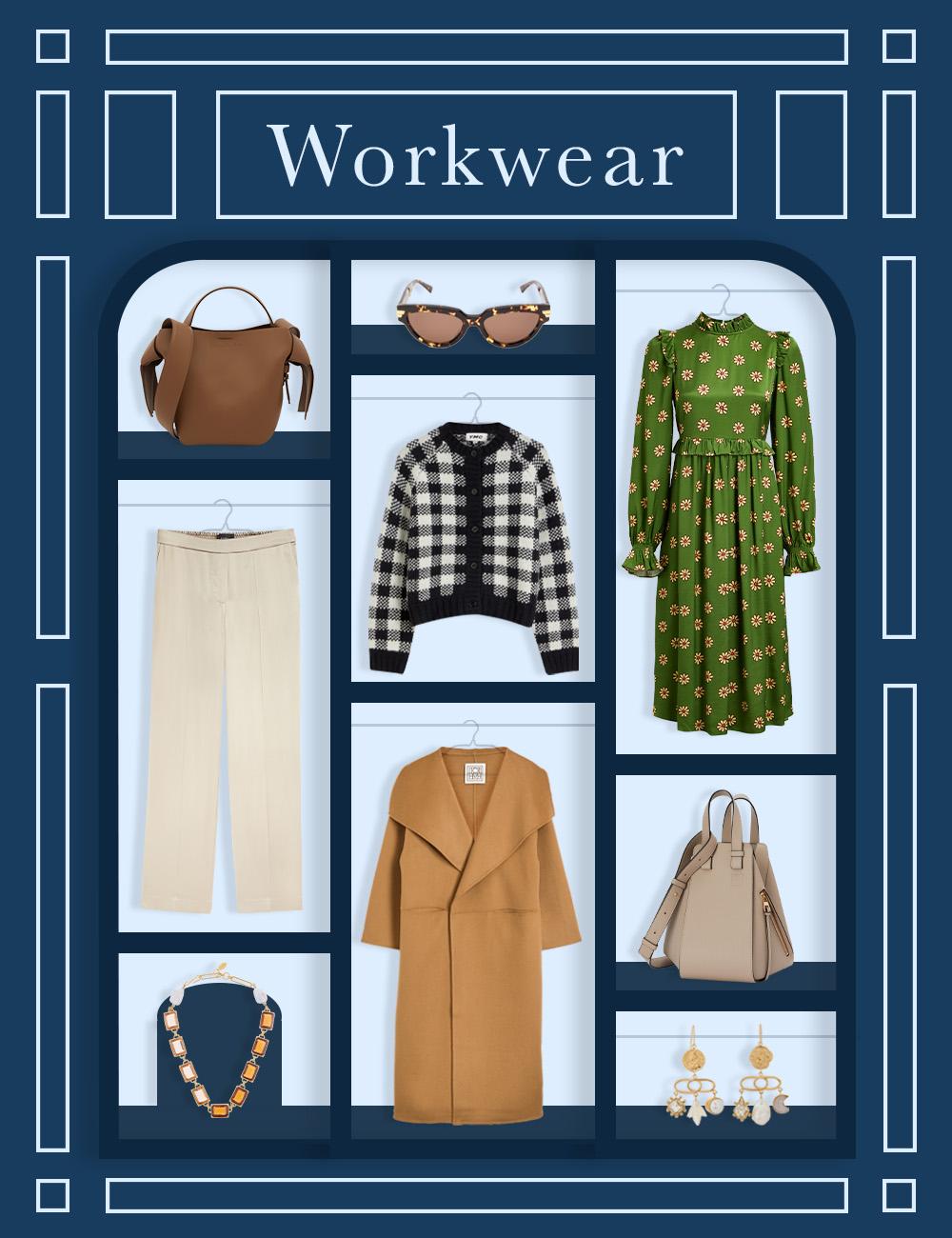 The Five Pillars of a Perfect Workwear Wardrobe
Wave goodbye to morning fashion paralysis with Liberty's guide to what to wear to work, all with practicality, polish and professionalism top of mind
By: George Elliot
Building a fail-safe work wardrobe is no mean feat. You want a ready-made capsule wardrobe of good-to-go outfit ideas to save you time in the mornings, but you also want pieces that still feel like you. If only you had a straightforward, advice-filled guide to what to wear to work at your disposal. Well, now you do. From carry-all bags and comfy knitwear to slick suiting, effortless dresses and after-hours accessories, follow these five fashion fundamentals to build a workwear rotation that'll put in just as much hard graft as you.
Timeless Tailoring
Nothing says "I mean business" quite like tailoring, so let your first new workwear wardrobe inductee be a suit jacket like the Moxon by Joseph, £695. Cut from soft and shiny silk satin, you could pair it with the matching trousers for a new season nod to the power suit. On colder days, a smart coat that's both chic and chill-cancelling is another necessity. Sculptural in shape, Totême's Gabardine Car Coat, £900 delivers on both fronts, and will helpfully pair well with pretty much anything you have in mind.
Shop now
The Hardworking Work Bag
A work bag needs to be big enough to stow your laptop and lunchbox, without feeling bulky, restrictive, or out of step with the rest of your outfit. Enter: Naghedi's Medium Plaid Woven Tote Bag Umber, £210. Hand-woven from brown neoprene, it's soft, durable and surprisingly roomy. Otherwise, Liberty's Dusk Iphis Marlborough Bag, £550 is perfect for schlepping to and from the office, laptop in tow. Printed using a rich dégradé effect with 18 colours, this carry-it-all tote could very well be the next It bag.
Shop now
A Time-Saving Dress
Among the many reasons why we love to wear dresses to work, there's this: it's practically a whole outfit in one, the most snooze-friendly choice of them all. With plenty of florals and flounce, ByTimo's Blooming Poplin Midi-Dress, £380 is a current favourite and will never fail to win you glowing compliments. Better still, this season, more really is more when it comes to denim so YMC's Luna Long-Sleeve Dress, £250 surely deserves a place in your wardrobe. Cut from organic cotton denim for a voluminous, tiered silhouette, it's practical, but far from boring.
Shop now