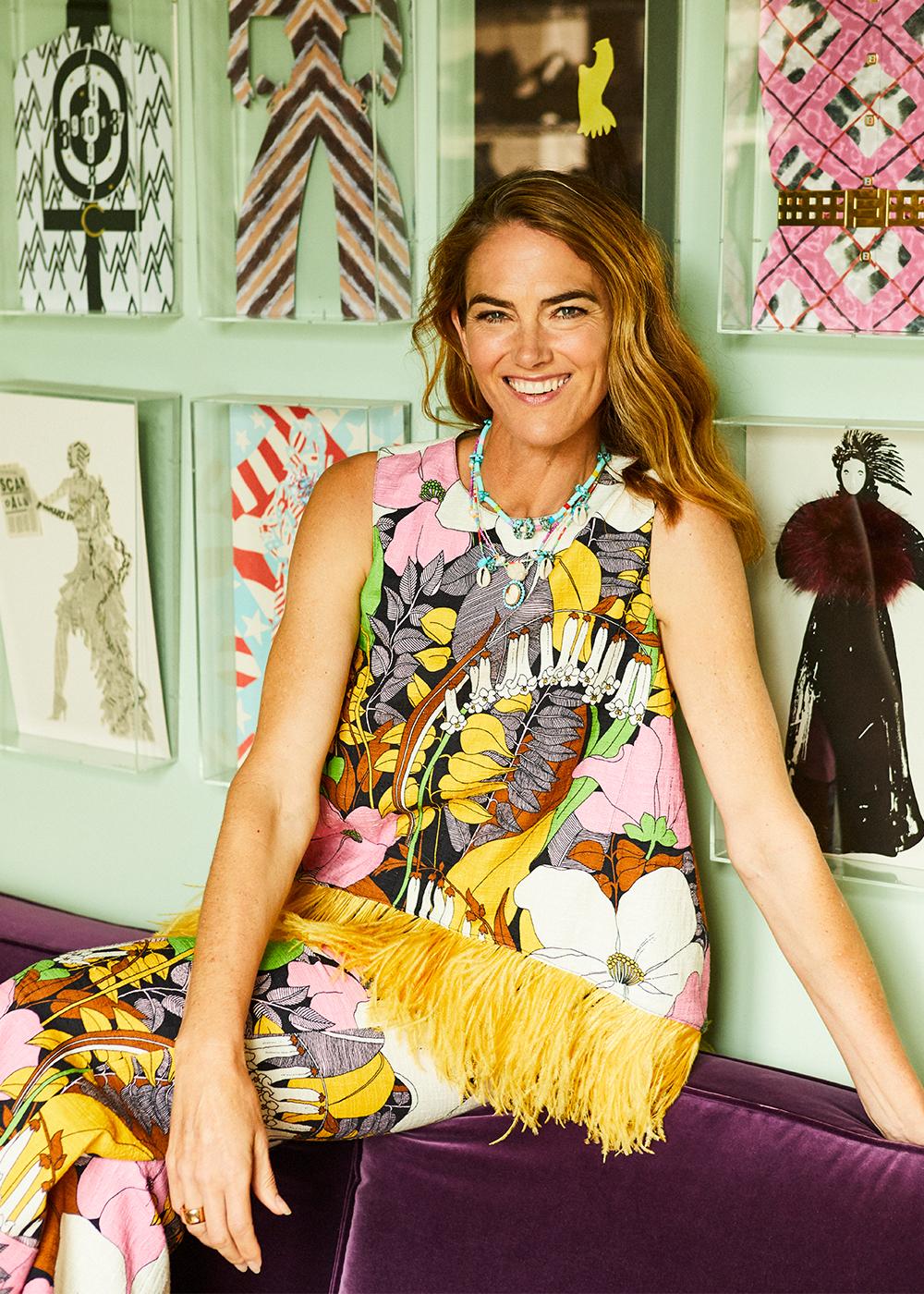 Kick-starting her career as a journalist, Californian native JJ Martin has penned countless stories - but since 2015, she's been writing a sole love letter to Milan by way of lifestyle brand, La DoubleJ. Martin moved to Italy's fashion capital 18 years ago and has since cultivated her own brand of Italian style; fusing vintage prints, saturated colours and ornamentation with intricate details. Read on as Martin takes us back to where it all began.
Can you tell us about your upbringing in California?
I grew up in a small West Side town of Los Angeles called Pacific Palisades. It's pretty fancy and filled with famous people from Hollywood but when I grew up there it was very down to Earth, very sporty and outdoors driven. My father was a hunter and a fisherman and he brought me to every hunt and camping trip he did with my brothers. I did not have any fashion exposure at all when I was young, but I was nuts about my friends' mothers who were very fashionable. I went to an all-girls school called Marlborough that my mother and grandmother attended as well. My great grandfather arrived in Los Angeles in the early 1910s.
When did your love of vintage fashion and prints materialise?
Very early. Even though my mum wasn't into fashion, I spent a lot of time in her closet and dressing in my grandmother's jewels; I remember having a penchant for the big, bold and bright patterns already! It got to the point where I would dress up the dog, too. So, the pattern chip has always been deep inside me, I guess.
When and why did you make the move from the US to Italy?
My time in Italy actually predates the euro! I moved to Milan 18 years ago after a fortunate encounter with my now husband at a party in New York where I was living at the time. We long-distance dated for nine months and then I quit my job at Calvin Klein and moved to Milan to take Italian lessons. In that era, every American woman in Italy moved there for a man. I'm a cliché!
What did you initially think of Milan?
I couldn't stand it here at the beginning. I was a New York doer and couldn't get anything done. The shops were always closed, there was no yoga, no salads, no take-out for miles. Those were the real dark ages. After many years however, I sort of outgrew my Milan allergy and learned to look at the city with smitten, appreciative eyes. And then miraculously salads, yoga and take-out food arrived. Ha!
Today, what do you love most about the city?
I love how cosy and effortlessly chic Milan is at the same time, all the while keeping its old--school nature strong. It feels like a very big small town. I don't want to live in a huge, noisy, cramped, expensive city anymore. Milan is civilised and deeply stylish. I can hop into my favourite church and drop by my friend's design studio the next. Or go grocery shopping and have dinner with Prada's creative ladies in the span of a few hours.
Liberty is such a perfect home

for

La DoubleJ! The brand's history with print

and

pattern is

so

in line with our DNA.
In what ways has it shaped your aesthetic?
In so many ways, I got a proper education in art, architecture, design and fashion in Milan. Now when I go back to my hometown, I can't believe everyone is walking around all day in their yoga pants. The Italians have such a passion for quality and style. It's really contagious. Going to shows and interviewing fashion designers for 15 years trained my budding maximalist eye and refined my taste. Milan is also where my introduction to all of the luxury brands took place.
How and when did La Double J come into the equation?
La DoubleJ was born in 2015 as a shoppable online magazine selling vintage clothing and jewellery all shown on the creative women I had met in Milan during my time as a writer. 15 years into my career as a fashion and design journalist, with a remarkably colossal vintage collection and quite a few interesting women in my agenda, I felt like it was about time to merge all these together and start my own creative adventure.
How did it evolve into vintage clothes production?
Selling vintage clothes is hard! The sourcing is exhausting and you can't do big numbers. So, about a year after La DoubleJ was born, I decided to make one simple, short sleeved, ankle length A line dress in new silk twill featuring eight vintage prints sourced from the Mantero silk archive on Lake Como. It wasn't planned out at all, I just did it on a whim! From that one dress, I slowly added four new models and several vintage prints the first year. Then we got serious and now sell a full collection of new clothes and housewares that feature the vintage prints as well as new prints we design in house.
When did you discover Mantero silk? And can you tell us about what you discovered in its archives?
The Mantero family is an old family friend of my husband. He was actually consulting for them in the 1990s and helping them transition into the modern textile world. I knew they were working for major fashion houses such as Chanel and Louis Vuitton. Most of their vintage print archive was untouched, so there was so much material to jump into. I had dreams of patterned fabrics and books and artworks dating back over one hundred years ago which was all waiting to be reawakened.
Is there a link between your designs and your own sense of style?
Absolutely! I love prints! I love colour! I'm very inspired by rich, saturated colors and naturally drawn towards ornamentation. It's in my nature. How I dress is the starting point for each of all La DoubleJ's editions. I would never put out something that doesn't look great in my closet!
What's your starting point when creating a new collection?
Vintage prints! It usually starts with my research into inspiring patterns. We pick the prints that we'll later edit, re-design and re-colour. Then the silhouettes get drawn and we begin to see the print trials and the knit yarns and just have to decide what goes with what. It's a huge puzzle.
What are your primary sources of inspiration?
The Italians. I always felt like they were born with a knack for style, a sense of fashion that runs in their blood. Their attention to details is just unparalleled and I'm happy to say after many years of living together in the same country, it did sink in.
Your knack for mixing prints is unparalleled. What's the trick?
It's easy to spin out of control with print. The one thing you always have to remember is to keep your colour palette cohesive. If you want to mix them together try to vary the size of the prints, so as to have something small with something big. Or even pair together geometric with flowers. If like many of my closest friends you're a little print-phobic, fine! Just resort to a printed silk shirt, keep the rest clean and everything will go smooth. Easy peasy!