mute/unmute
World of Wonder
How to Decorate a Christmas Tree with More Than Just Baubles
Let Liberty's Visual Concepts Manager, Lisa Clemenger, take you a step-by-step journey to styling a truly magical (and on trend) tree this Christmas
By: Charlotte Olby
Our idea of the perfect Christmas tree involves the joyful meeting of the Liberty Christmas Shop and something that truly speaks to your own personal style. Be that in the literal sense, with a bauble for each member of the family (and their wildest, most wonderful passions and hobbies) or simply a tree that elegantly reflects the style of your home. Everyone has their own way of doing things but in our opinion, Christmas isn't a time for restraint. Much like miraculously finding space for dessert post-Turkey feast – a tree will always have a spare branch for more decorations. So if your living room is your pride and joy, and the tree the Christmas centrepiece, we've got you covered. Speaking with Liberty's Visual Concepts Manager (aka our resident Mrs Claus) Lisa Clemenger, we've gathered all her tips, tricks and top tree themes to make your Christmas tree look like you hired a professional.

Read More: 'Tis the Season for Christmas Cocktail Recipe Ideas
Lisa's Tips for a Tip Top Tree:
The secret of a well dressed tree isn't simply about having the very best baubles, but the way you hang, place and – my favourite – cluster them on the tree. Whether you have a real or faux tree this Christmas, these are my tried-and-tested tricks to help you style your Christmas tree…
Real Trees: Rope in the family and rotate the tree until everyone is sure you have the best side facing front. Gently, but firmly, push down the arms of the tree to open out the branches. Be sure to cut the top off using a small saw so your topper won't sway too precariously. Stand your tree in a pot or a tree stand that has a bucket to hold water without leaking. Note: a dehydrated tree will start to droop and wilt quickly, so we recommend adding a minimum of 500ml of water each day.

Artificial Trees: Fix your tree into a stand tightly and lower the branches, working your way around the entire tree opening the sprigs out wide - like an open hand. Make sure each sprig has little kinks in it so it doesn't look too straight and fake. This will make the tree appear fuller and more real. Always be sure to hide the base with a tree skirt or Liberty fabric, of course. Top Tip: If the arms are looking too loose and show big gaps to the pole - take the ends of the branches and, raising them to the arm above, twist together. Repeat sporadically around the tree to compact it, making it look fuller with a clear space below for presents!
My biggest trick is to collect large objects to fill out your tree. I have been known to use tree toppers, ornaments, toys, crackers and even candy canes on my trees! These can be stuffed (carefully) into the body of the tree to make it feel instantly fuller, without having to play with tons of small baubles and decorations.
If you have a tree that is feeling a little sparse, might I suggest taking a walk around family or friends' gardens? Try your hand at foraging a few branches of foliage like pine, fir, ivy and odd twigs to place in between the branches of your tree to plump it out, adding lush layers – and even fragrance – to your tree. Don't fancy a trek into the wilderness? Approach your local florist to see if they would supply you with some sprigs of holly, berries, eucalyptus and mistletoe. The festive scent should last all the way until the big day.

Read More: How to Make Your House Smell Like Christmas
Within your tree styling arsenal, always ensure you have lots of string lights. They can all be the same type of light, but you can never have enough Christmas tree lights. The more lights you have on your tree the better glow it'll have, a game changer in any and all tree designs.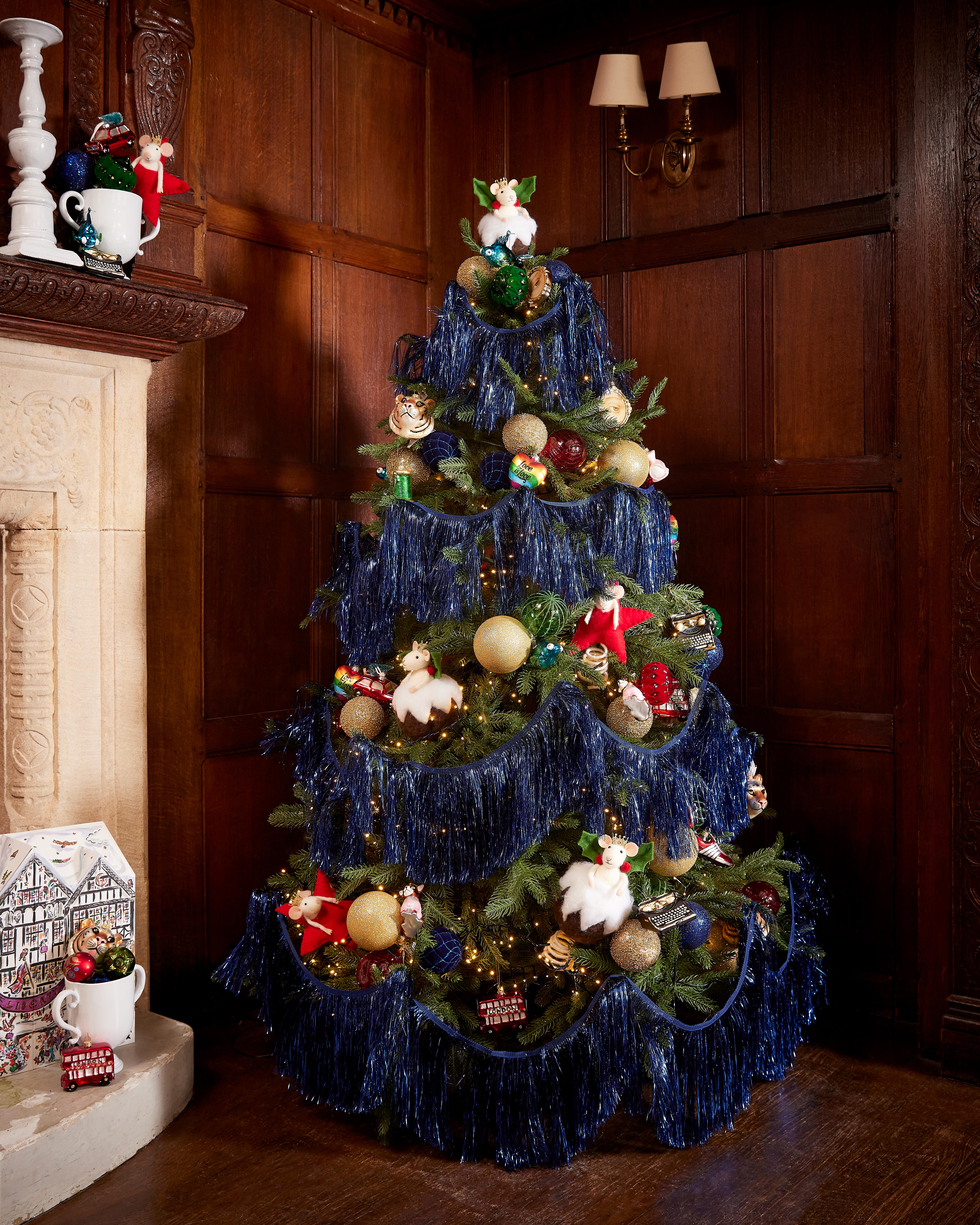 1. Family Tree
This is a tree designed to reflect your own family, their passions and the love you share. Featuring Liberty's cult collectable baubles, this is a much more organic tree – anything goes if it's dressed well and the family will love their special, personal dedications.
The Styling: Rather than opting for traditional tinsel, I've really leant into the eclectic theme of this trend and worked with the 1970's favourite: lametta. But while it's a big trend for trees this year, it's rather tricky to work with. When styling, make sure your length is even (being sure to keep it untwisted!) and the strands sit away from the body of the tree – this enables it to flow beautifully. Again, I worked in clusters to form a colour story for this tree. This is my favourite way to ensure baubles look considered and not just randomly placed.

The Colour Palette: I gathered each cult bauble (which can be a spectrum colours and shades) with a cluster of single colour baubles to create a bigger moment with a touch of storytelling. I have a daughter and nephew who are crazy about tigers, a mum who sews for a living and of course I had to include a Liberty bauble for myself – so I've chosen baubles to reflect them without thinking too much about coordinating.

Lisa's Favourite Decoration: The big blue fish – I decorate and design Christmas all year round so this bauble feels refreshing and nonsensical and just simply makes me smile.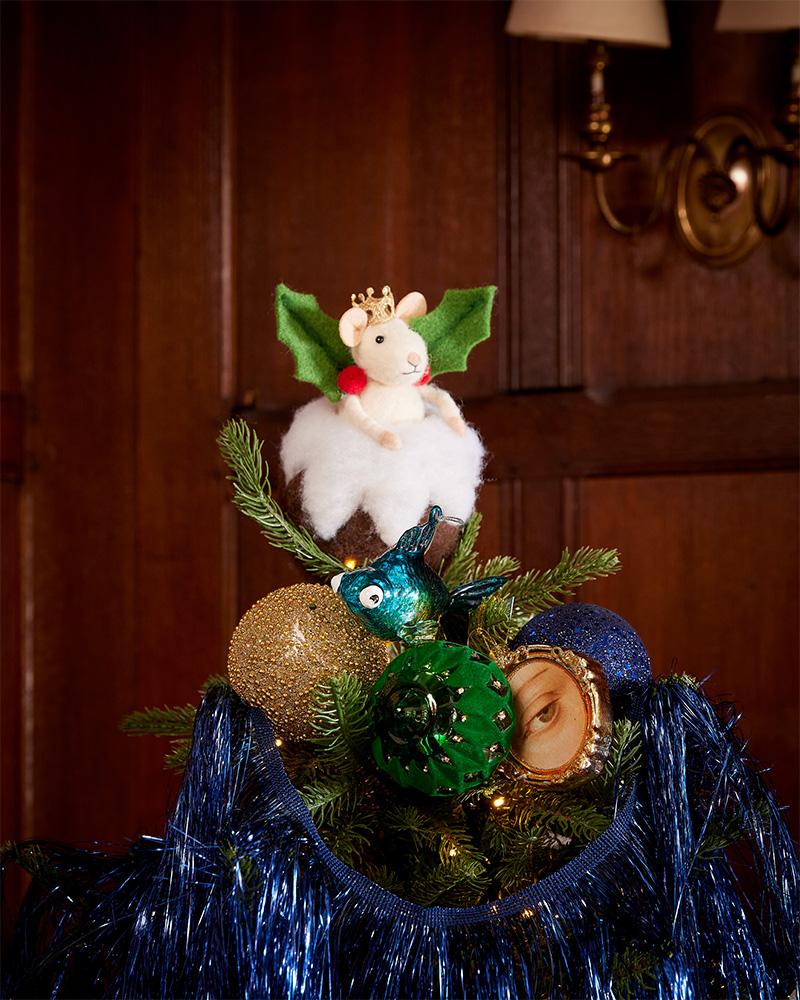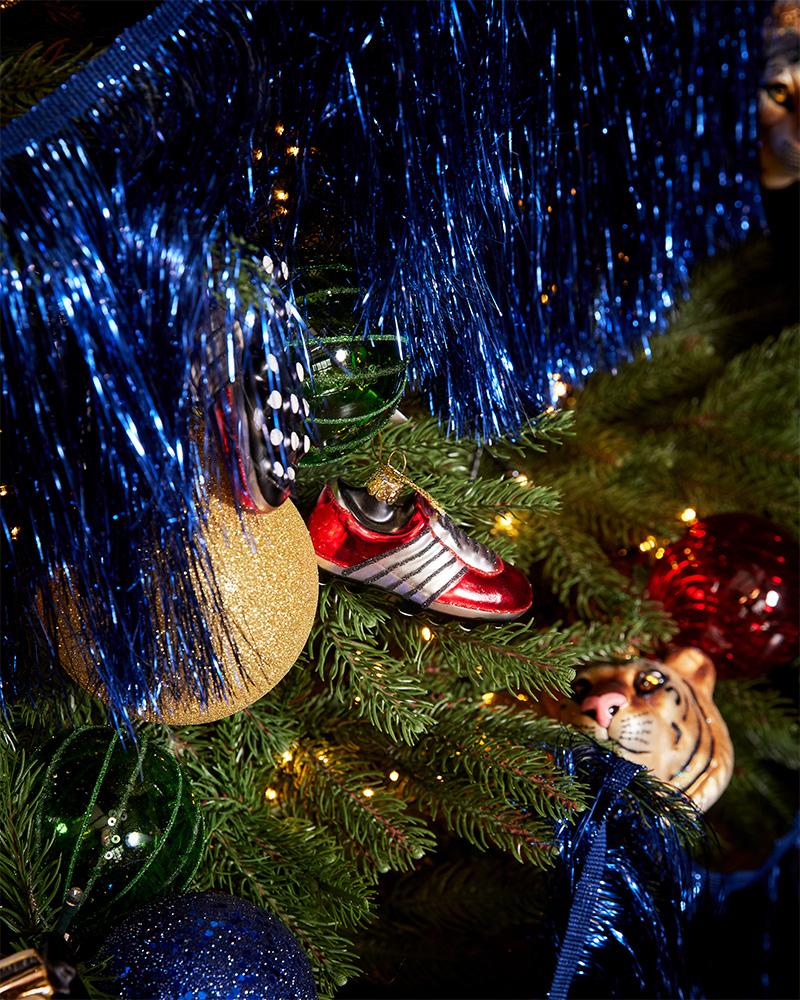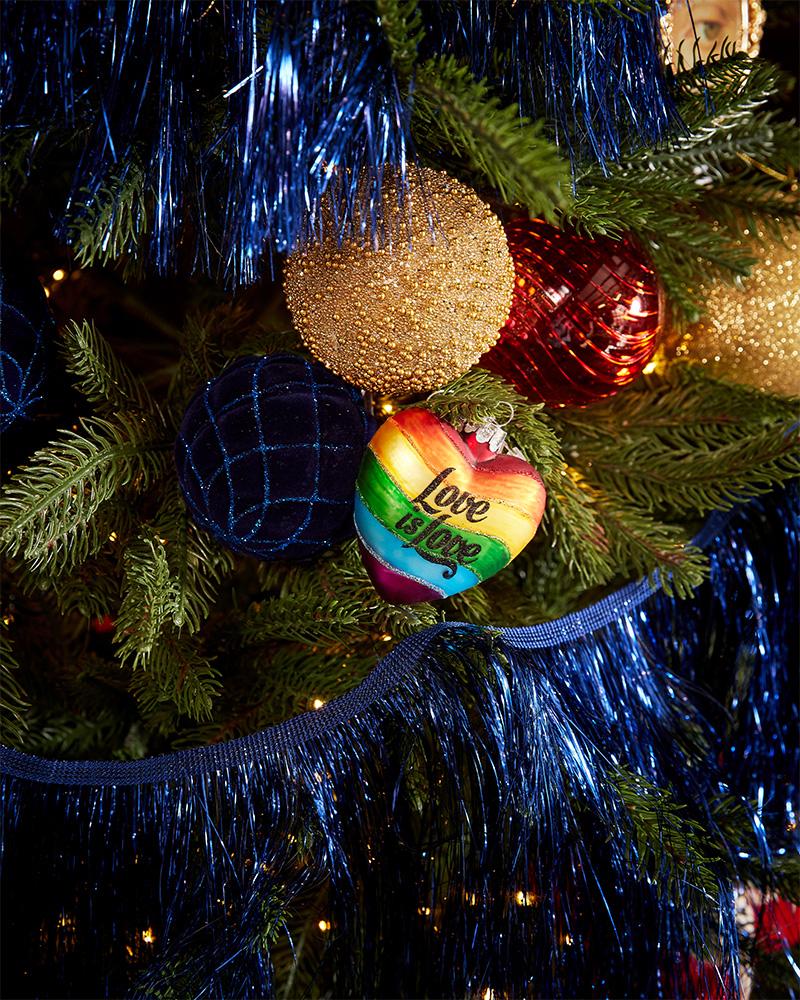 2. Folk Tales
A tale as old as time – Folk Tales is a traditional take on a tree that everyone knows and loves. Created using meticulous hand embroidery and hand-crafted by artisans, each decoration is alive with intricate florals, motifs and designs that celebrate all there is to love about a traditional Christmas.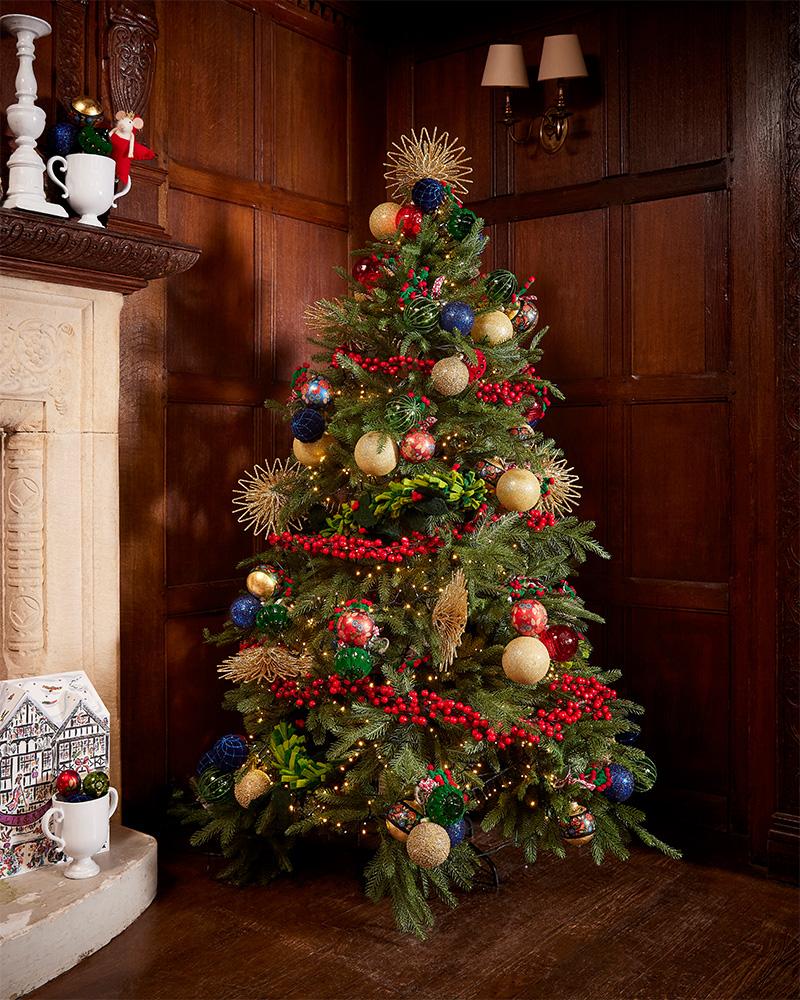 The Styling: Start by clustering your baubles in groups and tie together using string or fishing wire. Attach your clusters onto the strongest branches (to take their weight) and be sure to attach slightly further back, away from the edge, to allow for any drooping. Scatter your bigger decorations evenly, and finish by placing the utter most special baubles to fill any gaps. Be sure to place colours evenly – I always suggest a good 'stand back and squint' test to check it's well lit and the colours feel balanced.

The Colour Palette: Rich primary reds, blues and golds that enhance the warmth and cosiness of Christmas time.

Lisa's Favourite Decoration: The felt mistletoe Christmas wreath. Such a sweet decoration, that I've used to pop in between branches and for fireside dressing.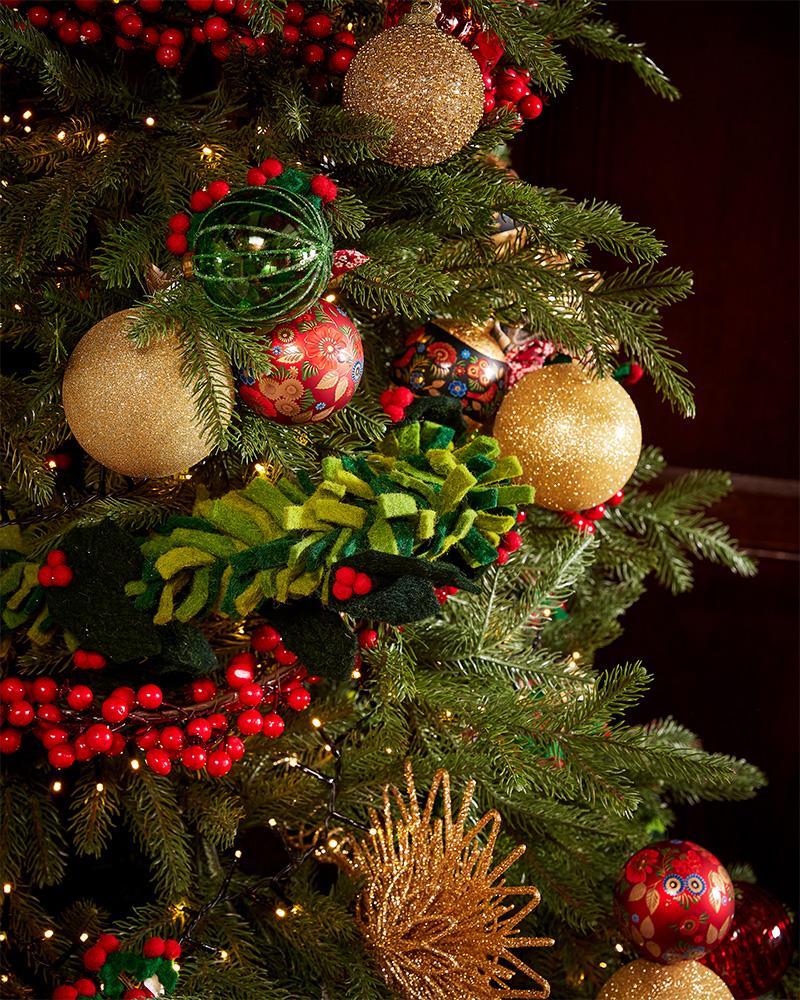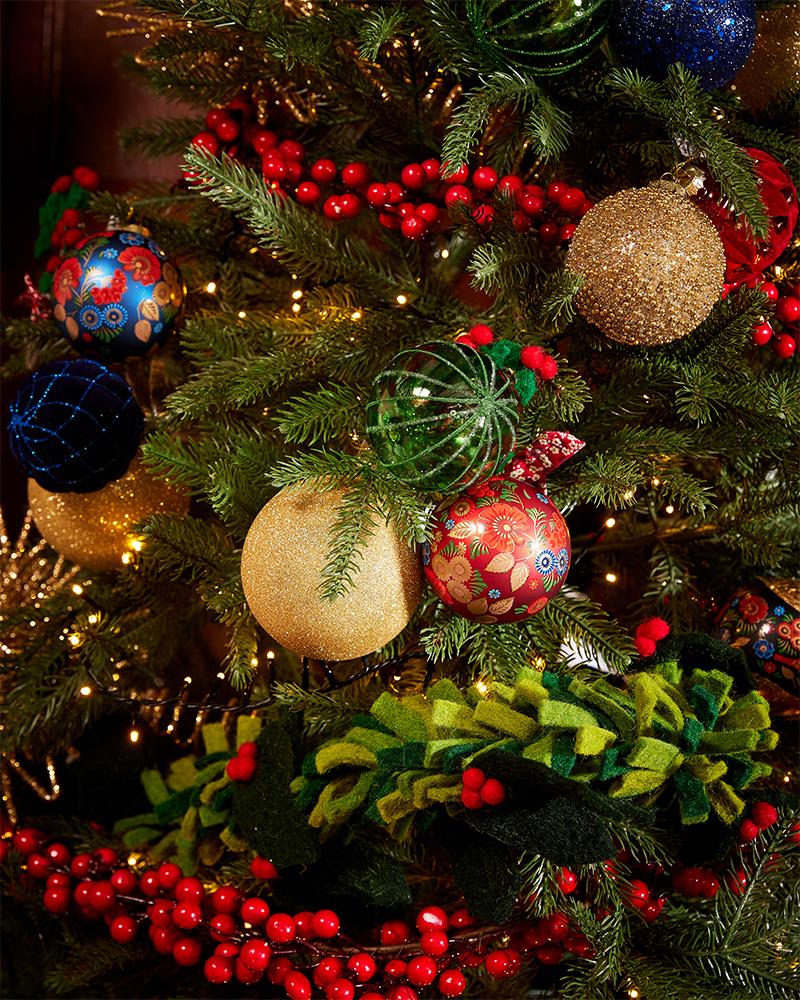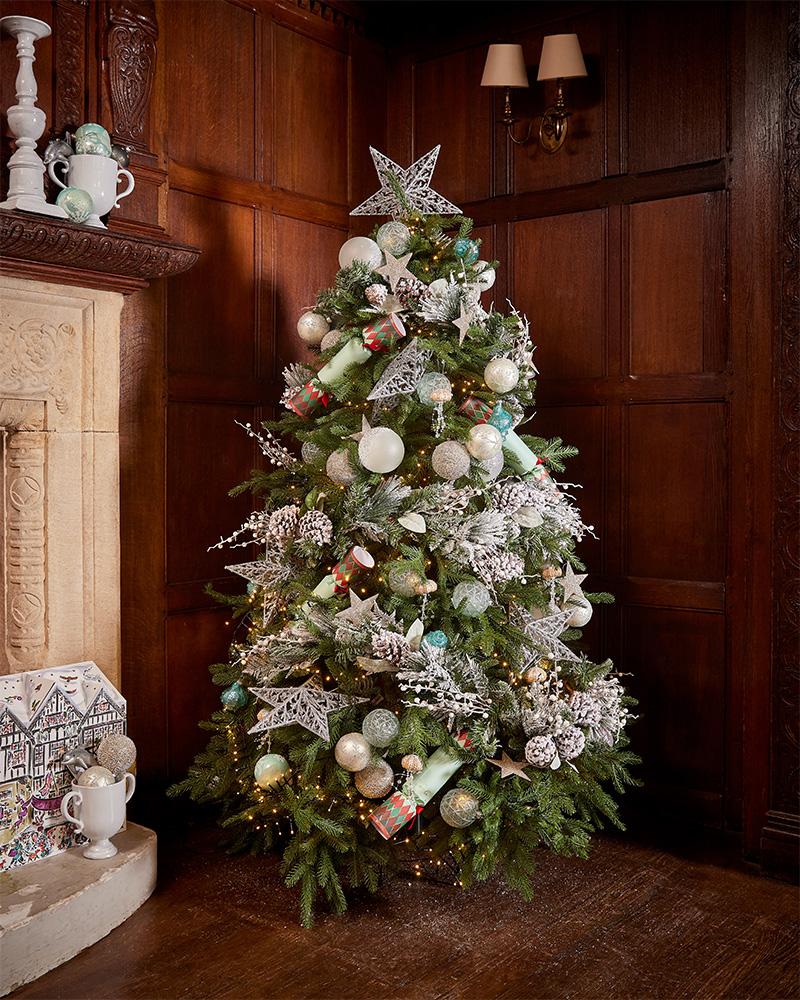 3. Nature's Frost
A tree for the modern home, but without the coldness of an all-white Christmas. Dressed with arctic and sea creatures with frosted pine cones and seashells – it's definitely not lacking in points of fun. Taking my inspiration from the world's greatest wonders, this wintery scene depicts the extraordinary creatures and colours that bring it to life.
The Styling: I started by wrapping the tree in a snowy pine garland, filled with frost-covered pine cones and sprigs of berries to give this artificial tree fullness. The deep winter whites called for silver rather than gold for this tree, so I added in large glittery star tree toppers and an entire box of crackers. Spiral the garland up the tree to give depth and structure, while ensuring the swirl feels even throughout. Because this tree isn't bold in colour, you want it to really glow so cluster string lights are the most effective.

The Colour Palette: Starting with an ethereal blend of white, pinks and blues, my palette for this tree reflects the frostiest parts of our planet mixed with sparkling silver.

Lisa's Favourite Decoration: The jellyfish! Such a detailed decoration with its beaded tentacles, it's a real unexpected thing to see on a Christmas tree but works so well dangling amongst the foliage.