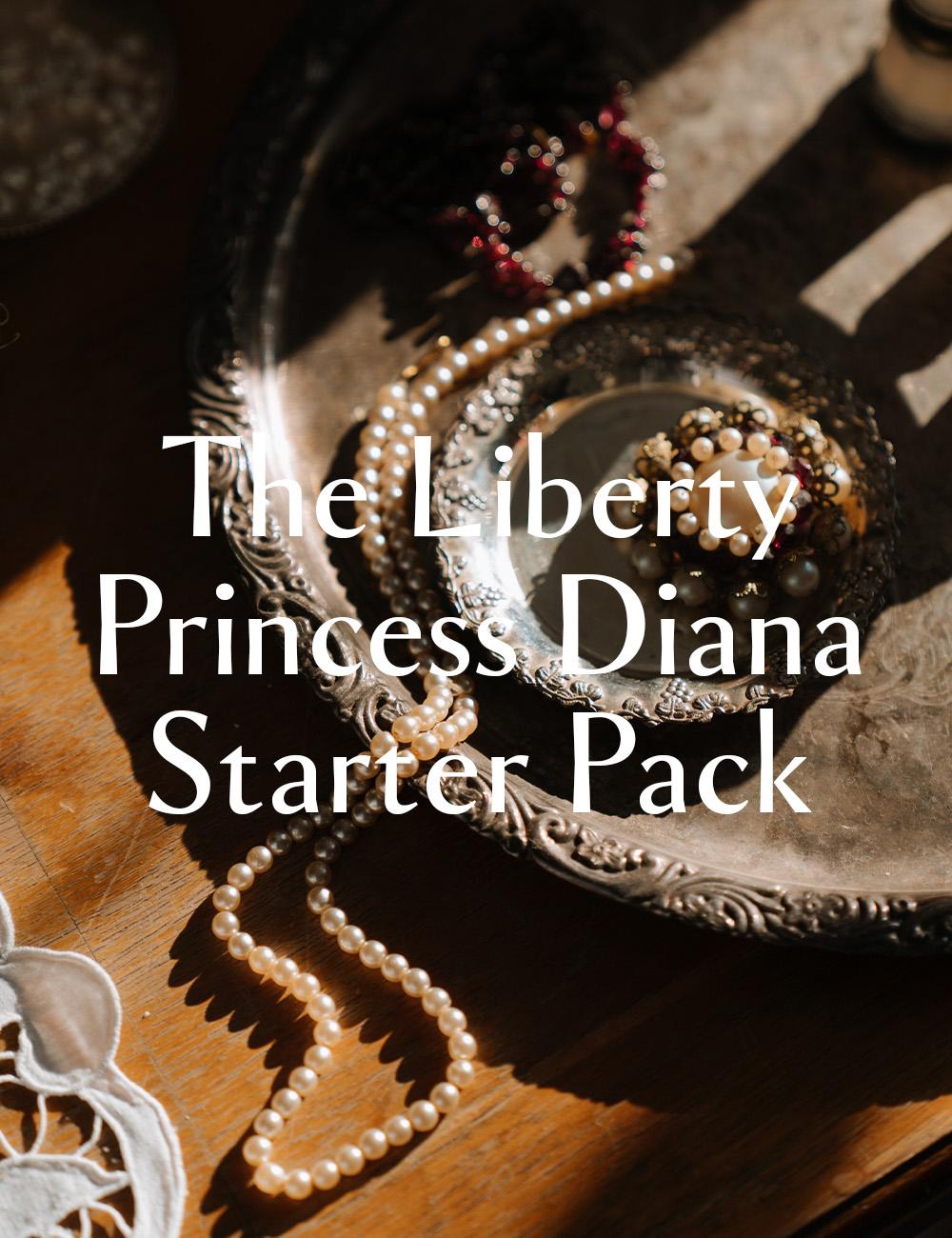 Liberty Starter Pack
Return of the Revenge Dress
Everyone is copying Princess Diana's timeless style right now, so let Liberty teach you how to recreate her most iconic outfit of all
By: Maddi John
Finally, The Crown is back, and we know you're already hooked. The proof? The endless scrolls of royal-related hot takes on Instagram and Tiktok. And there's one topic dominating the vast majority of the conversation: Princess Diana fashion. As one of the most enduring style icons of our time, it's hardly a surprise that her style back catalogue is being referenced in outfits the internet over. From her off-duty cycling shorts to her oversized blazers and memorable knits, Diana was nothing short of a style icon. But the most iconic outfit of them all? The Revenge Dress, that iconic little black dress that had everyone talking. Here's how to recreate the look for yourself…
The Little Black Dress
The off-the-shoulder centrepiece of the iconic outfit, first you'll need to secure the Little Black Dress. Timeless as it is classic, it's a required staple in every wardrobe. With its effortless and contemporary appearance, the Saloni Halle B Mini-Dress, £595 is our chosen pick. Dusted in diamanté detailing and cut to a figure-hugging silhouette, the Signature Halle B mini-dress is every bit as opulent as the original.
Shop Now
The Statement Necklace
As for Princess Diana's jewellery collection, the dazzling Queen Mother's Sapphire Brooch that Diana converted into a seven-strand pearl choker is a renowned treasure. For a contemporary take on the striking necklace, opt for Martha Calvo's Colette Pearl Necklace, £145 – a hand-crafted piece featuring freshwater rice pearls, each threaded off-centre to create a unique zig-zag effect.
Shop Now
The Cult Clutch
As the quintessential party plus-one, the clutch bag is an eveningwear hero and Princess Diana seemed to agree. To emulate the same party-ready look, Mansur Gavriel's Mini Cloud Shearling Clutch, £595, is a popular choice, featuring soft shearling lining in a dreamy cloud-like silhouette. With just enough storage for your handbag essentials, this cosy clutch is perfect for maintaining style on chillier evenings out.
Shop Now
The Pearly Pair
Diana's jewellery curation was visibly all about the pearls, and as symbols of calmness, protection and wisdom, we can see why. The Completedworks Freshwater Pearl And Crystal Drop Earrings, £195, perfectly play homage to the original, with just a little added sparkle. Illustrating flawless interlocking elements of large baroque pearls and teardrop crystals, this pearly pair feel decidedly unique.
Shop Now
The Soft Touch
Princess Diana's beauty style was fairly refined, opting for a soft glowy approach at every turn. For that, you could try Byredo's Shimmering Lipstick, £40,, which will add a burst of colour and a glistening finish that will last all night. Add a line of black or brown kohl on the roots of your lashes and your evening look is complete.
Shop Now