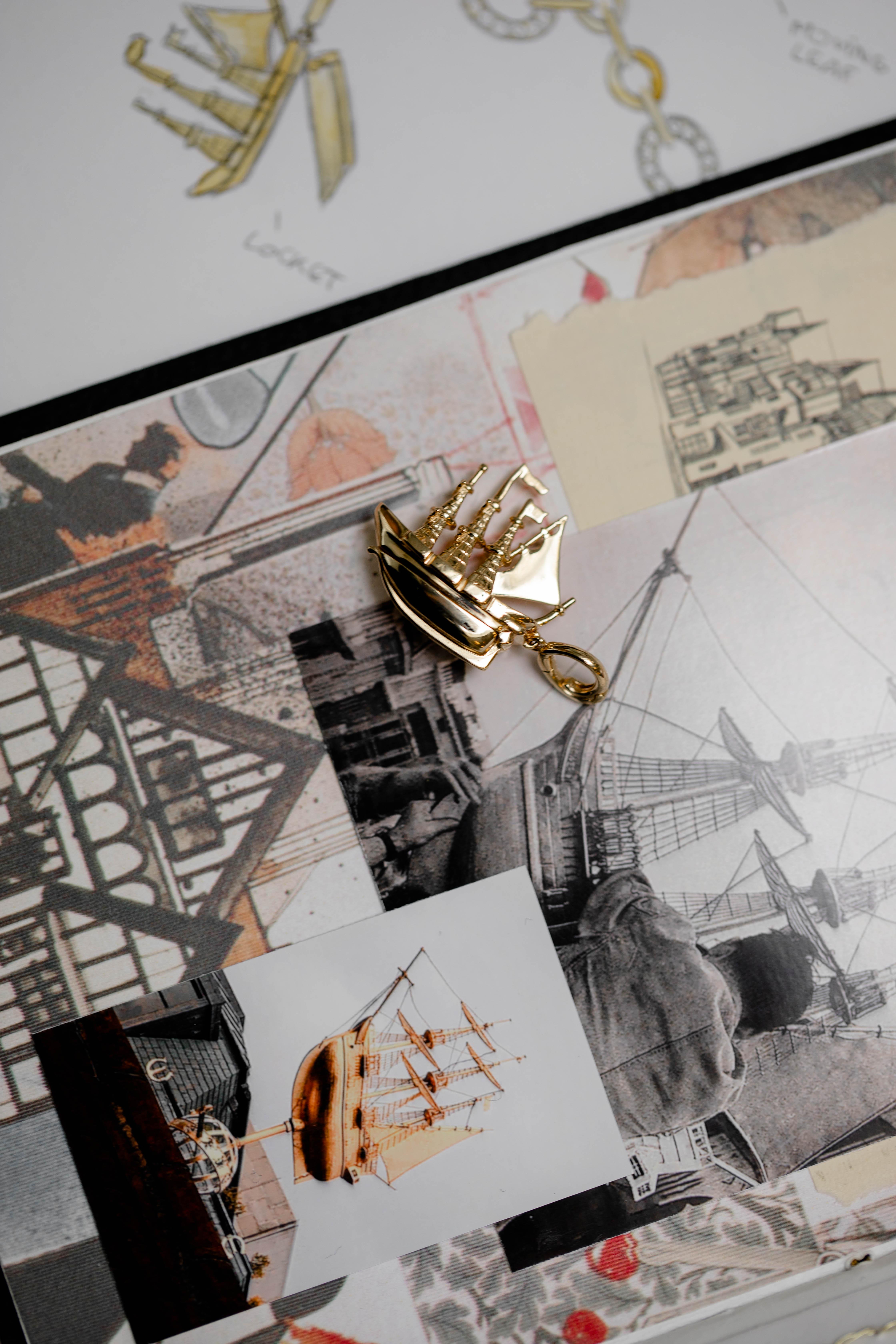 Exclusive: Discover the New Annoushka x Liberty Charm Collection
This collection of seven collectible charms brings our store's rich history to life in the most precious way...
By: Maddi John
Like a photo album or diary, the charms we clasp onto chains chronicle our unique life stories, with each one marking a moment to remember. Taking wearable nostalgia one step further is Annoushka Ducas, the Queen of Charms and creator of covetable, collectible charm 'biographies' that bring the spirit of the wearer to life through the brand's very special My Life in Charms service. And now, she's delved deep into the Liberty archive for her latest project: the Annoushka x Liberty My Life in Charms collection, seven exquisite pieces that showcase our store's rich history, charm by charm.

Made especially for Liberty, these painstakingly-crafted charms are made from solid 18ct yellow and white gold, and encrusted with diamonds and precious gemstones – each a trinket that marks a special chapter in Liberty's story. Something tells us that these beautiful Annoushka x Liberty treasures will become some of the most coveted gems in our legendary Jewellery Hall.

Before you choose your favourites, let us share with you the meaning behind each charm. Here's all you need to know about these seven sentimental charms, as well as the memories and symbolism attached to each one.
The Bobbin
To commemorate our deep-rooted connections to textiles, Annoushka created a perfectly formed 18ct yellow gold bobbin, with amethyst pave "thread" and yellow gold needle, a playful nod to Liberty's history of craftsmanship.
Shop Now
The Spinning Mannequin
As the chosen resort of the artistic shopper, Liberty has been dedicated to style since Arthur Lasenby Liberty docked his ship of luxuries and fabrics on Regent Street. To mark Liberty's devotion to fashion, Annoushka has designed a hand-carved amethyst mannequin, which spins elegantly and is finished with a suspended freshwater pearl.
Shop Now
The Peacock Feather
A peacock feather charm, inspired by Liberty's iconic Hera Tana Cotton Fabric Print captures the unique iridescence of the living thing, by using amethyst, aquamarine and diamond to create an ombre in pave set stones. Named after the Greek goddess whose sacred animal was the peacock, Hera is a true heritage icon and has adorned Liberty designs since the mid-1890s.
Shop Now
The Poppy
An elegant poppy is imagined in 18ct yellow gold and ruby reflecting another of Liberty's iconic and beloved designs, the Poppy and Daisy print. The archetypal Liberty Floral first appeared in the late 1910s and is a fine-lined meadowy print that was originally created with the woodblock print technique.
Shop Now
The Opening Locket Ship
In a tribute to the store's unique wooden structure, built from the timber of two ancient 'three-decker' battleships, Annoushka designed a golden 18ct gold ship charm, which opens to reveal a hidden chamber below deck – a quirky alternative to a locket.
Shop Now
The Frog
As a tsavorite-encrusted frog with a beautifully carved ebony tummy, this piece is inspired by the carved animals and creatures that sit throughout the Liberty store. Legend has it that when the last light in store has been extinguished at night, the animals awaken to make merriment and cause mischief.
Shop Now
The Bunch of Grapes
This articulated bunch of black pearl grapes is as exquisite as it is charming, a nod to the similar bunch carved into the store's architraves, first installed as a tribute to the lives lost in World War II.
Shop Now
Perhaps you want to subject your own history to a piece of wearable art? Thankfully you can with Annoushka's bespoke My Life in Charms service, available here at Liberty. But the question is: which memories and milestones will you choose to capture?
The Annoushka x Liberty My Life in Charms collection is available to buy online and in store at the Annoushka counter where you can also enquire about the bespoke My Life in Charms service.