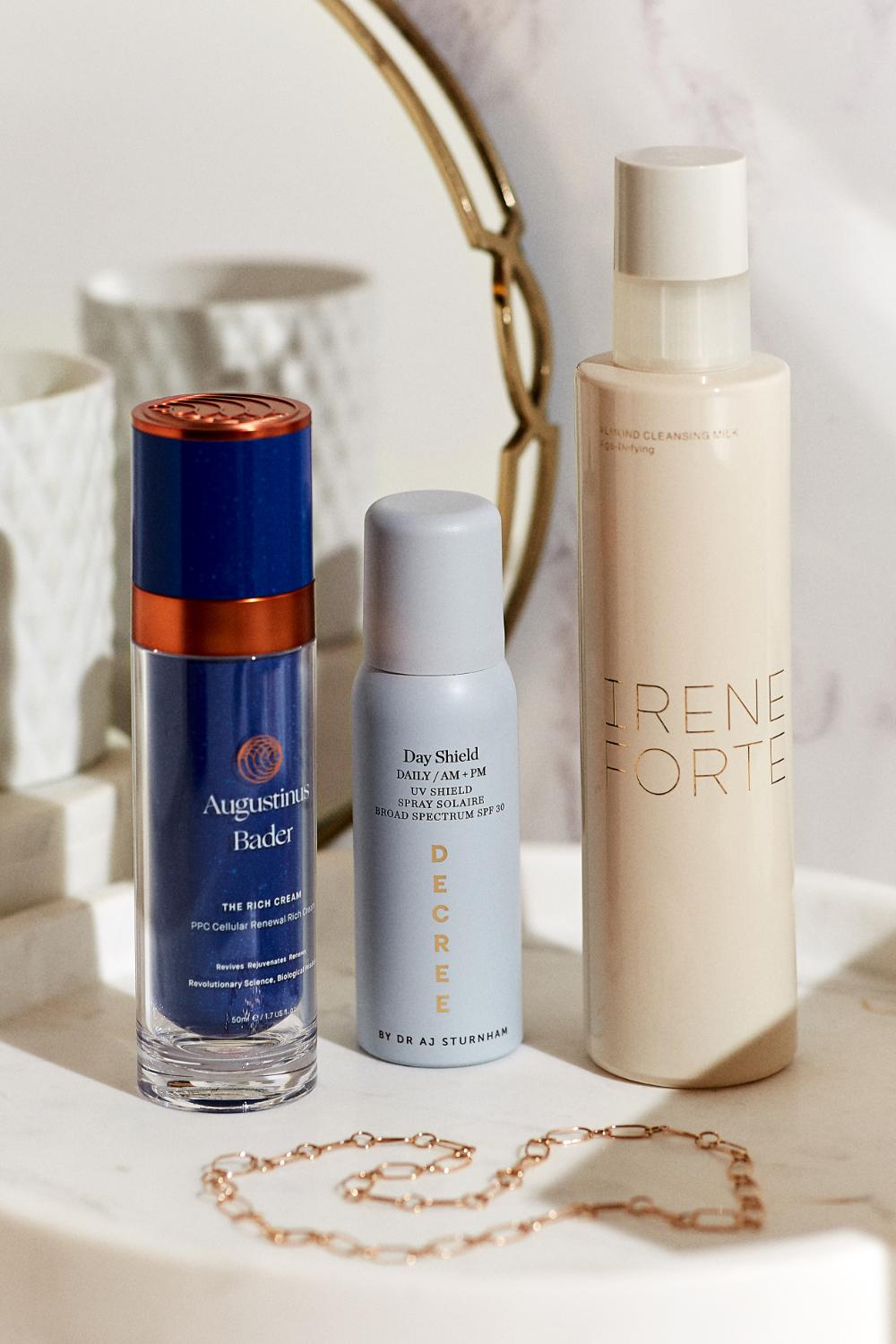 Anti-Ageing Focus
35-50
Tackle time face on with a routine built from powerhouse products that boost skin's natural systems and go the extra mile
Shop Anti-Ageing
The topic of anti-ageing raises a cascade of questions: When do I start? Which steps are the most crucial? And what about when signs of ageing have already taken hold? While stopping the clock isn't an option, here, we address the art of growing old gracefully with age-specific areas of focus, so you can walk hand and hand with time – and even get ahead.
Nip fine lines and wrinkles in the bud with a specialist, high quality anti-ageing cleanser that swathes skin in plumping hydration. Powered by Mediterranean active plant-based ingredients that are good enough to eat, Irene Forte Almond Cleansing Milk Age-Defying gets to work on signs of ageing from step one with an ultra-nourishing vegetable protein complex, alongside soothing aloe leaf juice and luxurious botanical oils.
As natural cell turnover slows, skin requires some extra help when it comes to rejuvenation and recovery. Enter The Rich Cream: superpowered with Augustinus Bader's patented TFC8® stem cell technology, this rave-reviewed face cream has been dubbed the one to beat, working wonders for a whole host of skin concerns – and a weapon for fine lines and wrinkles.
SPF has long been a part of your repertoire, but now's the time to switch in staple products that go the extra mile. Decree Day Shield takes sunscreen up a notch – at once a UV and blue light shield with antioxidant benefits. And the best part is, it's a hydrating face mist – making for effortless, invisible reapplication over makeup and on-the-go.
A well-earned thank you is just what your skin needs to continue its good service. Like a superfood boost for any complexion, The Biom'sphere from Seed to Skin is a night serum that delivers rich active ingredients that move skin to monumental levels. Black bee honey ferment, marine ferment, hyaluronic acid and an oxygen complex are delivered to the deepest underlayers, boosting microflora and further aiding skin's overnight repair process.
If you're yet to work a home spa treatment into your routine, do so at times when your skin is feeling the force for noticeable rejuvenation. Conveniently bringing the expertise of her London clinic to the comfort of your bathroom, Sarah Chapman's Meso Melt Infusion System is a 21-day microneedling programme that harnesses an unsurpassed youth boost. The device creates painless micro-channels that aid the absorption of the accompanying collagen-boosting peptide formula, spelling never-before-seen radiance, improved skin density and firmed-out fine lines and wrinkles in under a month.