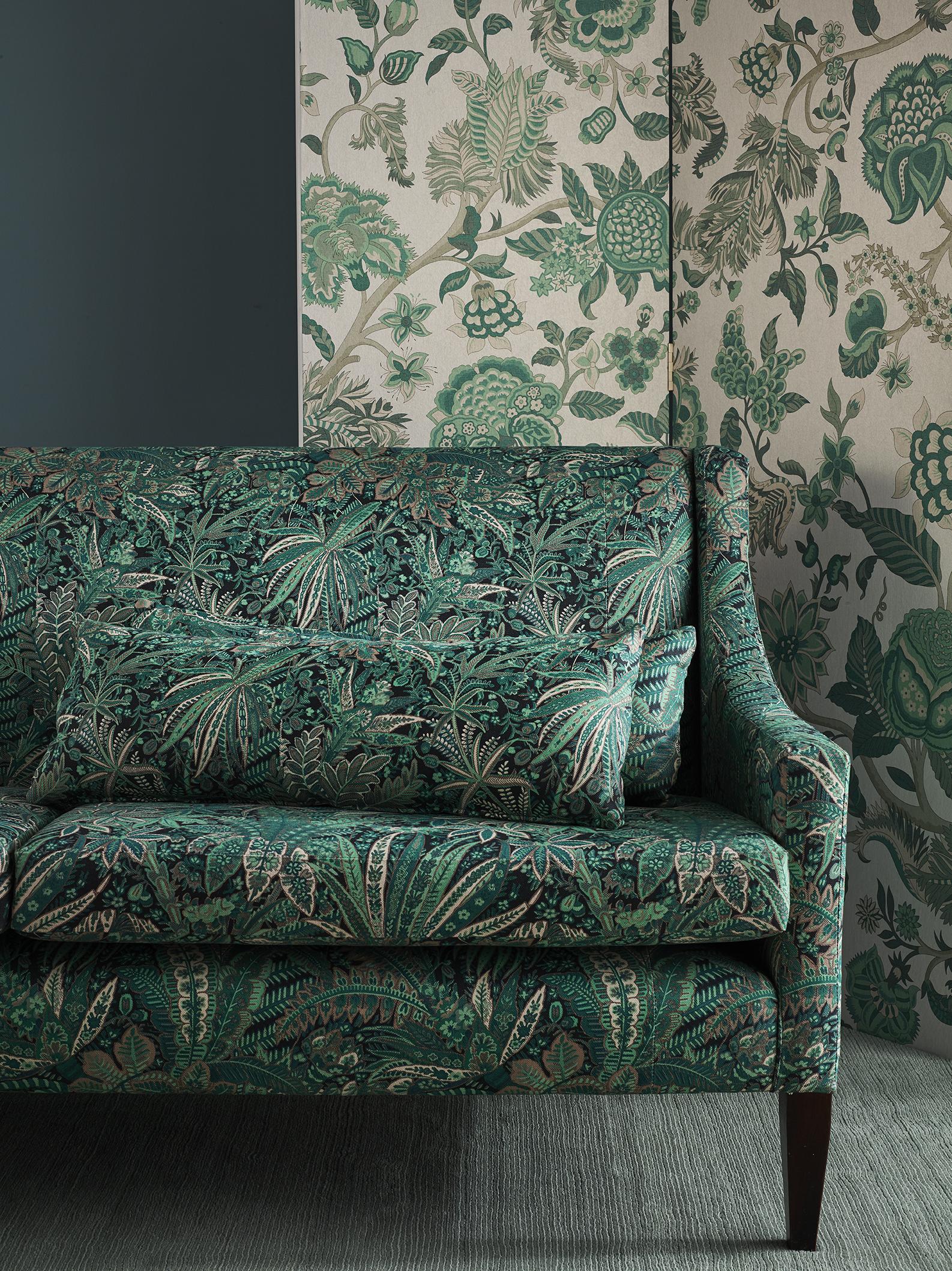 Genevieve Bennett on
The 7 Elements of Interior Design
Find your balance as textile designer and Head of Design for Liberty Interiors shares her guide to creating synergy within your space
Shop Home Furnishings
By: Team Liberty
When it comes to shaping interiors, synergy is everything, and much of this comes down to the consideration of seven key elements: space, line, form, light, colour, texture, and pattern. Creating interest within four walls and extending the limits of your space, working with a holistic approach lets you absorb external influences as much as the qualities of the textiles, walls, and the objects placed among them. Textile designer and Head of Design for Liberty Interiors, Genevieve Bennett guides us through the process, sharing her insight for introducing these key principles into your aesthetic approach.
On applying the seven elements…
I spend my life surrounded by colour and pattern, especially through my work, so when designing my own interiors, I tend to go the opposite way – and try to simplify and focus the colour palettes, mixing patterns and scales, plains and textures within one or two colours. I try and create spaces which are restful and calm but interesting and unique.
On building out an aesthetic…
I always like to create a focal point – whether it be a pattern, fabric or collection of objects, accessories, or artwork you love, and build a scheme around it. I love using the fabrics in our collection in combination with plain-coloured fabrics and paint. It gives space to the pattern and allows it to breathe and sing.
On working with textiles…
Choose something you really love that has a timeless appeal and be confident with it. If it is upholstery use it to reupholster a much-loved chair or commission some statement curtains. Build out from there with coordinating fabrics, plains, and paint.
On restoring balance when space and light are limited…
Invest in fewer items but focus on good quality beautiful furniture. One stunning sofa in a gorgeous fabric set against a stunning painted wall can transform a space and will be impactful, timeless and give you so much joy!
Creating different zones to work, relax and play has become increasingly important, and can be done easily and effectively with fabrics, wallpaper and paint. I love to create variety in a space using pattern and colour – it's especially effective when space is tight! Think playful but tasteful, versatile spaces for evolving dayrooms, playrooms and kids' spaces, bright fresh inspiring walls for sitting rooms and workspaces, and rich, luxurious spaces for evening and bedroom.
I love to use textiles and wallpaper with similar motifs, executed in different techniques. For example, using our iconic Hera motif for single colour linear wallpaper, then also the jacquard woven upholstery in the same space, which has a very different treatment of the motif. The techniques provide completely different looks and feels but complement each other in a space and look harmonious.
I love

to

see how pattern changes

on

different objects – applying bold energetic prints

to

contemporary, clean-lined furniture can be

a

nice way

to

create statement pieces.
I love to see how pattern changes on different objects – applying bold energetic prints to contemporary, clean-lined furniture can be fun and a nice way to create statement pieces. Another way to explore form is to collect objects in a single colour – like filling a wall with artwork prints in black and white only. The effect is to see a beautiful collection of line, shape, and form which can be impactful. Alternatively, collect ceramics and glass in a single colour and display on an open shelf or picture hooks on a patterned wallpaper. Everyone loves to collect and displaying collections of objects and art can create interest in a space.
Check the light before making a decision about paint and fabric – and check swatches at all stages of a day in different light conditions. We forget that a room can change throughout the day depending on the movement and shifting light quality. Hera is one of Liberty's most iconic patterns and has been reinterpreted into a beautiful matte and shine jacquard inspired by silk pyjamas. I love the subtlety and surface contrast here – imagine how the sunlight would hit the room throughout the day, showing the beautiful texture in the weave and bringing out the warm hues in Chemise.
Check swatches

at

all stages

of a

day

in

different light conditions. We forget that

a

room can change depending

on the

movement

and

shifting light quality.
One tip to create a truly individual room is to choose a small colour detail in your fabric and use this as inspiration for solid fields of complementary paint colour for the room. It helps provide a perfect canvas for the fabrics which is both surprising, liveable, and truly unique.
One approach is to simplify the colour in a scheme. For example, to only use a palette of a single colour but to use different fabrics and wallpapers with rich textures. This can help create interesting yet contemporary spaces.
Try coordinating pattern – I love to mix pattern scales with my choice of fabrics in a room. Selecting a bold large-scale design and offsetting against a much smaller-scale fabric can be a nice way to balance and create beautiful coherent schemes. Using the paint colour to bring together the fabrics and find a common colour which sits in both fabrics can help. For creating exciting schemes with Heritage Pattern, select a hero pattern and offset it with solid fields of colour, and even bold graphic paint effects in complementary colours.