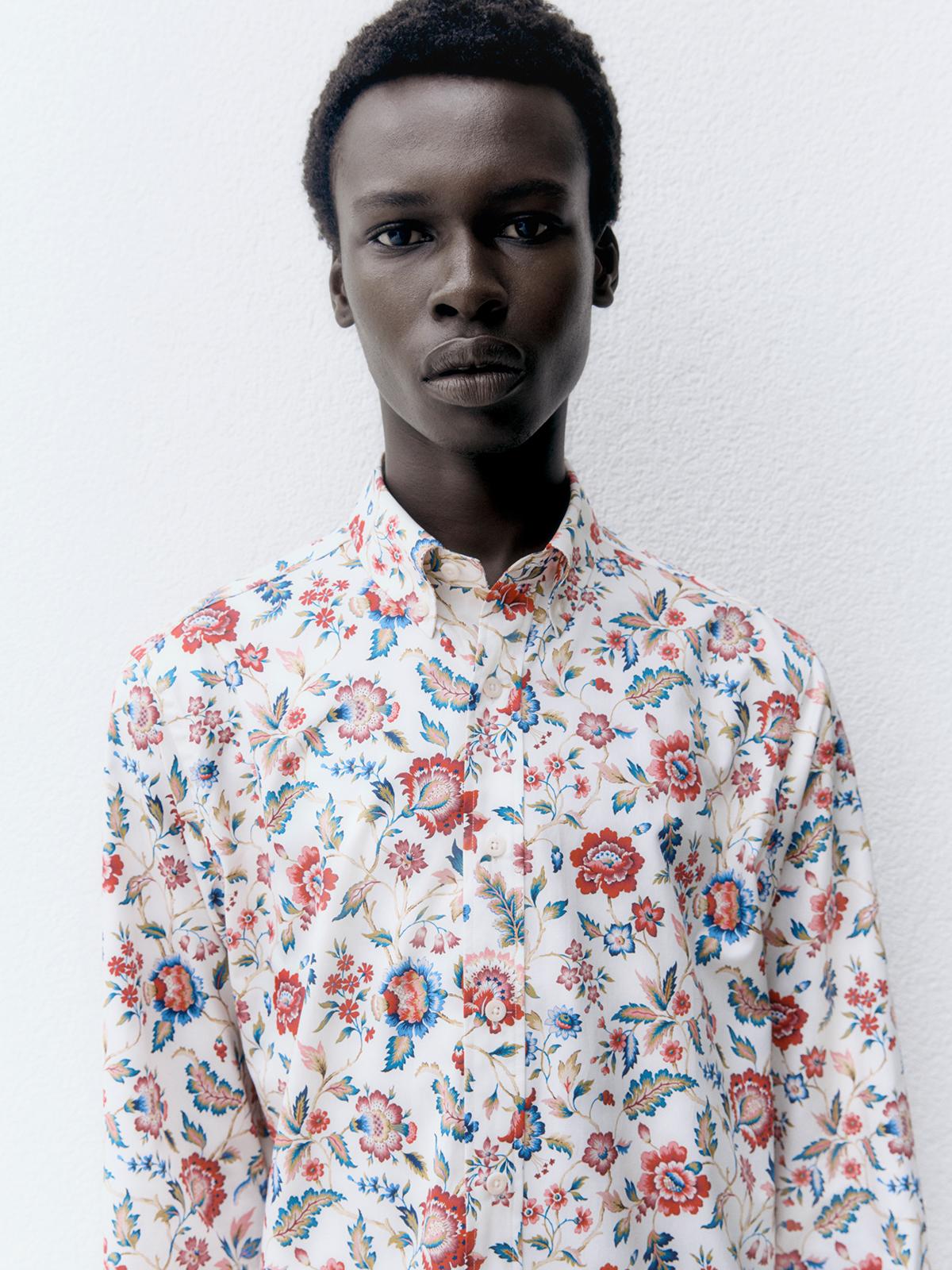 Up Our Sleeve: The Men's Shirt Fit Guide
Discover the style that best suits you with our handy, decoding guide for men's Liberty shirts
By: George Elliot
Tailored from fine fabrics and emblazoned in an array of meticulously hand-painted prints, glance at a Liberty shirt for just the briefest of moments and you'll know instantly that it hails from our legendary London emporium. But as they now come in four distinct cuts, each designed for a specific mood, occasion and silhouette, we thought we'd bring you this definitive men's shirts fit guide. Whether you prefer a slim fit or a generous cut, a formal classic or a contemporary casual, read on to discover the one that's practically made for you.
The Tailored Formal Shirt
Form-flattering without being restrictive, the newest addition to our shirting department is the Tailored Formal Shirt. The kind that deserves a place in both your occassion and workwear rotation, it's longer - for ease when it comes to tucking in; it has an adjustable collar - so it looks just as good whether worn with or without a tie; but also features Liberty's newly developed convertible cuffs which can either be worn buttoned-up or with your favourite cufflinks. Pair with an impeccably tailored suit to reach the heights of sartorial perfection.
Shop Now
The Casual Button-Down Shirt
Bridging the gap between formal and casual, meaning it can be just as easily styled with a suit as it can be with an off-duty jeans and t-shirt combo, Liberty's Casual Button-Down Shirt is the epitome of versatility. Developed to complement every body build, this all-rounder is cut from 185gsm cotton twill for a relaxed yet flattering fit and comes emblazoned in a variety of hand-painted prints designed by Liberty's in-house team of artists. From iconic florals to bold geometrics, there's one for every kind of style seeker.
Shop now
The Casual Classic Shirt
On the lookout for a work-to-weekender? A shirt that'll provide an instant style upgrade whether you're at the office, going out or heading off on a weekend getaway? If that's a yes, then look to Liberty's Casual Classic Shirt. Our bestseller and one that remains a firm favourite among Liberty's customers and staff alike, this comfy wardrobe staple is cut from our obsessively developed Tana Lawn™ cotton for a straight, modern shape, complimenting the new generation of Liberty prints each one comes in.
Shop now
The Cuban Collar Casual Shirt
Infused with vintage flair, Liberty's Cuban Collar Casual Shirt provides laidback comfort without scrimping on style. Recalling the iconic shapes of '50s bowling and Hawaiian shirts, this relaxed and effortless to wear piece is cut from Liberty's signature Tana Lawn™ cotton, features a boxy, short-sleeved silhouette and - as its name suggests - comes complete with a Cuban collar, meaning it's the ideal shirt to wear if you're jetting off to sunnier climes, be that a winter sun or summer holiday.
Shop now
Shop Our Edit of Liberty Shirts for Men