Everything You Need for the Perfect Picnic
Tablescaping needn't be confined to the table. Here's our carefully curated packing list and styling ideas to help you host the perfect picnic this summer
By: Charlotte Olby
An ode to the moveable feast. Whether you're at the beach, the park or even your back garden, a picnic can easily be one of the most enjoyable ways to eat out in in late-summer – you just need to be organised. If you're looking to up your picnic ante and create a sophisticated setting, you're going to need a few ideas to curate the perfect picnic-scape. So what do you actually need in your picnic arsenal? Playlist, drinks, flowers and fairy-lights aside - here's the Liberty picnic packing list to get you picnic ready for the heatwave.

Read More: What to Wear to a Picnic This Summer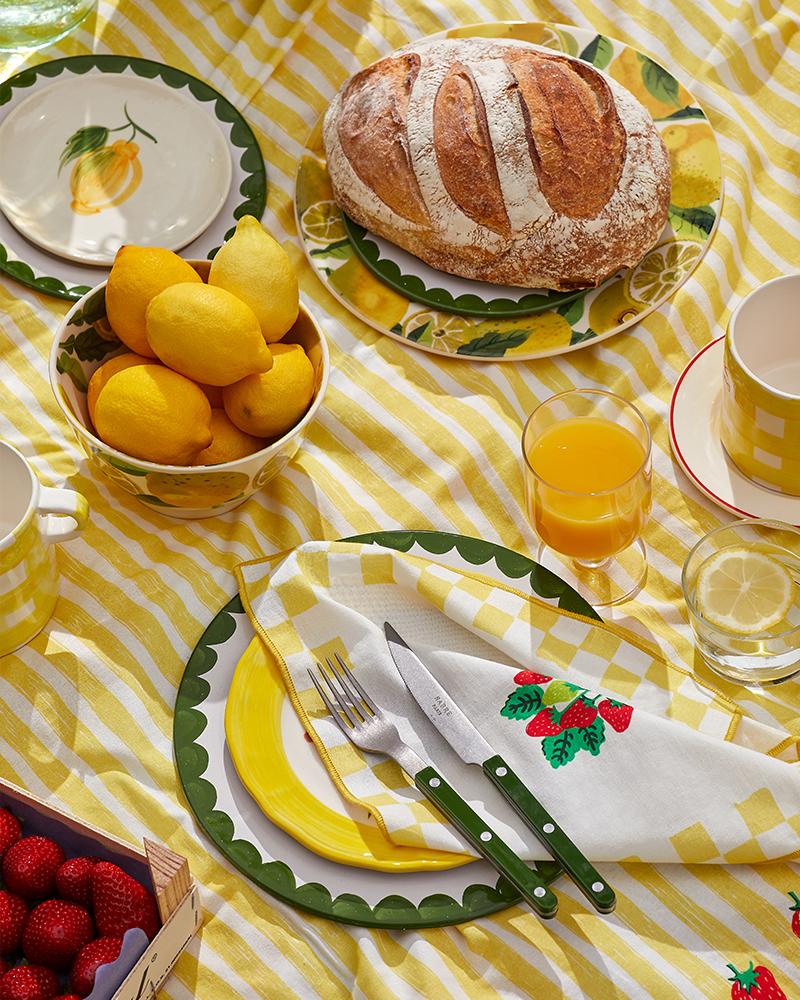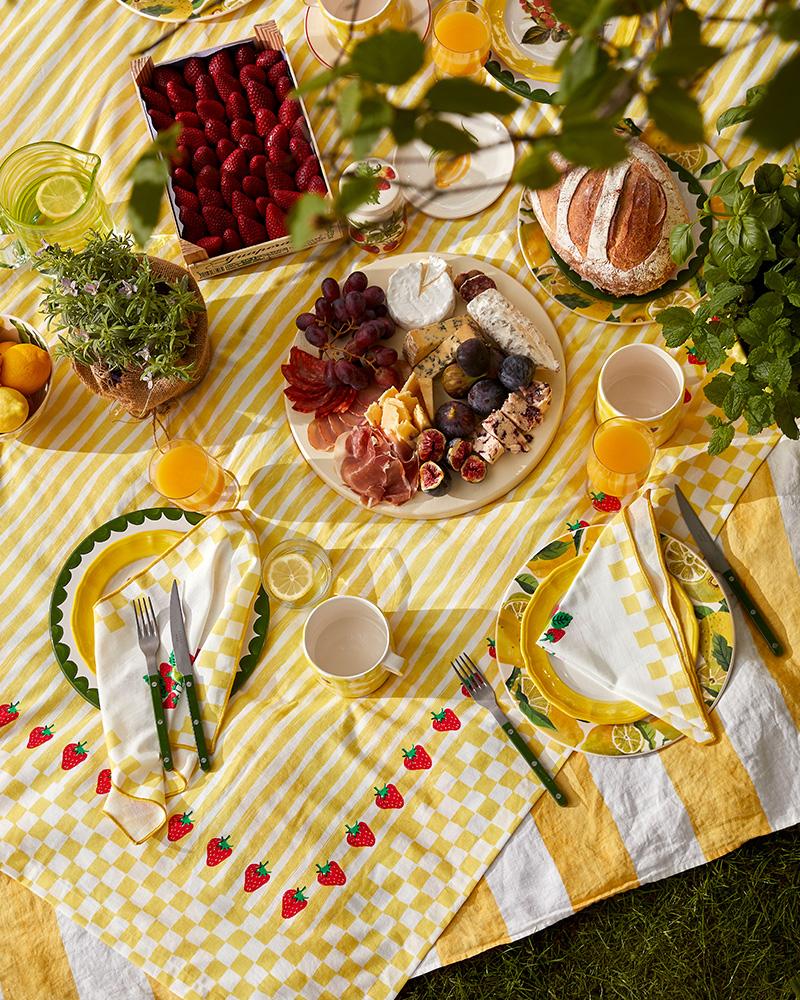 The Picnic Blanket
Those long-overdue, alfresco catch-ups with friends wouldn't be complete without an insta-worthy backdrop. To start, decide on a loose colour palette for your linens, factoring in cutlery and dinnerware. Lean into a homespun, cottagecore way of life and roll out a plaid picnic blanket, like The Tartan Blanket Co. Thistle Meadow Check Recycled Wool Picnic Blanket, £110 – thick enough to drape over dewy-grass without getting damp – and clash with some floral napkins.
A Picnic Basket, Hamper, Tote or Cooler
A stand-out essential for mastering the art of picnicking is, of course, a basket, tote bag or backpack – non-negotiables when it comes to transporting your spread. The truth is, a cooler is best for keeping food and drinks cool, but a wicker basket is perfect for living out your wholesome Sound of Music picnic dream and can store your extras (blanket, cutlery, clean up essentials...etc). Coco & Wolf's Picnic Basket is complete with our Tana Lawn™ cotton in Thorpe Hill print to enhance your outdoor experience, and can work double duty as a pretty centrepiece (especially when filled with fresh blooms).
Mood-Boosting Linens and Napkins
Don't be afraid to mix patterns or contrasting colours with your linens. Your wardrobe sparks joy and so should your table! Print and mood-enhancing colour is the perfect way to welcome your guests to a picnic party. Summerill & Bishop's Herbarium Infusion Napkins, £165, will inject some British Summertime feels into your arrangements, for a picnic that's brimming with personality.

Read More: Every Dinner Table Setting, Sorted
(Almost) Bounce-Proof Plates, Glasses and Utensils
If you're brave enough, of course you can mix and match your favourite plates and glassware from around your house to create a more eclectic feel (so long as you can carry them out back) – but for those further-flung lunches, you're going to need some breakage and spill-proof tableware. Look to our latest Liberty x Chilly's SS23 collection for a series of picnic-ready-printed alternatives to glassware. As for serving dishes and drinkware, look to Falcon's enamelware dining pieces for everything from functional jugs and mugs to serving platters and bowls. (Note: enamel is the grown-up's version of plastic crockery – it's durable, fun to look at and serves a purpose)

Read More: Do You Have Planxiety? Try Our Outdoor Entertaining Ideas `
No tablescape (indoor or outdoor) is complete without cutlery. Whether you go eco-friendly with wood, simply grab a handful out the drawer from home or add a decorative twist like Hay's Glass Spoons, you're going to need utensils for your 'picnic' settings. This is your moment to create a real sense of occasion with even the most seemingly mundane of items.
The Final Flourishes
When outdoor entertaining, you would be forgiven for assuming that this is not a space for your 'best' crockery. However, what's to really stop you from bringing along some home comforts and truly making the most of dining outdoors with your loved ones? Make your throw-on-the-floor feel a little more like a dining table with serving platters filled with sandwiches or a Check Cake Stand from Vaisselle to showcase a berry-laden pavlova.
Bring the Comfort
Piling up your picnic rug with cushions to lounge upon sets the scene for those balmy summer evenings - and don't forget some blankets for when it chills off. Grab your squishiest sofa cushions (ideally, opt for the more durable fabrics) and cosiest throws from around the house to add a little comfort to your picnic, creating the feel of an outdoor room. Liberty's Shadow Stripe Weave Cushion, £165 will add a playful dimension when layered up with a hodgepodge of prints.