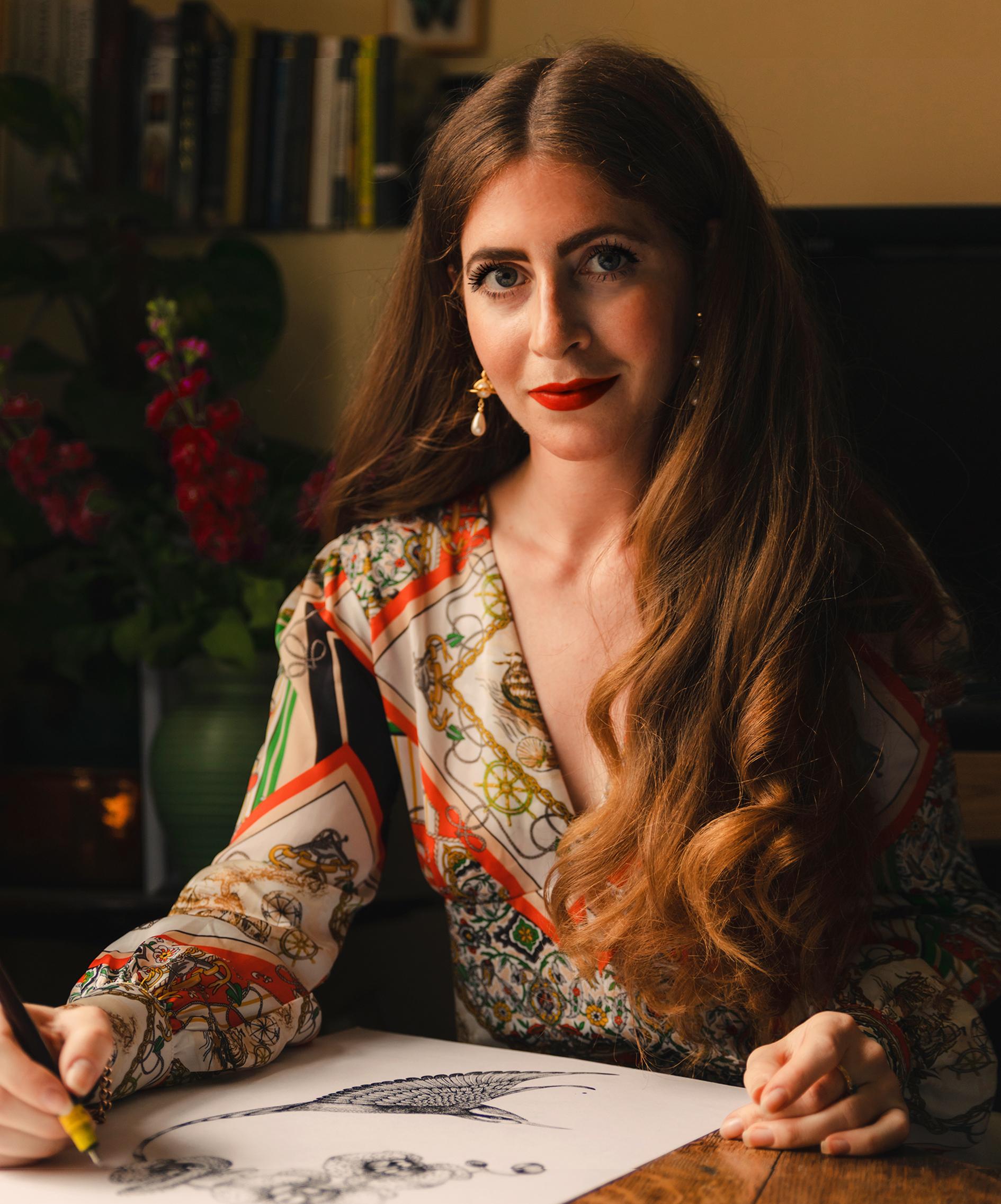 Creature Comforts
Emily Carter
The designer talks shaping her home, and her illustrated silks, around wild inspiration found on familiar ground
Shop Emily Carter
For scarf designer Emily Carter, humble garden wildlife and globally sourced objects provide all the inspiration she needs, right on home turf
"I spent my childhood in the garden, exploring and identifying plants and insects, collecting specimens in jam jars," says Emily Carter. "I would then return to the house with my findings and start my drawings." For the textile and accessories designer, home has always been at the centre of her naturalistic and artistic explorations, and it's a constant that has stayed with her since her early years. "It's the beauty of the natural world that really appeals to me," she explains. "This combined with the creativity aspect."
Splitting her time between West London and the English countryside has allowed Carter to forge a home without the restraints of a single location. "Much of my design work is inspired by wildlife in the country, of which there is plenty in my garden," she tells us. "My house is a beautiful Georgian property in the middle of the British countryside, no light pollution or noise – heavenly. The gardens are my favourite part. We have a wildflower meadow at the back, and a bed of dahlias – my favourite flowers – are frequent features in my designs."
And yet, even in more urban surroundings she finds herself close to nature. "I have an idyllic little Victorian flat in Hammersmith," she says. "Living by the water reminds me of being in the countryside, it's the kind of natural beauty you'd never expect to find in London." Inside and out, hers is a slice of London that delivers crucial stimuli to fuel her designs: "I have around six plants in each room – it's more like a home-slash-jungle, so this feeds into my design inspiration. I've acquired an enormous collection of framed insects, particularly butterflies, as well as antique scientific illustration prints by Emile-Allain Séguy and Ernst Haeckel, which I've mounted together, along with a few of my framed scarves – it's definitely the most beautiful wall in my home."
It's

the

beauty

of the

natural world

that

really appeals

to

me –

this

combined

with the

creativity aspect.
Outside of nature, it's by taking a holistically curated approach that Carter can best channel her creativity: "As a creative I'm aware of the need to immerse myself with objects and surroundings that inspire my work," she says. "Everything you see, and experience affects your design work, which is why I take great care with how I decorate my home." And, her diverse inspirations provide just that: "I have an eclectic interiors taste, and I'm drawn to antiques mixed with plush velvet furnishings, ornate gold finishings and, obviously, lots of textiles."
It's a learned talent accumulated from her childhood home, and Carter owes her design style to that of her mother: "I'm lucky to have grown up in two beautiful Georgian homes," she says. "My mother's taste was exquisite, and my family home was filled with Liberty textiles, plush wallpapers and ornate antiques which inspired my design style from a young age."
Travel has played a key part in moulding her interior, and Carter explains, "I am a collector, like my parents, and my home is adorned with antiquities that I've gathered on various trips. It's the traditional craftsmanship that I love so much about each of my items." Yet, her true aesthetic aspirations are sought in history, and she confesses, "If I could live in a 17th or 18th century house with Baroque interiors, I most certainly would – I fell in love with the Villa Ephrussi de Rothschild. It's the ornate use of gold juxtaposed with the delicacy of hand-painted wallpapers and plush textiles which attracts me so much."
A

s a

creative, everything you see,

and

experience affects your design work, which

is

why I take great care

with

how I decorate my home.
Closer to home, Carter's environment is as much about the mood created and the time spent there as the objects in it. She has found a familiar base for creative exploits, yet her home also lies at the heart of her social time: "Home is somewhere I can hide away for a few days when I'm in design mode, but equally somewhere I can host dinner parties with my nearest," she says. "I'm very fond of cooking for friends and frequently host poker nights." Carter considers her domestic world to exist as, "somewhere I feel safe, secluded and relaxed," but ultimately, and above all else, she seeks the unique energy of her space as a place to restore and reassess: "I think it's important to build oneself personally before embarking on self-employment, especially if you're going into business alone. I'm an introvert so having my own home is essential to my personal and design development – I'm lucky to have found such a serene space."