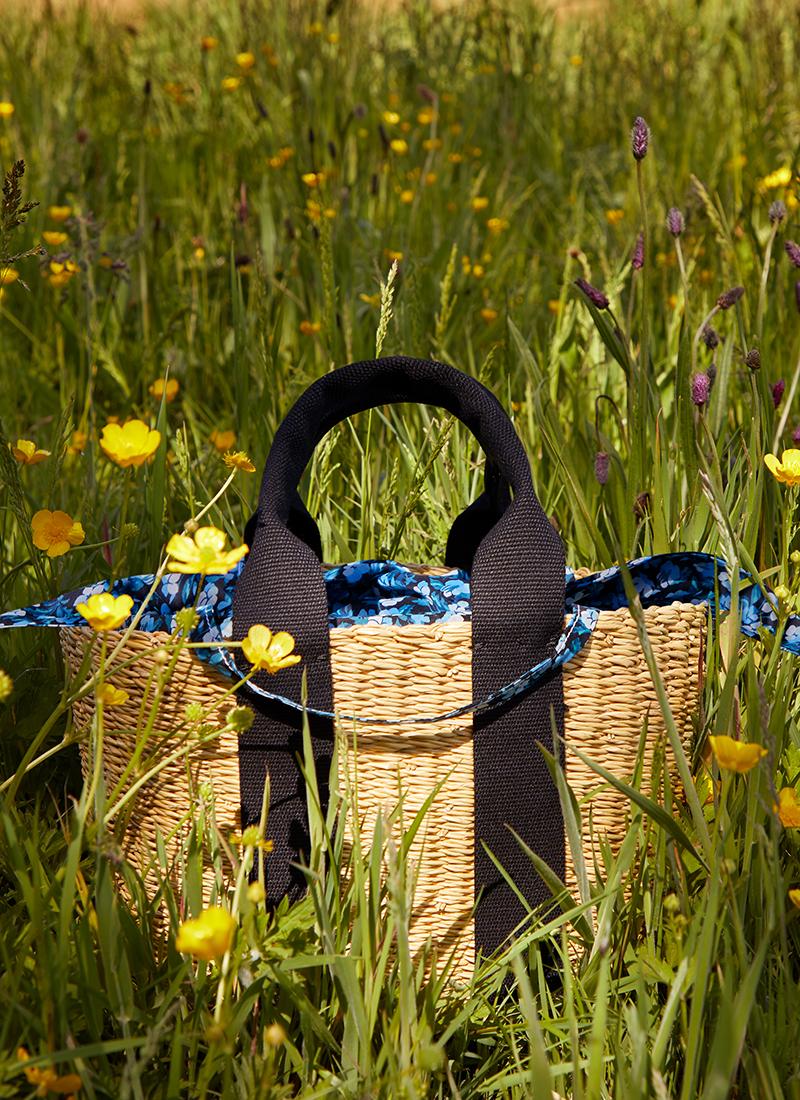 Futures, Rewoven
Muuñ
Co-founder Audrey talks protecting traditional crafts with the sustainable accessories line
Shop Muuñ
Tradition, reinterpreted, is in Muuñ's DNA. And, approached with a fashion-driven lilt, the sustainable accessories brand has made the continuation of age-old crafts its mission. Exploring new possibilities in the Ghanaian art of straw-weaving, and expanding to skilled communities across the globe, co-founders Audrey and Tahiru are serving a fairer deal to their artisans, developing hand-woven bags where adaptability, longevity and social mobility come first. Here, we talk to former fashion consultant Audrey about Muuñ's beginnings and weaving historic expertise into our futures.
How did Muuñ come about?
Muuñ was born out of a chance encounter with basket weavers from the North in Ghana during a personal journey. I was really charmed by the beauty and finesse of their work, I stopped to exchange with them out of curiosity and they asked me to help them market their baskets. Their situation was too precarious because the basket buyers of the time paid too little for their work and the harvest was not enough to meet their needs. I was then an interpreter and coordinator for Japanese fashion companies, I was also touched by their poverty, I thought why not try something? And then the Muuñ adventure began, with ups and downs!
How did you hone your craft?
For the first three years, I went to the village an average of four times a year to help train the artisans to our quality standards. I flew to Accra, the capital, then it took 18 hours by bus to get to the village in strange conditions! I brought them tape measures, some women had to learn how to read numbers to be able to measure, we worked on colours, set up a machine sewing workshop and a hand-sewing workshop so they could sew the handles on the spot and the pouches. It took a lot of time and patience, but the craftsmen were so motivated that every time I was disappointed, they persuaded me to persevere, which I did. Today, due to the large number of orders, part of the handles are made in Ghana, but the finishing touches are mainly done in France in our workshops, and the handles are made by handicapped workers who we have also trained to the highest standards.
Why is sustainability so important to you as a brand?
The reason I started Muuñ was to help the artisans out of their poverty. And today, this mission is accomplished! Not only because we pay the artisans the fairest price, but also because the artisans understood that by being creative, they could earn more money with their basketry. That's what they did, so they found new customers who also pay them the right price today. The people in and around Nyariga village now have a very comfortable life! I am immensely happy about that.
How did you build your network of global artisans?
I tried to expand the project with disabled workers, women at the end of their careers in France who have trouble finding work, and women in Georgia who knit our winter woollen bags. I'm still looking for more, everything is done little by little.
Where do you find inspiration?
Everywhere and anywhere. Inspiration comes from my head without any control!
How do you source your materials?
On site in the countries where we produce, if we can. And at trade fairs.
Can you describe your working process?
No, it really depends on the day…
Tell us about your Liberty exclusives.
When the Liberty team proposed the project to us, I was immediately thrilled because we had used Liberty fabrics in our collections in the past, more than 10 years ago! What's more, we are very similar brands, with a product with its own characteristic and specialised in summer.
The artisans understood

that by being

creative,

they could

earn more money

with their

basketry,

so they found

new customers

who also

pay them the right price

today

.
Are there challenges to existing as a single-product brand?
Yes, definitely. For example, we had a really great success in Japan for several years, but since two years ago, straw bags are no longer fashionable in this market, so we lost quite a lot of quantity of orders. We had to reduce our company workers last year which was really sad.
What most concerns you about the fashion industry today?
The exploitation, injustice and lies of some major fashion industries.
What's next for the brand?
Carpe Diem – especially during these uncertain times! I believe it is fine to live the present time and not make projections too much.
What do you predict for the future of fashion?
I am not able to predict, but I hope people will be more concerned about what they buy, how it is made, where it comes from, with more respect for humanity and earth behind it. I also hope I will be able, as a consumer, to buy summer products during summer and winter products during winter! It is much more fun for me!