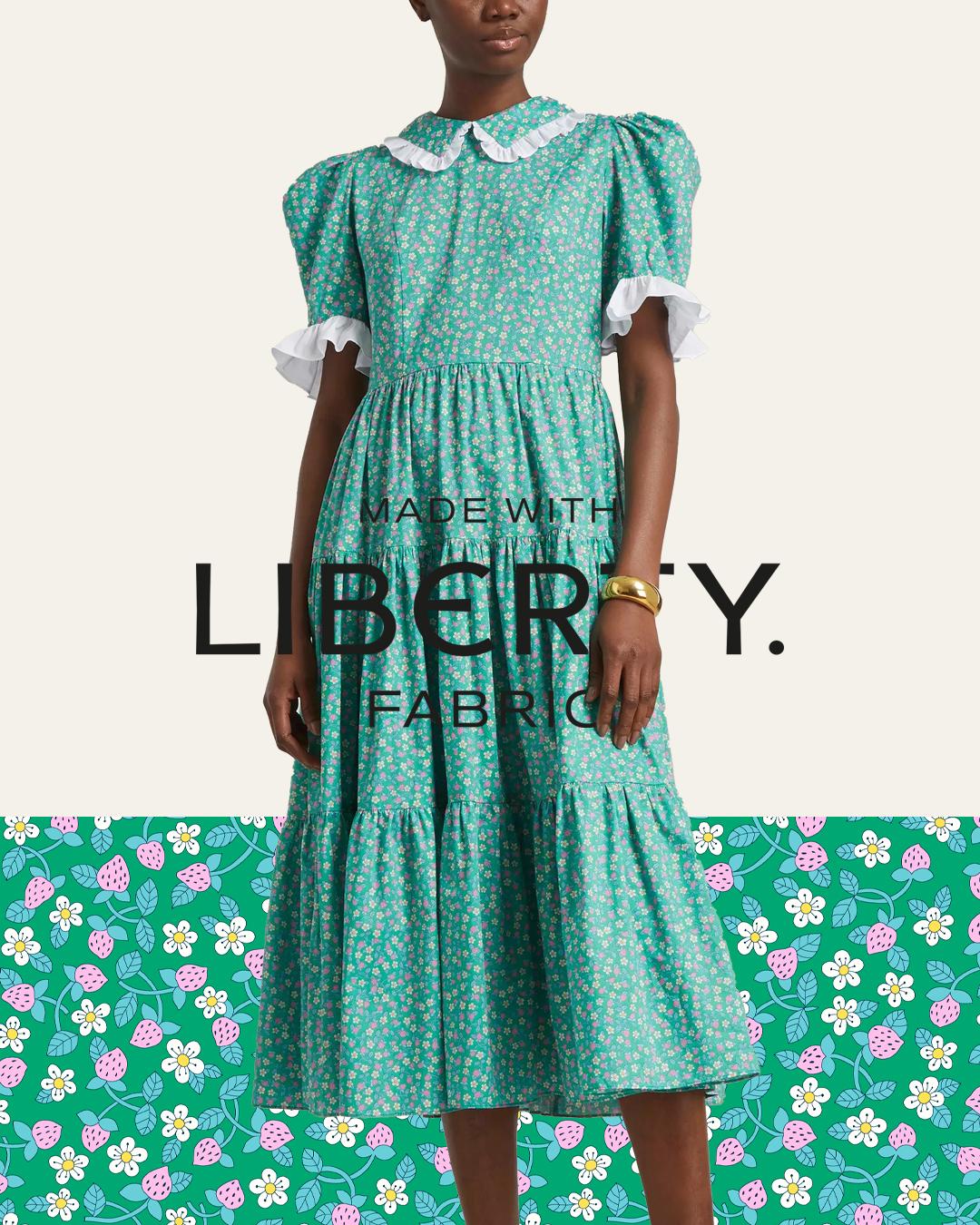 Made With Liberty Fabric
In Print: Batsheva x Liberty
Batsheva's new 'Made with Liberty Fabrics' collection has landed. Here's all you need to know about this must have capsule along with their hero Liberty print
By: George Elliot
From Victorian collars to the prairie-style skirts, Batsheva has fast become the blueprint of vintage-inspired dressing and the brand has grown quite the cult following too, with Lucy Boynton and Natalie Portman considered fans. But beyond the frills and flounce, there's another design signature that this New York-based label has become synonymous with: incredible prints. So really, it was only a matter of time before founder Batsheva Hays called upon Liberty's iconic fabrics for her latest collection. The result? A seven-piece 'Made with Liberty Fabrics' line-up of ruffle-trimmed skirts, puff-sleeved blouses and fanciful dresses, all emblazoned with exclusive and utterly charming Liberty Fabrics prints you won't find anywhere else. Here's everything you need to know about the collection.
"The Spring Lucy Dress in Liberty's Strawberries and Cream print is our hero piece. The dress is voluminous and vibrant, with a cute contrasting white poplin trim," Batsheva explains. "It is the ultimate summer dress."
Batsheva's Spring Lucy Dress
£345
Why Make with Liberty Fabric?
"I have always loved Liberty fabrics," the founder of the New York-based brand, Batsheva Hays says. "Printed florals are my obsession, and the ones Liberty has always done are just the most beautiful."
NAME: Liberty Strawberries and Cream
EST: 1965

"The green print with strawberries was my absolute favourite. I love prints with vibrant colours and unusual shapes," Batsheva says. "It's a print that's so whimsical and gorgeous at the same time."
- This print is a reworking of a design first created in 1965, a vintage print from the 50,000-strong Liberty Fabrics archive.
- Inspired by the art of storytelling and the fantastical worlds which literary, musical and theatrical works depict, this print celebrates the magical, strange and unexpected.
- Re-imagined and recoloured by Megan Clarke in the Liberty design studio for Batsheva .