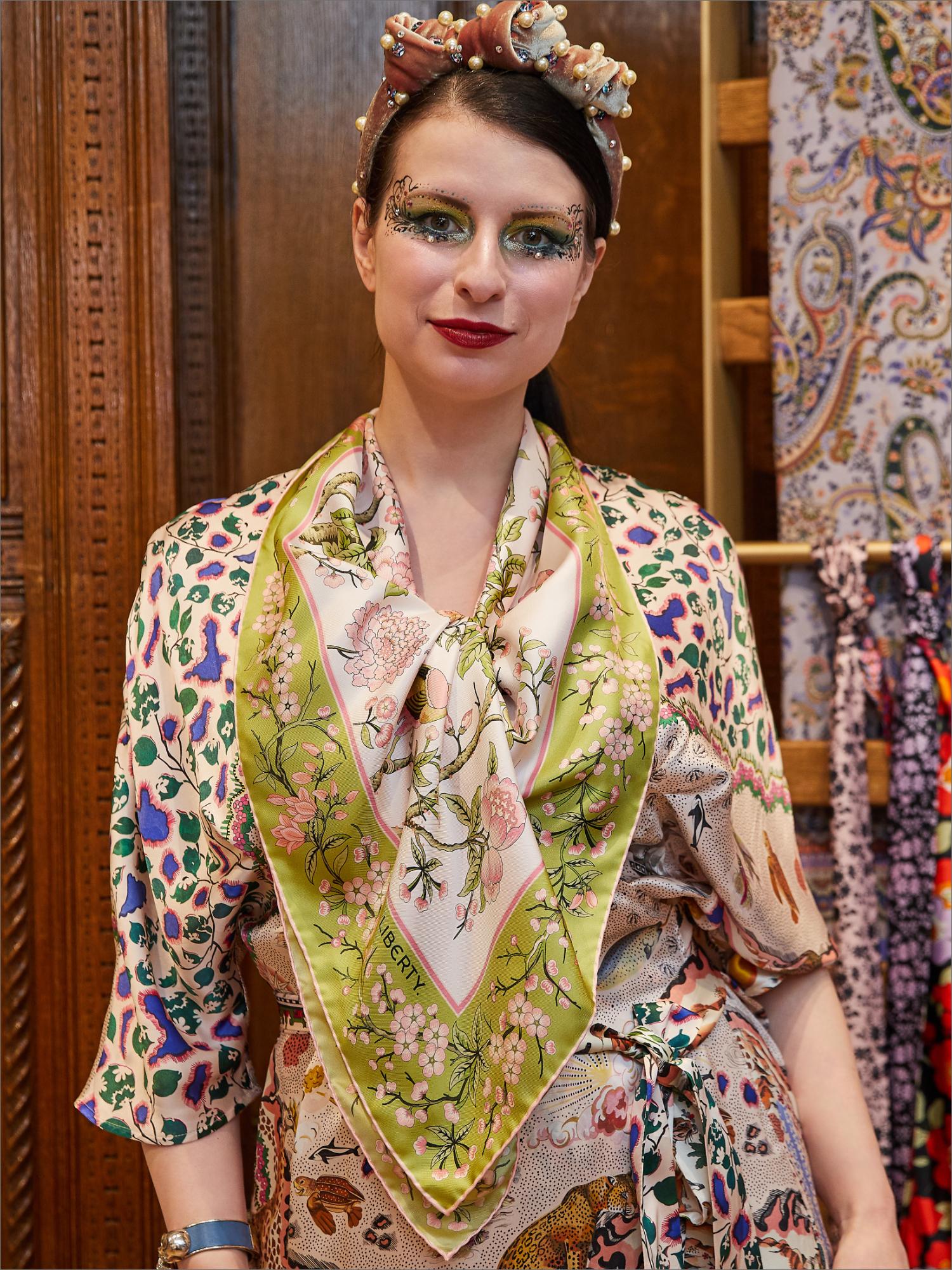 Whether decorated with archival motifs or a hand-painted design from the London studio, each Liberty scarf is a wearable work of art. Here our resident accessories expert Anna Kompaniets from the Scarf Hall shows us her best styling tips, working with three different iconic Liberty silk scarf sizes in both easy and complicated options.
I'm going to show you how to style the 45 x 45cm scarf – let's do the easy way first.

Find the corner with the tag on, and tuck the tag in. make sure your scarf is nice and neat. Next, tie it in a double knot quite tightly on your neck.

Tweak those corners, and you're done.
For the slightly more complicated way, I'm going to tie the scarf onto the handle of my Liberty Iphis bag.

Take the scarf and pop the corners in, starting with a knot. Then open up the corner and tie it as tightly as you can around the handle, wrapping the handle in the scarf.

Once you get to the end, do the same knot as you did in the very beginning – then just open up the corners, and make sure they look the same.
Let's do the easy way first. You want to find your corner with the tag on – tuck that corner in, and then the other one, to create a long scarf.

Take these two to the front, twist them, and then go back on itself and tie at the back. Voila!
For the slightly more complicated way we're going to find the tag and tuck the opposite corners in, highlighting the centre of the scarf.

So it's a half bow – then we're going to place it on the side, unravel the corners and fan out the little bow part.
The 90 x 90cm scarf is my favourite size – you can do so much with it.

For this easy style, find a corner that has a tag on. Make a triangle with one side shorter than the other, and start rolling it.

Then I take my favourite cocktail ring, the biggest one I have, and thread it through my scarf. And then you're ready to go!
For the slightly more complicated way – flip your scarf the wrong way round, and grab the very centre of the scarf and tie a small knot, as tight as you can.

Now flip it to the right side of the scarf, and find two opposite corners – and there you go.