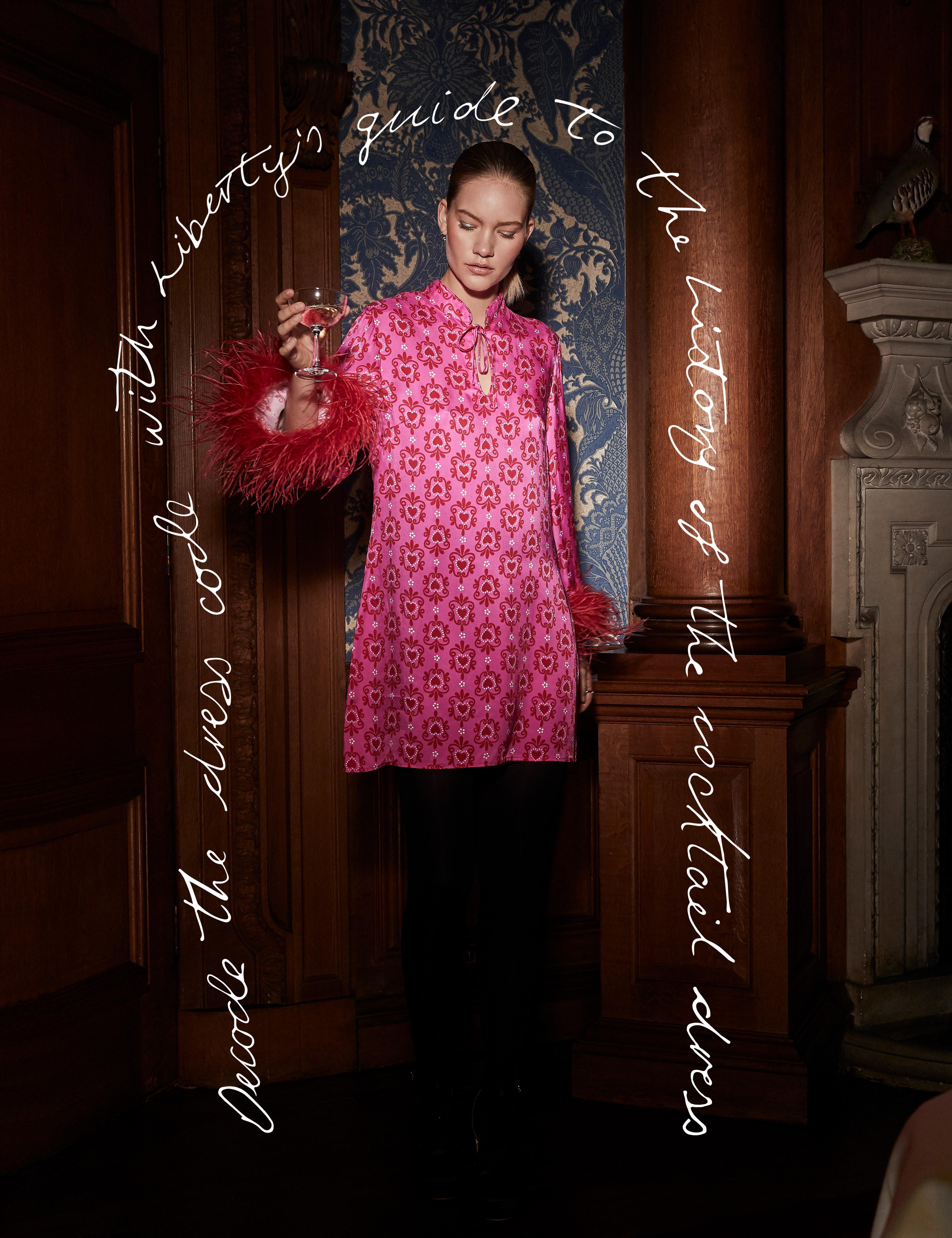 Dress Code Debunked: The Cocktail Dress
If the term 'cocktail attire' fills you with dread, let Team Liberty put your mind at rest as we answer: what actually is a cocktail dress?
By: George Elliot
If someone asked you 'what is a cocktail dress?', could you give a straight-to-the-point definition or would you be lost for words? Or rather: if you received a party invite that asked you to wear one, would you know instantly which of your dresses fit the criteria, or would you turn to your phone for a frantic Google search? 'Cocktail attire' is one of those vague, enigmatic fashion terms that means something to those in the know but very little to most, so don't feel embarrassed if you could do with a little guidance. Here to disperse the cloud of mystery, let's first go back to where it all started: 1920s America.
The History of the Cocktail Dress
It was then and there that the 'modern woman' ideal was born, a rebellious, increasingly independent free spirit that started going to clubs and speakeasies to dance the Charleston, smoke and drink cocktails. Her objective? To prove that women could and should be able to do whatever a man does. And only one outfit would suffice for this taboo-defying wave of women: the cocktail dress, then characterised as a short evening dress with sleeves, styled with a matching hat, shoes and gloves.

But as trends are forever changing, the cocktail dress has been refashioned several times since then; its hemline has yoyo-ed up and down, its neckline has transformed from 'modest' to plunging (and back again), its sleeves have shortened and the once required hat and gloves seem to have vanished altogether. The fabric, cut and colour rules have been rewritten several times too. Herein lies the confusion: there's no fixed, simple, nor universally-agreed definition as to what a cocktail dress actually looks like.

But that doesn't necessarily help you, dear reader, invite in hand, frantically worrying about what to wear. So, how exactly do you identify a cocktail dress? The trick is to consider its original purpose: a practical, comfortable, but ultimately elegant dress you'd wear to a fancy occasion, where your prime objective is to party the night away – cocktail in hand.

Below, find Liberty's edit of the best dresses to meet such requirements…