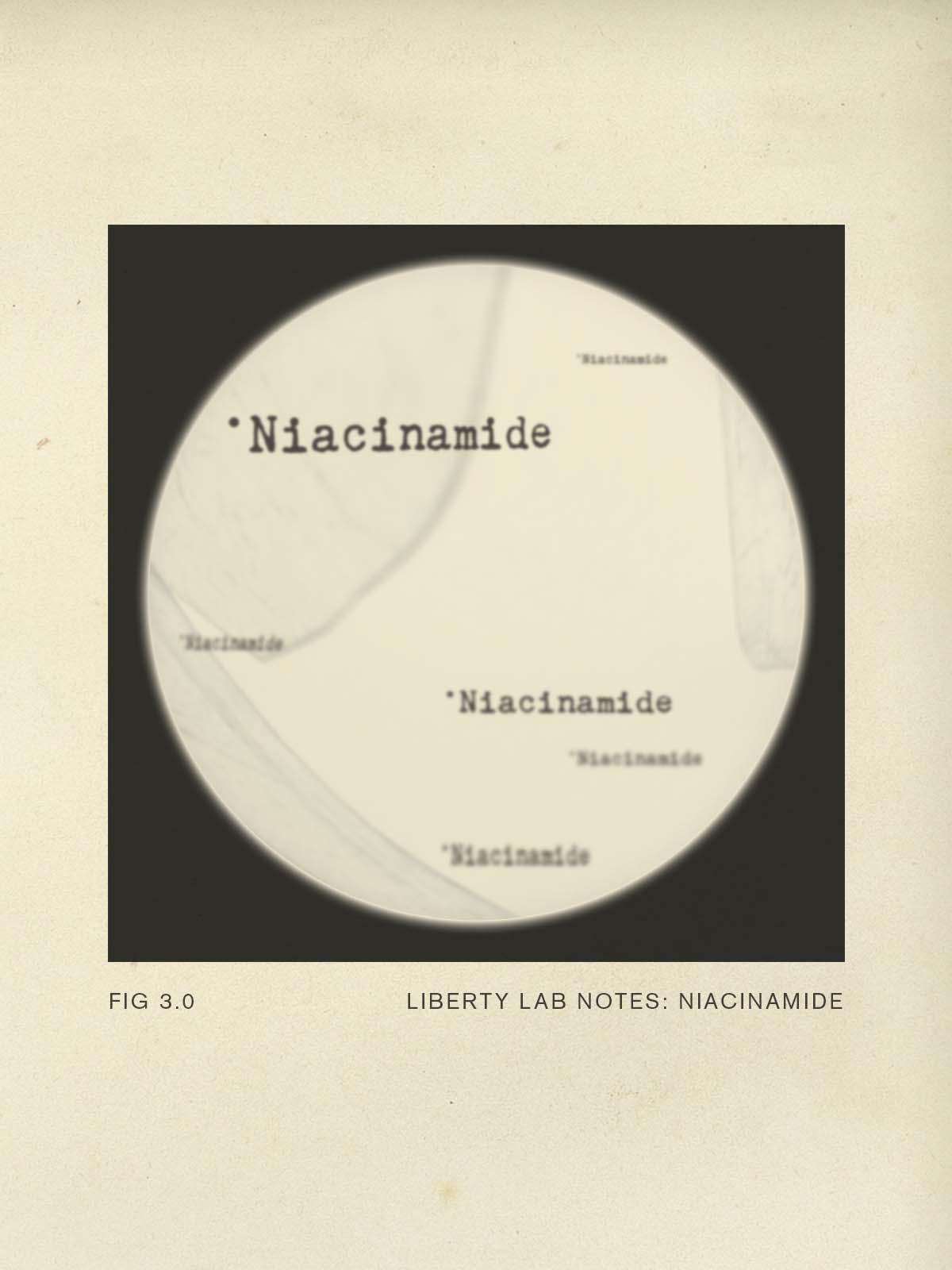 Lab Notes
Meet Niacinamide, Skincare's Most Versatile Ingredient
Hydrating, calming, brightening, smoothing, strengthening – is there anything niacinamide can't do? Liberty finds out
By: Shannon Peter
Step aside, retinol. Stand down, vitamin C. There's a new darling of the skincare world that boasts quite the list of benefits: niacinamide. Also known as vitamin B3, it has long appeared on ingredients lists, yet it's only recently that niacinamide has received such widespread (and vocal) acclaim. Why? Because there's very little this ingredient can't do for skin. Just take aesthetic skin doctor and brand founder Dr. Barbara Sturm's word for it...
Not just a wonder skincare ingredient, niacinamide is a vital nutrient for the entire body. "Niacinamide is a water-soluble form of vitamin B3 that supports many cellular processes," explains Dr. Sturm. "It helps the healthy functioning of fats and sugars in the body and maintains healthy cells, helping to reduce acne, improve joint flexibility, and treat hyperpigmentation." The problem is, it's not stored in the body, so it needs to be supplemented through the diet. "It's found in foods including meat, fish, milk, eggs, green vegetables, and cereals," Dr. Sturm continues. "It can also be applied topically to help prevent and reduce skin concerns including enlarged pores, fine lines and wrinkles, uneven texture and discoloration and acne."
What Are the Benefits of Niacinamide?
The fact that niacinamide can do so much makes you wonder why it's only recently received the same hype afforded to ingredients like retinol, skincare acids and vitamin C. "Topical vitamin B3 has multiple benefits and powerful anti-inflammatory properties; it not only helps to control excess oil on the skin, helping to visibly refine and reduce the look of enlarged pores, but also helps smooth the appearance of fine lines and wrinkles, improves uneven skin tone, restores radiance, strengthens the natural skin barrier, and renews the skin's surface, reducing the effects of environmental damage." It's excellent at preventing moisture loss, too, helping to support the natural production of ceramides.
How Do You Use Niacinamide in Your Routine?
While you will find some moisturiser formulas that contain niacinamide, the ingredient is most commonly found in serum-form, and can be used in both your morning and night time routines. It's best applied onto freshly cleansed (and exfoliated, if you opt for this step) skin, before heavier moisturisers, oils or SPF.
The Best Niacinamide Skincare Products
Do bear in mind that not all niacinamide skincare products were made equal. "There are different qualities of niacinamide, and concentrations used," Dr. Sturm explains. "Before using a vitamin B3 product it is important to check the concentration as well as the amounts of residual nicotinic acid which is determined by the quality of the ingredient. The optimal concentration depends on the quality, so it varies. As a basic rule, vitamin B3 up to 5% is normally well tolerated by the skin."

Dr. Barbara Sturm set out to make the ultimate niacinamide formula when she came up with The Better B Niacinamide Serum, £110. "It's a potent ingredient complex that includes ectoin, an amino acid which helps to protect against environmental hyperpigmentation and premature skin ageing, plankton which helps strengthen the skin barrier, boost hydration, and support the skin's natural restorative processes, and panthenol, an ultra-hydrating ingredient that also has soothing properties."