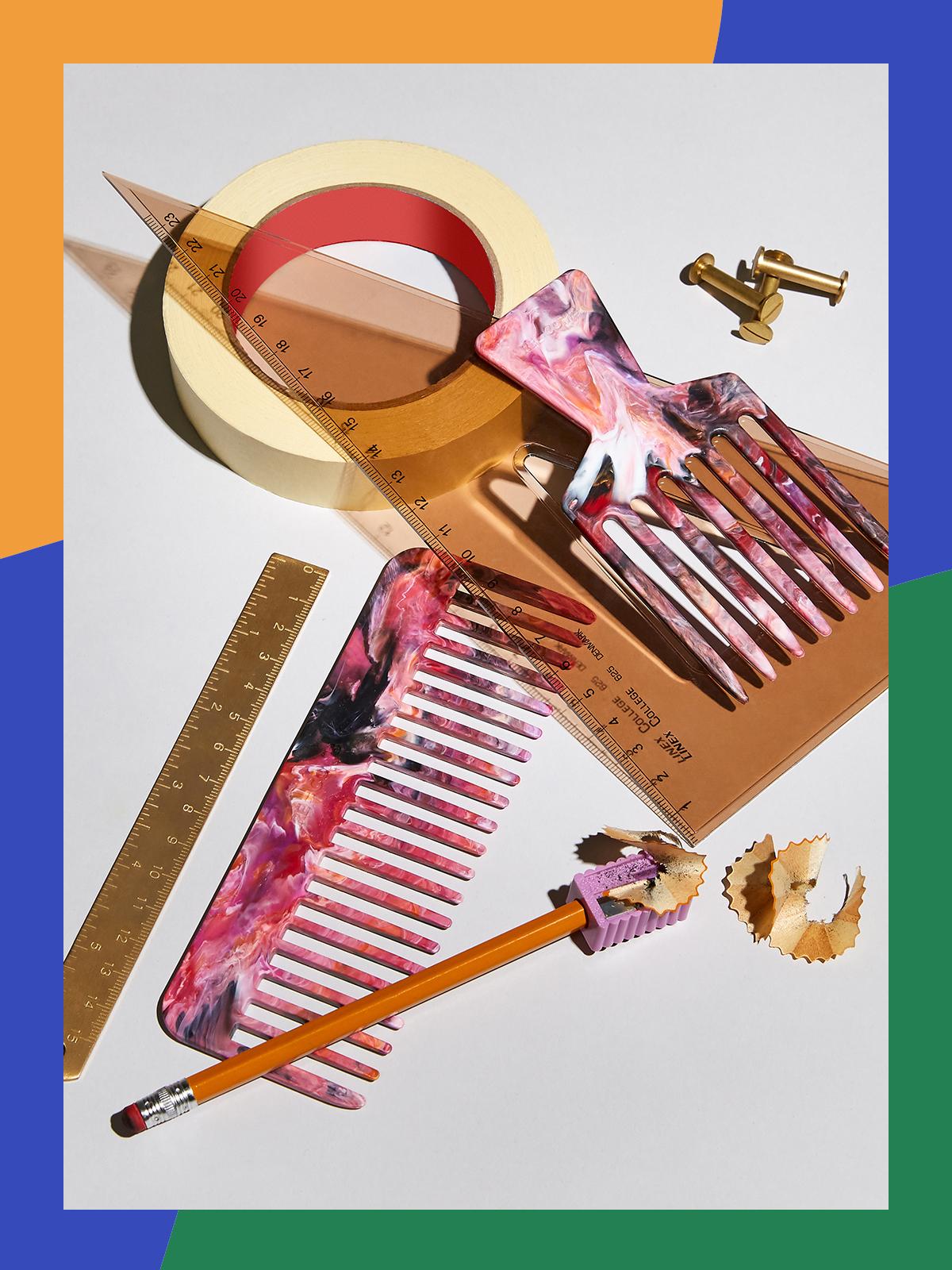 Beauty by Design
RE=COMB
We go behind the scenes with founders and hairstylists Sarah and Chris to find out how the cult comb became 'Beauty from Waste'
Shop RE=COMB
A personal reaction to the waste they observed en masse in the fashion and beauty industries, leading session stylists Sarah Jo Palmer and Chris Deagle co-founded RE=COMB as an invitation for change. Giving new life to what would otherwise be landfill- or ocean-bound plastic, the wide-tooth comb that catapulted the brand to cult status did so thanks to its universal functionality and shelfie-worthy aesthetic. Here, the duo shed light on the process behind the humble hair tool making strides in sustainability.
What motivated you to create something entirely recycled?
Working as hairstylists at fashion shows and on shoots using different tools and products, we noticed a massive lack of sustainable options in our kits. There seemed to be no tools out there that were eco-focused and that could be used both professionally and at home. With the overwhelming amount of plastic being processed and so little of it being recycled, we were driven to explore a way of creating something entirely from recycled waste plastic.
Due

to the

recycling process, each piece

is

made

with an

entirely unique blend

and is

therefore one-of-a-kind.
Why combs?
Reflecting on the fundamentals of hair care, we wished to create an item that felt approachable, familiar, relevant and versatile.

The comb is a tool intrinsic to human grooming, used across all cultures throughout history. We wanted to create something that could be treasured, that was non-gender specific and that could function as beautifully as its aesthetic design.
How are RE=COMB products made?
The process of recycling plastic is fascinating. It is continuously evolving and becoming more and more refined, which is fundamental to its adoption as a mainstream practice. Our combs are made in the UK from waste plastic sourced from many different avenues, ranging from household to select manufactured waste. We use an injection mould process which involves shredding raw recycled plastic down, melting it and then forming it into a RE=COMB product.
What inspires the colour combinations?
Our colour creations are individually hand-crafted with a careful blend of recycled plastics in our signature marbled colours. Our second colour-evolution collection Hyper Nature is inspired by the innate beauty of some of nature's tiny, hyper-coloured creatures, such as micro-tropical neon amphibians with their captivating displays. The collection explores vivid and expressive colour mixes that trigger visual energy.
Are wide-tooth combs for everyone?
Each of our wide-tooth combs and piks are specifically designed with recycled plastic memory-flex retention, which makes them universal to all hair types and genders. We wanted to make a truly versatile grooming essential for everyone to enjoy. The teeth are extremely durable and work fantastically well with wet and dry hair alike.
How do you address the challenge of packaging?
RE=COMB was borne from a necessity to invite change and, for us, this meant re-framing the notions of traditional beauty and grooming industry practices – of which packaging is a crucial part. All of our packaging and labels are made from upcycled and biodegradable materials and components – an alternative, holistic approach which avoids excess landfill.