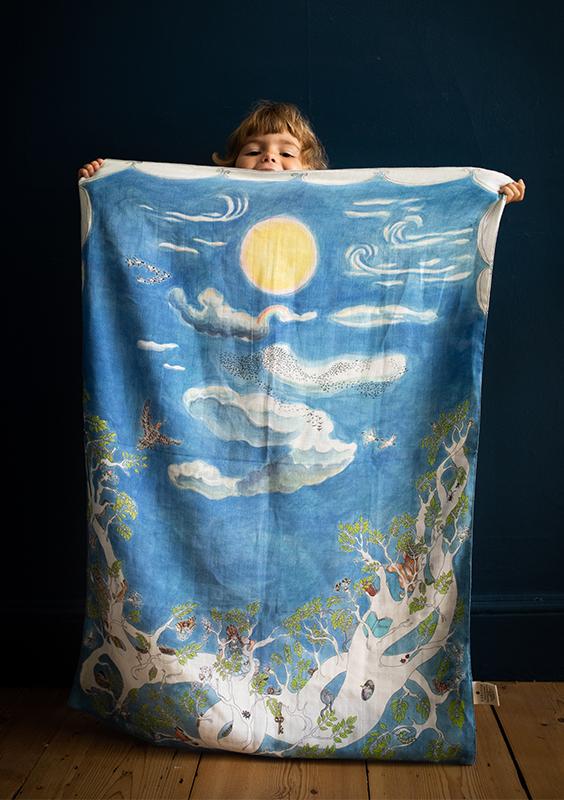 Bedtime Stories
Forivor
We meet the homegrown duo whose illustrated quilts are driving children's awareness
Shop Forivor
Based between Wales and Ramsgate, Forivor is the children's brand weaving imaginative stories into keep-forever quilts. And, with Rebecca Monserat's sustainable credentials, honed alongside Katharine Hamnett, and co-founder Alice Ruby Ross' illustrative eye, the pair have built a model for the future. Here, they talk creative aspirations and sparking kids' interest in the environment as a path to earth-friendly horizons.
How did the two of you meet?
Rebecca | Having had the idea for organic bedding that could inspire a passion for nature and storytelling, I was looking for an illustrator to work with. An old friend who I worked with at Katharine Hamnett put me in touch with Alice and although initially it was going to be a one off commission, we got on so well that we decided to start Forivor together.
Tell us the story behind Forivor.
Rebecca | I have always been a lover of a long-distance rail adventure and had just travelled London to Hong Kong by train. On the journey I tried, and failed, to write a story for my goddaughter Coco, and had been trying to find organic bedding, unable to find anything other than plain white. With these thoughts, alongside daily reminders of our planet's crises from my job at the Environmental Justice Foundation, I went to bed. In that strange moment between asleep and awake, I had the idea for bedding that transforms from day to night, that could encourage children away from screens into a storytelling world where nature was the greatest inspiration but a spot of magic and the odd mythical creature would create a world they could continue exploring in their dreams. It would also be a way for children to learn about habitats and wildlife, with the hope they would fall in love with these creatures and want to protect them in the future.
Where do you find inspiration?
So far, we've focused on wildlife on our doorstep, researching the Legends of the Sea design at the wonderful Anglesey Sea Zoo, where they only have British marine wildlife. We were blown away by the extraordinary sea creatures that inhabit our seas: the cuckoo wrasse which can change gender and wolf fish which have something akin to anti-freeze in their blood. Storytelling is integral to Forivor. We draw on our favourite authors and illustrators from childhood; Maurice Sendak, Gerald Durrell, Tolkien, Kit Williams who had treasure clues to a buried golden hare within his books, and Peter Dallas-Smith who brought to life the detailed world of Trouble for Trumpets. Once we have our theme, we take great care considering the design from a child's perspective, creating details like in a book illustration for them to explore, with an aesthetic that appeals to children and adults alike.
It would also

be a

way

for

children

to

learn about habitats

and

wildlife,

with the

hope they would fall

in

love

with these

creatures

and

want

to

protect them

in the

future
Why is it important to get children interested in nature?
Children have an innate appreciation of nature, finding wonder from things beneath their toes like earthworms, snails and different coloured leaves, to majestic animals like endangered rhinoceroses and big cats. We believe if we nurture that curiosity alongside their creativity and imaginations they will be better equipped as future guardians of our planet.
What was your biggest dream as a child?
Rebecca | I wanted to be like Gerald Durrell, how he taught magpies to talk and explored the world for wildlife, and I dreamt of living like Swiss Family Robinson on a desert island. Mostly though, I wanted to be a champion roller-skater – there's a nod to this and Alice's newfound love of skating in our Space Above the Ground design, look out for the roller-skating snails!
Alice | I was such a daydreamer as a child there was an abundance of different dreams, from becoming a zookeeper to the ultimate dream of being able to fly like in Roald Dahl's The Magic Finger. And, of course, I longed for the entire collection of Sylvanian Families – when I wasn't drawing my sister and I would spend hours creating epic worlds and kingdoms with the toys.
What's the creative process behind your illustrated designs?
Once we've decided a place or theme, we research the creatures. For The Space Above the Ground, it's migratory birds – their journeys are fascinating. Many are threatened as their migratory routes cover territories with environmental challenges. Some animals are chosen because we know they'll make brilliant characters: the ermine moth became king and queen in the bedding and storybook. We always have transformation in mind, this really directs the creative process.
Alice | I hand-draw both sides of the design on paper (lovely Fabriano printing paper!) with technical ink pens as two complete artworks, hand-colouring in gouache and watercolour. It's a slow process as ideas come while I'm drawing. Rebecca always has wonderful ideas to contribute so it's a joint effort.
Why is using organic and recycled materials so important to you?
We are on borrowed time when it comes to the planet's resources - organic and recycled materials are a major way we can reverse/reduce the environmental catastrophes the textile industry creates. We want Forivor to tell the positive story of humankind and nature; we feel positive about changes that can take place with good production practices and imagination. Though we are proud of where we've got to, we want to do much more, investing in regenerative agriculture in India, and continually looking to improve elements such as delivery, packaging and the carbon footprint of our website.
How do you maintain socially conscious production methods?
Environmental security is a basic human right and is at the forefront when we choose production methods, to protect people and their communities. Ensuring a clean water source, not contaminated with toxic pesticides or effluent from manufacturing, is a socially responsible commitment. We work with a manufacturer who values their workforce and community. As well as supplying primarily rain-fed, GOTS certified organic cotton they have a GOTS approved digital printing system with no water involved and little waste – their major source of power is a windmill. They provide housing for about 50% of their workers, with free electricity and water, with plans to increase this to 100% in coming years. During the pandemic, they paid 100% of the salary to their employees.
How did working with Katharine Hamnett shape your vision?
Rebecca | I have so much admiration for Katharine's fierce determination, her ability to come up with seemingly simple but perfectly poised slogans that can elevate an issue to the limelight. Her uncompromising approach has informed the core of Forivor, giving us the confidence that if anything compromises the integrity of our brand to stand our ground and consider our environmental footprint at every step. Along with my experience at the Environmental Justice Foundation of which she is a patron, it shaped my understanding of the direct relationship between our actions as consumers to the fate of some of the most vulnerable environments and people on our planet.
We want Forivor

to

tell

the

positive story

of

humankind

and

nature; we feel positive about changes

that can

take place

with

good production practices

and

imagination.
Why are children's collections such a key player in driving sustainability?
Parents are demanding more sustainable children's products for two reasons: they are interested in the environmental benefits of sustainability to protect their children's future, while short-term, organic materials avoid your child being exposed to harmful substances. For bedding this is paramount as babies and children come into close contact with the material every night. Unfortunately, we feel sustainability is not as key as it should be, plastic and non-organic still rule, where production is cheaper and supports a faster turnaround to keep up with demand.
What most excites you about the products you create?
A major driving force is creating products that will become evocative childhood memories. This is what motivates us to take the time researching and hand illustrating the worlds we create. We always talk about the memories bedding opens up for us and how special it would be to have had all these characters on a quilt or duvet. Whenever we get a lovely response from a customer, we feel proud to have offered something unique and special for the family to revel in and enjoy. We feel very lucky that we can take the concept of Forivor around the world - for us it's exciting to think of different habitats we can explore, learn about and bring to life on our bedding. It is a privilege to be able to learn about all the amazing, diverse wildlife out there and hope we can do our bit to help conserve them.
What do you see for the future of Forivor?
We've taken our time to get our three collections as we would like them and we aren't in a rush to expand too quickly - our priority in 2021 will be to focus not only on reducing the negative impact of production but making steps towards leaving a positive trace. Covid has brought challenges to many businesses and it's something all brands will be considering in the future – it will be interesting to see how this might inform our future designs. We have felt very supported by our customers, and felt consumers were making informed decisions about children's bedding they bought during lockdown. We're currently spending our tea breaks dreaming about all the exciting habitats we could choose for our next collection. We have a feeling we might be travelling a bit further afield next time!
For bespoke, complimentary shopping advice on all things kids', book an appointment with one our our experts - available online