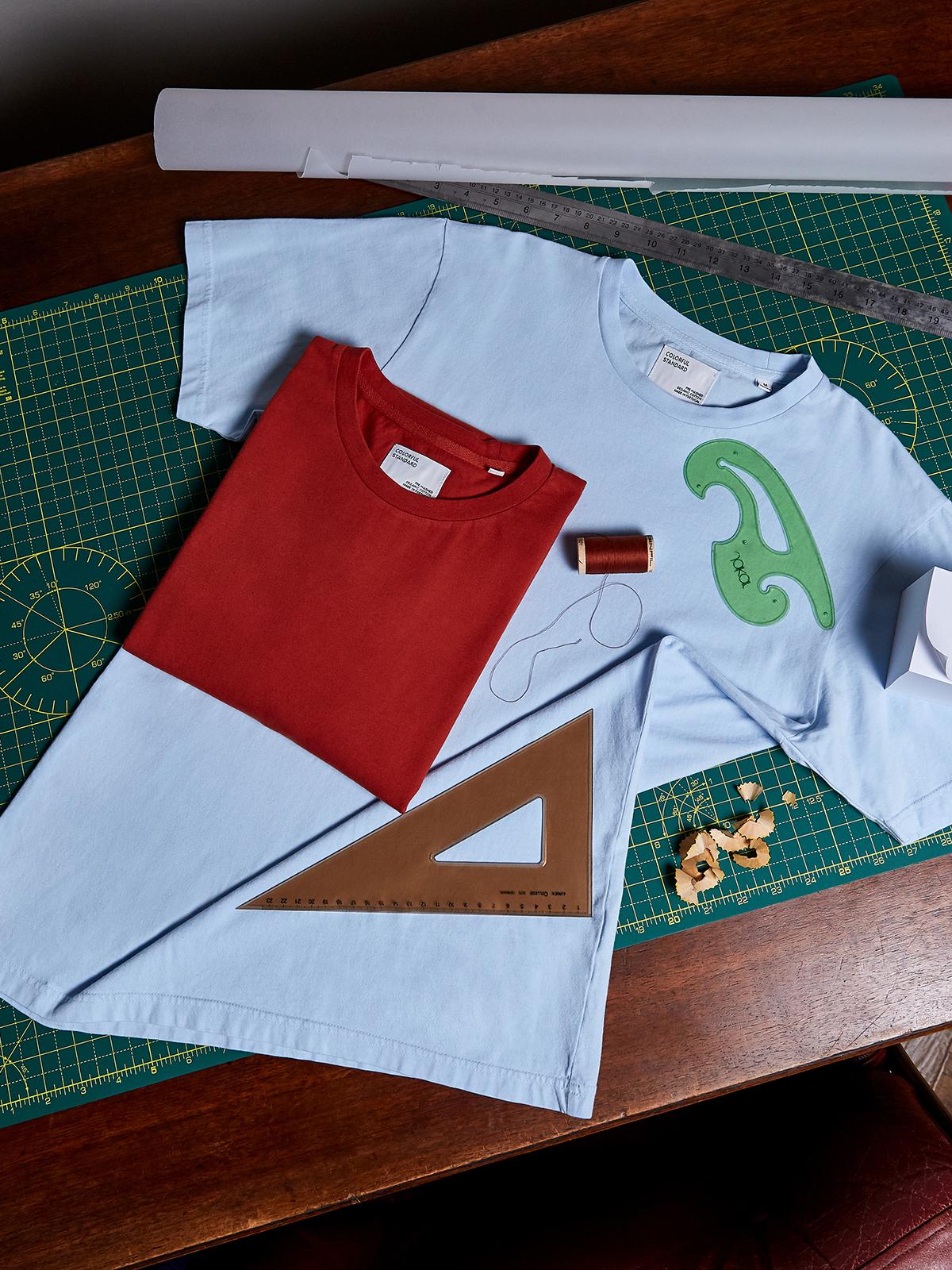 Conscious Craft
Colorful Standard
Responsibly made in beautiful shades - discover Colorful Standard, the brand crafting foundational pieces that are far from basic
Shop Colorful Standard
Taking a bold approach to crafting its collections of versatile wardrobe staples, Colorful Standard is reminding us of the joy of colour. Founder Tue Deleuran talks to us about what goes into developing each vibrant shade, the importance of transparency, and FC Masi Manimba – a charity initiative close to his heart.
Can you define Colorful Standard for us in a sentence?
Colorful Standard stands for many things, but if we have to narrow it down to one sentence, I'd say: 'A sustainable essentials brand that holds the fashion industry to a higher standard, with colourful clothing made responsibly'.
What does sustainability mean to you?
To me, a sustainable brand identifies each and every way that it can reduce harm to the planet, and acts on it. From the materials, to production processes, to packaging, and so on. But it actually goes further than that. To be a truly sustainable brand, you absolutely have to give back where you take. We recently incorporated new climate-positive initiatives to not just remedy, but give back and cancel out our carbon footprint, and I think that is what makes us truly sustainable.
We recently incorporated new climate-positive initiatives

to

not just remedy,

but

give back

and

cancel out our carbon footprint
'Simple, yet significant' is one of your mottos – how does this translate into design?
We have definitely said this, yes, but I think our actual motto falls more in line with 'coloring the world responsibly'. With this motto, we mean that we bring a bright and diverse colour palette to sustainably and ethically produced garments. Since when does sustainability mean clothing in muted, earth tones? We think they can also be bright pinks, purples, or oranges!
What materials do you use and how do you choose them?
As a sustainable brand, we work to identify only the most natural and raw materials. Our products consist of either 100% organic cotton or extra-fine merino wool. We chose these two materials because they are high-quality, durable, and comfortable, and part of what we stand for is that our products are made to last. By going organic we also use far less pesticides or harmful chemicals as other cottons do. The garments themselves, whether wool or cotton, are dyed using environmentally friendly dye, which is also Oeko-Tex Certified, meaning that the dyes have been thoroughly tested for harmful chemicals.
Although your pieces are simple, they're not boring! What goes into creating a new colour? What are you inspired by?
Thank you for noticing! We try to stay away from being boring and instead want to provide that pop of colour to spice up one's wardrobe! We like to keep our styles simple and let the colours do the talking. We draw inspiration for the colours themselves from the natural world all around us from deserts, to beaches, sunsets, and so on. There is almost always a new colour brewing in the Colorful Standard laboratory.
We like

to

keep our styles simple

and

let the colours do the talking
What makes your colours so rich and vibrant?
We put a lot of effort into creating them, from their initial concept to their final development. We really want to provide our customers with unique colours that they have not seen before, or would not necessarily consider incorporating into their wardrobe, until, of course, we give them the option. We go back and forth with several samples until a colour is the perfect shade, tone, richness, vibrancy, and so on. We won't stop until it has that 'WOW' factor.
How do you guarantee production transparency and welfare for your workers?
This is so important to us! We are a vertically integrated company, and actually have our own manufacturing centre in Portugal where all of our garments are produced. This give us a unique control over the supply chain, and the chance to build real relationships with our employees. Keeping our production in Europe also adheres us to the European Labour Law, which has high standards in terms of workers' rights and wages. Our doors are always open to anyone that wishes to stop by and visit, and this way, we ensure total transparency.
Our doors are always open

to

anyone that wishes to stop by and visit,

and

this way, we ensure total transparency
Can you tell us a bit about the FC Masi Manimba charity initiative? How did it come about?
Of course, my wife's family is actually from the Democratic Republic of Congo, which is home to FC Masi Manimba, and it was on a visit that the initiative came about. We wanted to give back to children in a way that would provide joy and a sense of unity. At first, we filled a car with footballs and passed them around, and quickly noticed that one child with a football turned into a dozen children, playing and having a good time. We were inspired to buy a plot of land and built a local football stadium. Today, FC Masi Manimba is much more than that, and serves as an all-purpose activity centre for children of all ages to play and learn.
What did you learn from creating the football club?
I learned that one of the best ways to help children is not through providing material support, but instead creating a place that teaches the spirit of community and team building. FC Masi Manimba served as a social and fun after-school activity for kids to feel safe, and hopefully prevents them from falling into trouble or in otherwise dangerous situations.
What aims do you have for the future?
I talked a bit about our recent climate-positive initiatives, and think it is important to note that this is an on-going project. In the future we hope to continue identifying and working with various organizations that will make us a climate-positive brand.