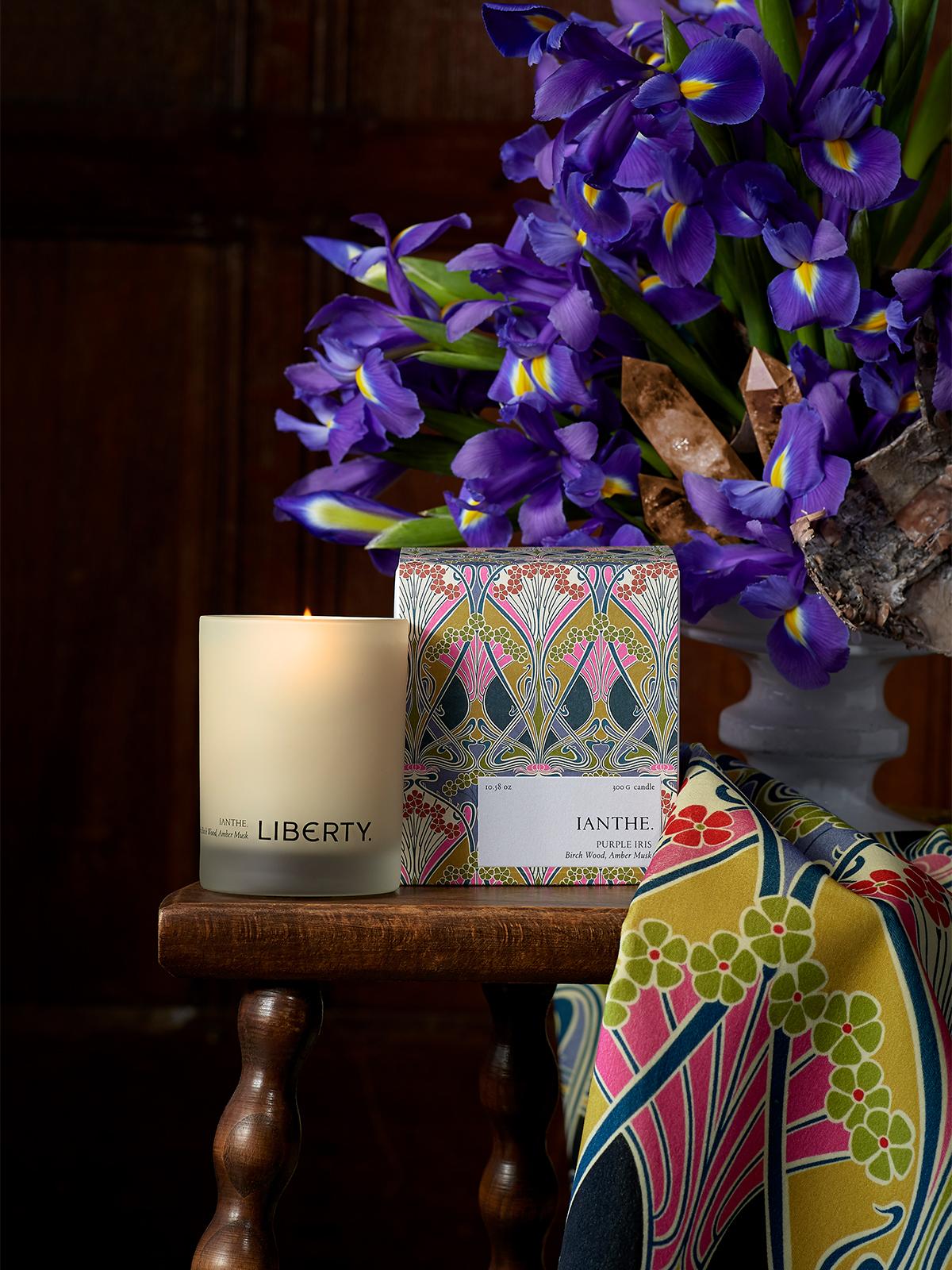 The Smell of Liberty Print
Liberty Scented Candles
Inspired by our iconic design archive, Liberty's exclusive luxury scented candle collection explores what a Liberty print might smell like
Shop candles
By: Jess Johnson
The wait is over – the very first Liberty scented candle collection harnesses the transportive power of scent, bringing to life four iconic prints through a new and richly evocative home fragrance series.
The specially-formulated fragrances of these scented candles invite us on a totally unique olfactory journey through signature print. Inspired by four artworks hand-picked from Liberty's historic 145-year-old design archive, each luxury scented candle is made with natural-blend vegan wax, hand-poured into a reusable glass vessel decorated in a bespoke creamy shade lifted directly from the pages of an archive book, and presented in a corresponding Liberty print box – four print stories, told through distinctive scent ingredients.
WILD FLOWERS…
In a tangle of wild rose and delicate jasmine grounded by earthy cedarwood, Wild Flowers pulls us through the meadows and hedgerows of a charmed English childhood – its classic print inspired by the 19th century 'Field Guide to Wild Flowers in Britain'.
Shop Wild Flowers
FARAWAY PALM…
Combining rich oud wood and damask rose with sweetly spiced cassis, Faraway Palm pays homage to the globe-trotting travels of founder Arthur Lasenby Liberty in the 1800s – reflecting its eponymous print design's 1970s Egyptian-inspired palm tree motifs and Indian block print paisley textures.
Shop Faraway Palm
HERA…
An aristocratic and bohemian scent with a velvety heart of rose, woodland moss and golden amber – Hera's sinuous peacock feather design evokes the wit and elegance of Oscar Wilde, who famously regarded the Liberty store as "the chosen resort of the artistic shopper".
Shop Hera
IANTHE…
Rare yet comfortingly familiar, Ianthe explores the subtle depths of the colour purple, harmonising notes of iris, birch wood and amber musk. It references our Art Nouveau design from c.1902, titled after the romantic heroine of classical antiquity whose name comes from the Greek for 'purple or violet flowers'.
Shop Ianthe
All four luxury candles channel the spirit of Liberty, embodied by the landmark London store – and now delivered in a brand new sensorial experience. So what does Liberty print smell like? You'll have to sniff them to find out…