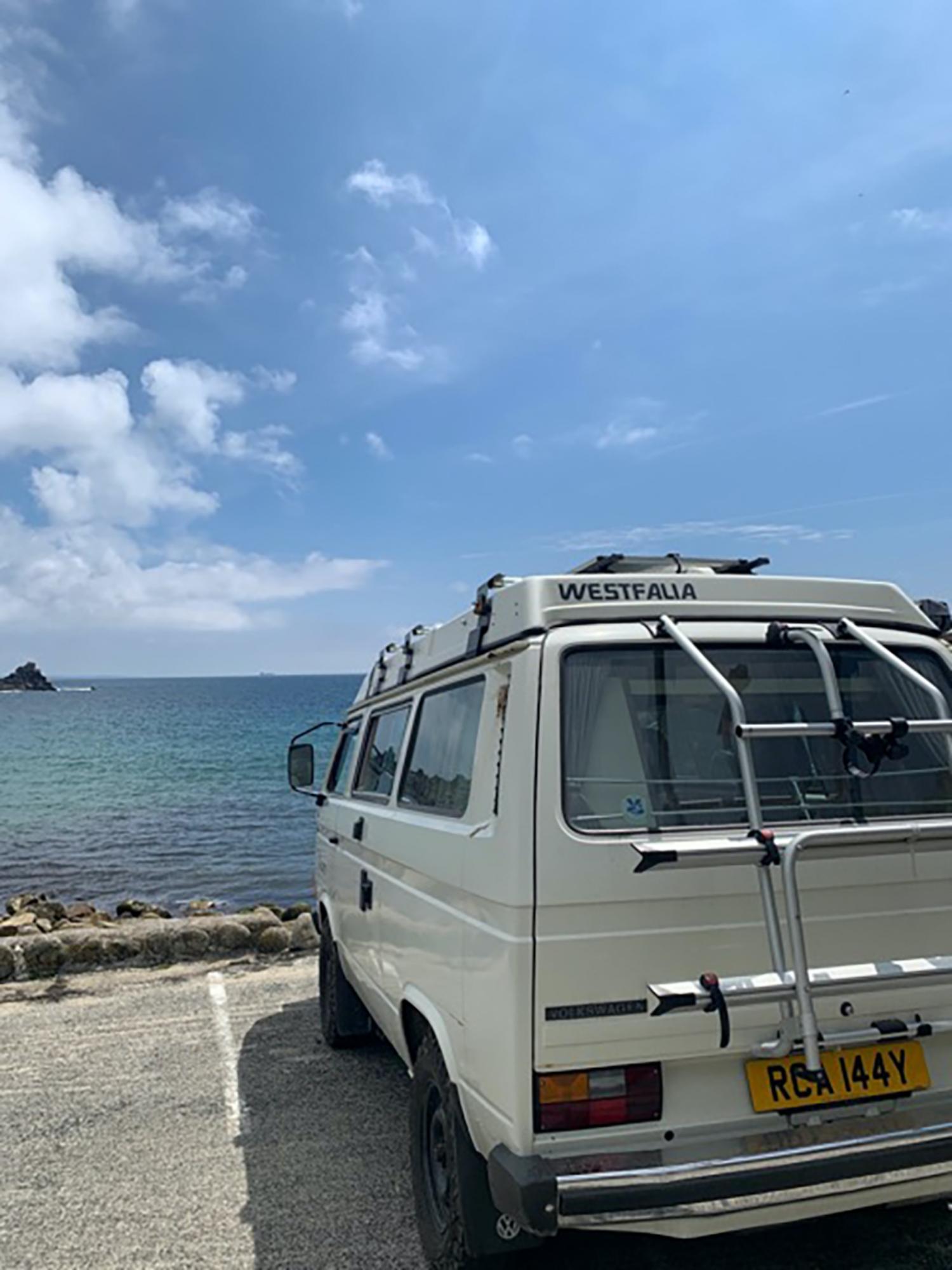 At Home With
YMC
Investing in a VW Campervan has given London-based YMC founder Jimmy Collins the opportunity to explore life outside of the city – without leaving home behind
Shop YMC
Born and bred Londoner Jimmy Collins recently discovered the secret to contentment in his chaotic capital: a 1983 VW Westfalia Campervan. "It's a home in itself and sits on our drive," explains the YMC co-founder, who has been rooted in Kensal Rise for the last 14 years. "We've always dreamt of owning a van and having the freedom to escape the city." It's a smart solution for a city-dwelling homebody with a newfound love of the great outdoors.
Collins is equally fond of his bricks and mortar, a Victorian terrace shared with his family: "My wife, our two boys aged 20 and 13, our lab Fonzie, Biggie the miniature Dachshund and Anakin the black cat." He has a daughter too, but she "flew the nest." Despite the crowd, he describes the house as "a sacred space to disconnect from technology, be present with loved ones and realign" – a place where "close friends and family congregate around the kitchen table for humble and spontaneous meals". True to the relaxed nature of his brand, the design-led businessman isn't one for fancy dinner parties.
Aesthetically, his interior echoes the functional design that drives YMC, founded with Fraser Moss back in 1995. Influenced by counter-cultures and workwear styles, the brand is a mix of their personalities; Moss's punk spirit, and Collins' urban pragmatism. "I believe your home is a reflection of your personal style," Collins notes. "My interior has a utilitarian aesthetic mixed with reclaimed and vintage materials. Similarly, YMC has drawn inspiration from functional design over many decades." Although he's partial to a pop of colour in the shape of a deftly placed cushion or tufted rug, Collins requires a "minimal(ish)" environment in which to live and work, attesting that "clutter and mess is not conducive to my creativity or flow".
Since investing in the van, getaways are frequent, allowing Collins and co. to flee the madness of London - albeit with home comforts in tow. "We've been spending more time in nature since owning the van," he shares. "Discovering little spots all over the UK, visiting friends, making new ones. I guess we are lucky to have this extension of our home to journey in."
On his travels, Collins has not only found a new appreciation for wilder landscapes, but also for considered architecture that blends seamlessly into them. "There is something so special about simple wooden structures that are attuned with nature," he says. "I have been lucky to stay in some amazing buildings in remote locations where there is a sense of harmony between the structure and the surrounding environment."
Ultimately though, nothing beats coming back to his own slice of London, where terraced houses stand side by side and familiar faces welcome his return. "Whenever I return to the city from time away there's always this feeling of coming home," he admits. "In Kensal Rise there's a real sense of community, a friendliness that seems to have strengthened over lockdown." This sense of community harks back to his childhood: "We lived in a cul de sac for a while and spent hours skateboarding and playing football with my neighbours." While the van allows him to experience new destinations in his own space, for Collins, 'home' is defined by neighbourly connection.