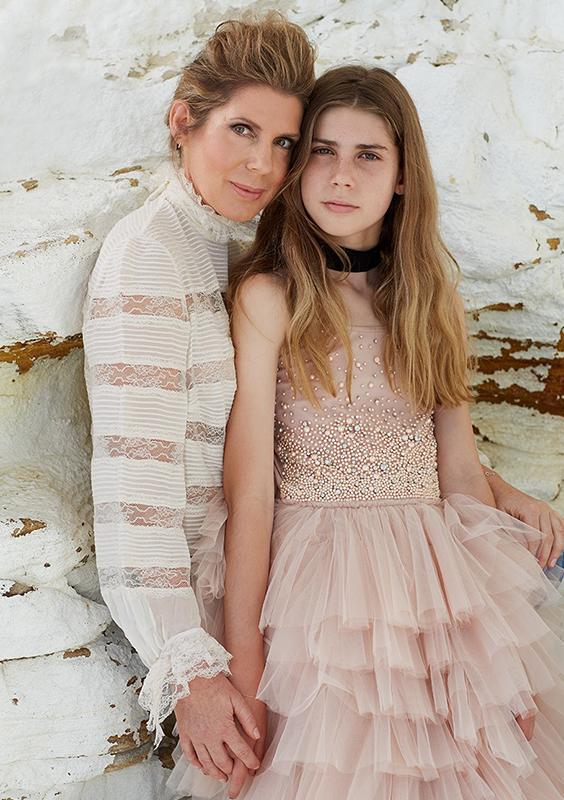 Motherhood Diaries
Andrea Rembeck
We talk to mother of one and founder of Tutu du Monde to discuss all things motherhood
Shop Tutu du Monde
Motherhood Diaries is a testament to modern-day parenting; from life-changing tribulations, to joyous milestones - and all the chaotic bits in between. Each month, we'll uncover a refreshingly honest account from the Liberty community, with the aim to support women who might otherwise feel frustrated, isolated or overwhelmed. Here, we invite all maternal figures to speak openly about their journey to motherhood, find light in each narrative and ultimately, a sense of solidarity.
The next mum to feature in our monthly series is Andrea Rembeck, founder and creative director of enchanting childrenswear brand Tutu du Monde, known for its signature sequined tutus. Mother to daughter Alyna, Rembeck shares her own tempestuous experience, reflecting on the joys of an unexpected pregnancy and the importance of trusting your instincts.
I was a late bloomer and never envisioned that I would become a mother. My pregnancy was an 'accident' which turned out to be the best thing that ever happened to me. It made me a better person by putting my own needs into perspective and shifting my priorities.
Fortunately, my pregnancy journey was largely uncomplicated, until the very end that is. It was a swelteringly hot summer in Australia and my feet were permanently swollen which meant I spent most of my time with my feet up or in buckets of ice to try and keep cool. I also had to come to terms with suddenly having (big) boobs. If I ever had fantasies of having big breasts, I got my trial run but was happy to go back to my naturally smaller size afterwards.
I can't remember feeling much pressure during my actual pregnancy, but I definitely felt it in the early stages of motherhood. There seemed to be the mothers that did everything perfectly and I certainly wasn't one of them. With both me and my husband's family living overseas, we had little support, which was very hard, especially when you come face to face with a situation that no one has prepared you for. Sometimes you just have to wing it and you'll get there in the end. 'The Contented Baby' by Gina Ford was my bible during those early days of motherhood.
For me, the first year after giving birth was the most demanding, both physically and mentally. I found a new respect for ALL mothers; it truly is the hardest job there is. It was such a radical change from my pre-baby life, which was always very career focused, that it took me a while to come to terms with the massive changes and responsibilities that come with being a mother. I was lucky enough to take nine months off and was able to focus on domestic duties and childcare without having to worry about working as well. However, once I went back to work, the juggle and struggle was real, although I remember this time fondly despite the challenges every new mother faces.
My advice to my younger self would be to not stress

so

much about doing things right, trust your instincts

and

know everything will work out.
I was determined (in the beginning) to not change my life as I knew it. The baby had to work around our life not the other way round. And while that was doable for some time, especially in Australia where most restaurants are very baby friendly, once you have a toddler who just wants to explore and create chaos, things definitely get trickier. This was when my husband and I really noticed the lack of support around us, as we had no family close by to help babysit.
My advice to my younger self would be to not stress so much about doing things right, trust your instincts and know everything will work out. Make the first three months about you and your baby. Get into a routine and do as little as possible to get a relaxed and settled baby. I didn't do this until three months in and it changed my life. Once we both had our routine, sleep (eventually) came, and everyone was so much happier.
My greatest challenge, by far, have been the teenage years. They're killing me slowly and they are far from over. Although I must add that I am very lucky, my daughter has always been quite mature and sensible for her age and we have a completely open, no topic is off-limit, relationship. She knows she can count on us even if she completely messes up - which hopefully won't happen! I would say that honesty, love and acceptance are my current weapons of choice when faced with a seemingly unconquerable challenge.
Liberty is always my first stop when in London. There are so many kids' brands on offer that I love, but a particular favourite is Liewood. If I am not in the kids' section, you will find me on the women's floors, most likely perusing the shoes.