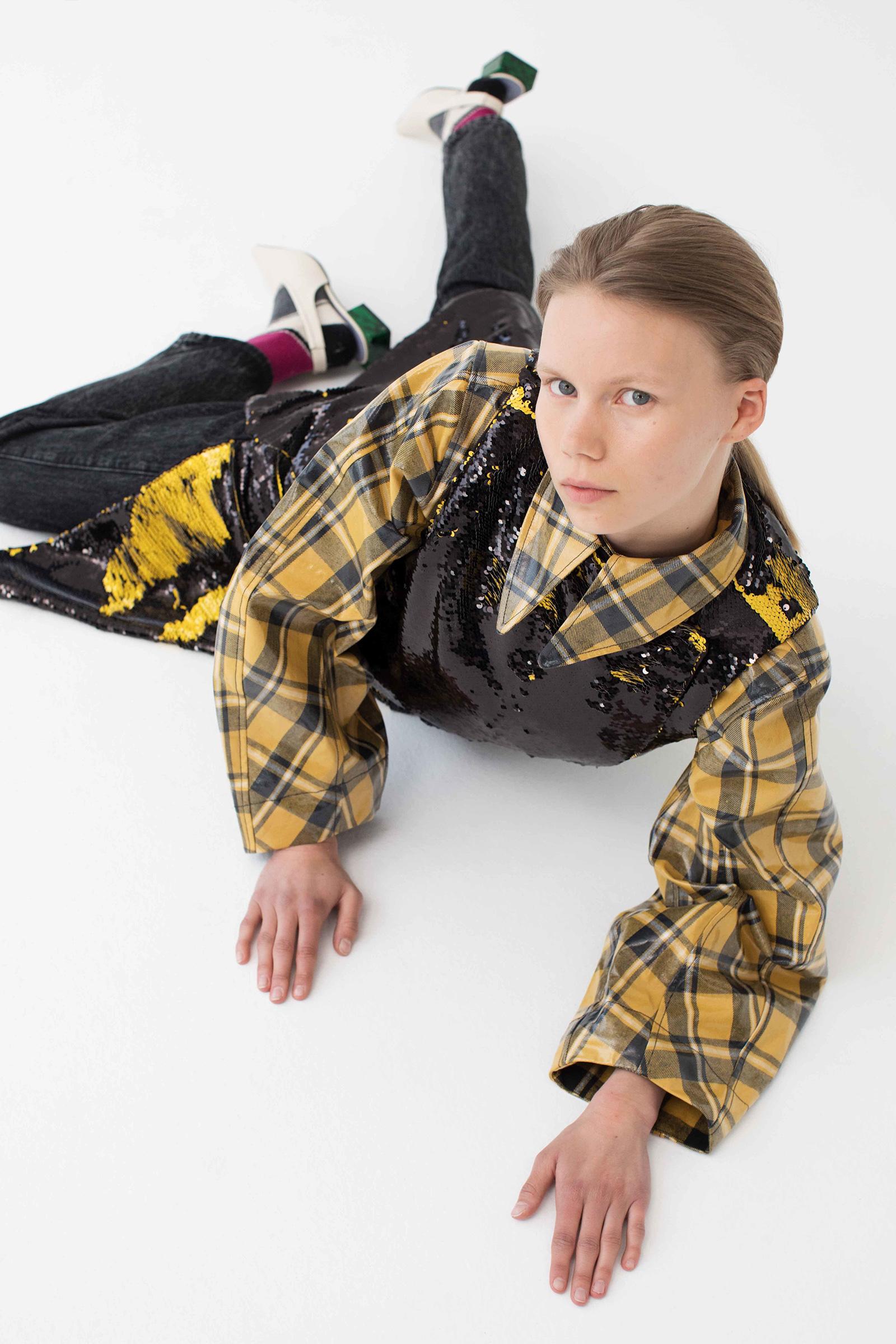 Ditte Reffstrup
The Original Ganni Girl
The brand's Creative Director talks inspiration, success, and what comes next
Shop Ganni
Copenghanen-based fashion label Ganni has steadily risen to cult status with its playful approach to the Scandinavian aesthetic, delivering effortlessly feminine pieces that brim with individuality. Leading the charge is Creative Director Ditte Reffstrup who, since taking ownership with husband Nicolaj Reffstrup in 2009, has caused Instagram hysteria with a slew of laid-back, spirited collections – underpinned by a celebration of the female. We sat down with Reffstrup to talk inspiration, success and what comes next.
What was your background prior to Ganni?
After graduating high school, I became trainee at the Danish fashion brand Bruuns Bazaar. I worked there within buying, retail and design, and I was stationed in Paris for a while. Later on I worked as a buyer at Pede & Stoffer and then at Flying A, both high profile fashion stores located in Copenhagen. In 2009 I became Creative Director at GANNI, and have loved it over since!
What attracted you to the brand?
Since I was young, I have always been into fashion and how you can express yourself through clothes, so to get the chance to become the creative director of a fashion brand was a dream come true. I wanted to create an alternative to the two predominant views of Scandinavian style at the time; boho chic and Scandi-minimalism. I didn't recognise myself, or my friends, in this, and with GANNI we got the opportunity to do it differently.
How has the brand evolved since you've been at the helm?
Over the last years we've grown substantially across a range of parameters - financially, product-wise and brand-wise, but more importantly, also mentally. In that sense, we're more confident as a brand and as a business. We dare to trust our guts to a much larger extent which in the end keeps the brand relevant and crisp. Also, because at the same time we strive to remain naive about what we do and have fun along the way.
Is this in line with your original vision?
When Nicolaj and I first started out, we didn't really have a master plan, however we always had a strong vision for GANNI. We wanted to create an international brand with Copenhagen as a starting point, and have fun with it, and this is very much in line with what we're doing today.
W

e like to

mix

things up a bit to

add

some

edge

and

unpredictability. I believe style

is all

about following

your

instincts

and not

taking

it too

seriously.
Is being a family-run business important to you?
For us being a family business is definitely a plus. We do what we are and complement each other. It also means that we can make our own decisions, go with our gut feeling, and grow at a natural pace. However, having said that, we also respect the fact that hardly any brand managers to build an international presence without backing or guidance.
How would you describe the Ganni aesthetic?
GANNI is playful, confident, sexy, and full of contrasts. We like to mix things up a bit to add some edge and unpredictability. I love to style a slip dress with a vintage tee, a feminine lace skirt with a chunky knit, or a maxi dress with my favourite sneakers. I believe style is all about following your instincts and not taking it too seriously.
Who is the Ganni girl?
We do not work with a specific woman in terms of age, occupation, and origin. We design for all kinds of women. However, the typical GANNI woman or girl feels comfortable in her own skin. Meaning that appearance starts with personality and attitude, not clothes per se. What makes her interesting and incredibly sexy is what she adds to the mix, and what makes her smile when she looks in the mirror.
Scandinavians

have

managed

to

democratise design

without

compromising quality

or

aesthetics

by

effortlessly combining looks

with

ability.
You're based in Copenhagen - are you influenced by your environment?
Yes, my Copenhagen-roots are essential in the design process. Scandinavians have managed to democratise design without compromising quality or aesthetics by effortlessly combining looks with ability. This design heritage is a premise we work with very seriously. Also, the girls of Copenhagen are truly inspiring to me. They have something effortless about them, which I always look to. Their sense of style derives from their way of living – they want to be able to bike around town all day, but also go dancing with their friends at night. I always try to have this versatility in mind when designing.
Where are your go-to places in the city?
The Royal Stables at Christiansborg located right in the centre of the city is a unique place to visit. There is a calm and very special atmosphere, which is a beautiful contrast to the hectic city life. I have always been a huge football fan, and I used to spend all my time playing football when I was a teenager. I actually dreamed about going pro one day. Even though I moved on to fashion, I'm still a big supporter, and I love going to the Copenhagen football stadium 'Parken' to watch the games. Last but not least, I can recommend the nightclub Nevermind. It's small and crowded, but they play the best music. I'm an avid dancer, and I love hitting the dance floor whenever I get the chance, it really unwinds me. Nowadays we usually end up at a kitchen party at a good friend's house, but if we go out, this is the place.
Where else do you look to for inspiration?
I can literally find inspiration everywhere. My mind is like a sponge, soaking up every impression on my way. I can find inspiration in music, movies, from the art scene, or from simply walking around Copenhagen and watching people going about their day. However, travelling always gets my mind going and I try to travel at least once every season with my design team - often to London, New York, Paris or Tokyo. These trips are essential for our design process.
Are there challenges that come with being a husband and wife team?
We're a great team, and we love working together. We try to be aware of keeping personal and business matters separated but hey, we are only humans and sometimes things get mixed up and we argue or stress out, but then we sort it out like everybody else. All in all our marriage has been strengthening to our business and vice versa. Nicolaj is my rock, and he keeps me grounded. And I keep him on his toes. His dancing toes!
Can you describe a typical working day?
No two days are really the same for me, but I always try to start the day off by having breakfast with my family. Then I take my kids to school on our Christiania bike, and go straight to the office. I like to have a morning cortado with my team, and the rest of the day I'm in and out of meetings, brainstorming on new collections, deciding on new store interior, working on upcoming fashion shows or campaigns. Everyday something new is happening.
How involved are you in the creation of the collections?
I'm very much involved in all aspects of the collections, and to be honest this is actually a bit of a challenge when you're growing as a company. I'm so involved and I always want to do more and do it better, which can be quite stressful. However, I'm one of the lucky ones, who actually really love what they're doing, and once I get in the zone with my team, it's like I lose sense of time, and I love every minute of it.
What's next for the brand?
Staying true to what we've been doing so far! Whatever that translates into.
Can you share a Liberty memory?
My sister used to live in London when I was a teenager, and I spent as much time as possible visiting her. I completely fell in love with the city and I'll never forget the first time she showed me Liberty. It was like a new world to me. At the time I was still living at home in Hirtshals, a gloomy fishing industry town in the Northern part of Denmark, and Liberty was this magical place filled with beautiful things - a complete contrast to my normal life. This definitely sparked my already growing interest in fashion.