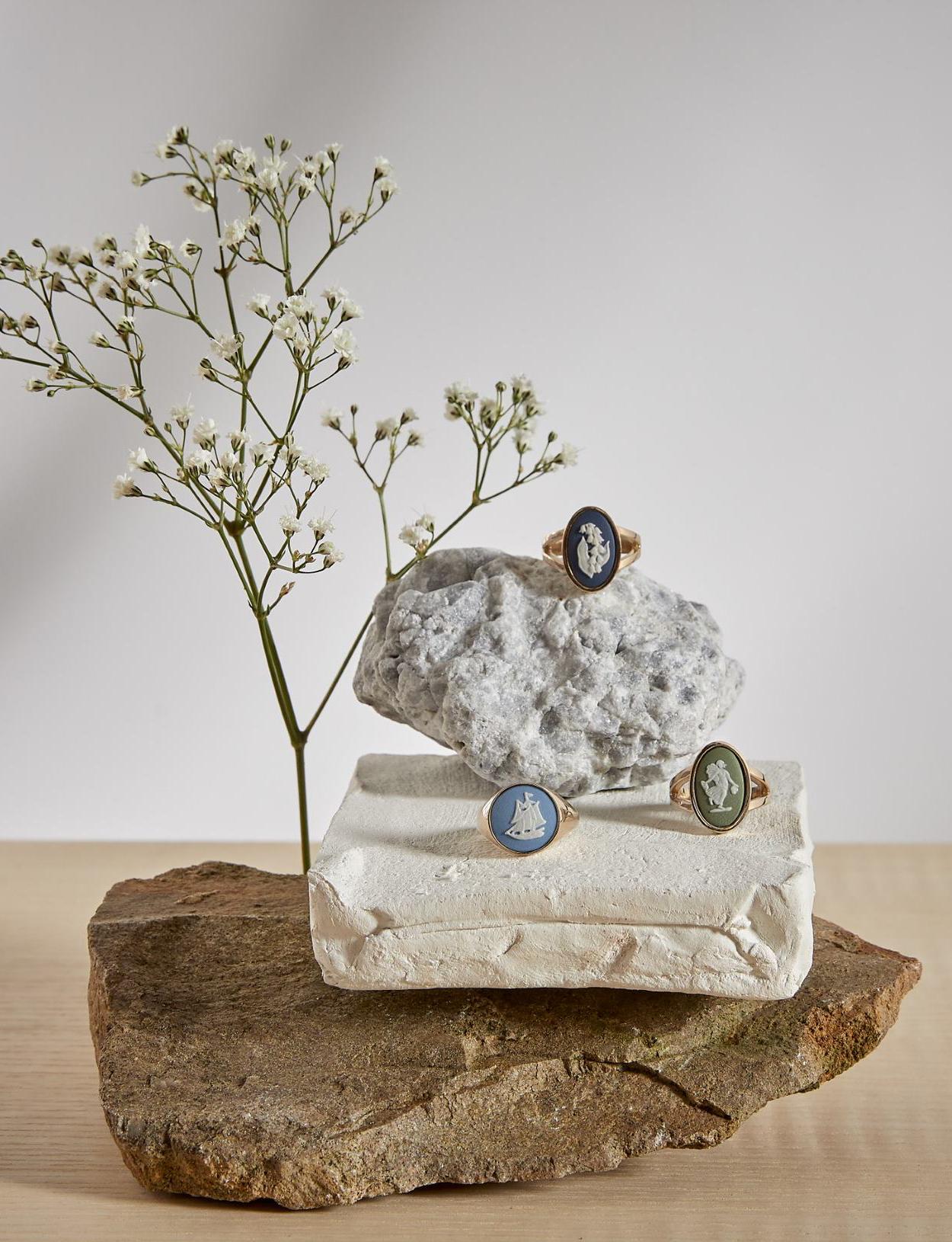 She kickstarted her career creating textiles and experimental showpieces for Alexander McQueen, Hussein Chalayan and Bella Freud in the early '90s, but Ferian founder Leonie Branston's own jewellery line takes inspiration from earlier eras. Launched in 2007, Ferian has since revived rare vintage Wedgewood cameos to create a collection of limited edition signet rings - each one a timeless heirloom piece crafted using metals from 80% recycled sources. Talking from her North London studio, Branston fills us in on her quest to transform and elevate styles from the past.
Why jewellery design?
I have loved jewellery and the way it can effortlessly transform, elevate and add character to its wearer since I was a child. Over the years, I have collected various treasures (I also have a weakness for watches) but found it increasingly hard to find exactly the right piece. It's rewarding to design objects that are not as transient as clothes and will have a life span beyond their purchaser.
How would you describe the aesthetic of your jewellery? Does it sit back to your own?
Timeless, considered, symbolic and effortlessly chic. I've always been a collector of clothes and objects, which is part hobby and part the essential reference library of a designer. I am attracted to pieces from different eras, but my taste is unified by quality of design and make. With its elegant lines, Georgian style can be seen reflected in mid-century and contemporary design, whilst the Victorians pioneered incredible craft and advances in manufacturing – Wedgwood being a prime example.
What did you learn from your time at major brands such as Alexander McQueen?
I feel privileged to have worked with some rare talents. Lee [Mcqueen] was very young when I worked for him and operating out of a basement studio on Elizabeth Street near Victoria, London. I'd take up my swatches and he would sketch out how he wanted the garment – his approach really opened my mind and gave me confidence in my own aesthetic. Lee had incredible vision that went beyond clothes – he understood the context of a garment was as important as the item. Hussein, I regard as the talent of the '90s, he was so imaginative but knew how to edit his ideas and imbibe clothes with meaningful theatre. London was very creative in the '90s, but New York taught me discipline – something I really needed to learn! I hope I manage to combine both.
How did your own line come to fruition?
Ferian originally launched as a limited-edition bag collection. The buckles and hardware are handmade by jewellery casters. When I saw their skill, I recognised the opportunity to expand into jewellery.
"I

t's

fascinating

how

jewellery

tracks

civilisation's developments, values

and

rituals."
Can you tell us about your creative process?
Ferian pieces often have a traditional classical reference but I think about how to make them feel modern yet timeless. I start by sketching the pieces, then roughly model them in clay to inform the sense of scale and proportion. Sometimes I might sketch the 'woman' to give a sense of attitude and character. The drawings and models are then interpreted by a 3D modelling expert and finally cast in silver. This gives me an opportunity to fine-tune the design and test its wearability. I sleep in my jewellery and rarely take my rings off to bathe or swim, so they need to be quite hardy and comfortable. Once I am satisfied with the design (I normally make about three prototypes) it goes into limited-edition production runs. I'm currently working on a collection of 'secrets' which have concealed precision mechanisms which are taking a long time to perfect.
How do you choose and where do source your materials?
Ferian jewellery is mainly gold with some pieces in silver and brass. Everything is made in England. The metal is mostly recycled as sustainability is an important part of the brand. The Wedgwood cameos are scarce vintage pieces that date from the 1950s-1980s. Sadly, they are no longer being produced and the Stoke on Trent pottery is now a museum. I love Wedgwood – the incredible skill and originality deserves to be reframed for a modern audience.
Ferian's modest contribution to keeping British craft alive is not only good for the local economy but also eliminates airmiles and ensures we can be totally traceable. I personally know all our craftspeople and regulary visit their work rooms by bike. At the moment, I'm working with one of the last enamellers in Britain on a new collecton.
Why did you choose to stock your brand at Liberty?
Liberty stands for the best in British craft, taste and design – the Liberty building is one of the icons of London and the originator of the luxury lifestyle retail experience. Like many people, visiting Liberty as a child was a magical unforgettable experience and I feel thrilled to be included in its curation.
Does London influence your designs?
I've travelled a lot but to me London is unsurpassed for its visual heritage. We have incredible free museums, beautiful parks and a legacy of non-prescriptive, idiosyncratic style. I like things to be practical as well as beautiful; I always cycle around London wearing lots of jewellery! One of my favourite routes is to St Paul's where the Assay office for hallmarking has been situated for close to 500 years. The combination of the solid architecture, palpable heritage and quality materials combined with decorative elements is very much Ferian style.
Where else do you look for inspiration?
I love looking at museum archives. It's fascinating how jewellery tracks civilisation's developments, values and rituals. The British museum some years ago had exhibits from the Scythian people with jewellery that could be mistaken for contemporary designs. I like producing something that will retain meaning and will exist for millenniums. Symbolism in art and literature is of interest to me and Ferian jewellery aims to discreetly communicate a silent message and a sense of permanence.