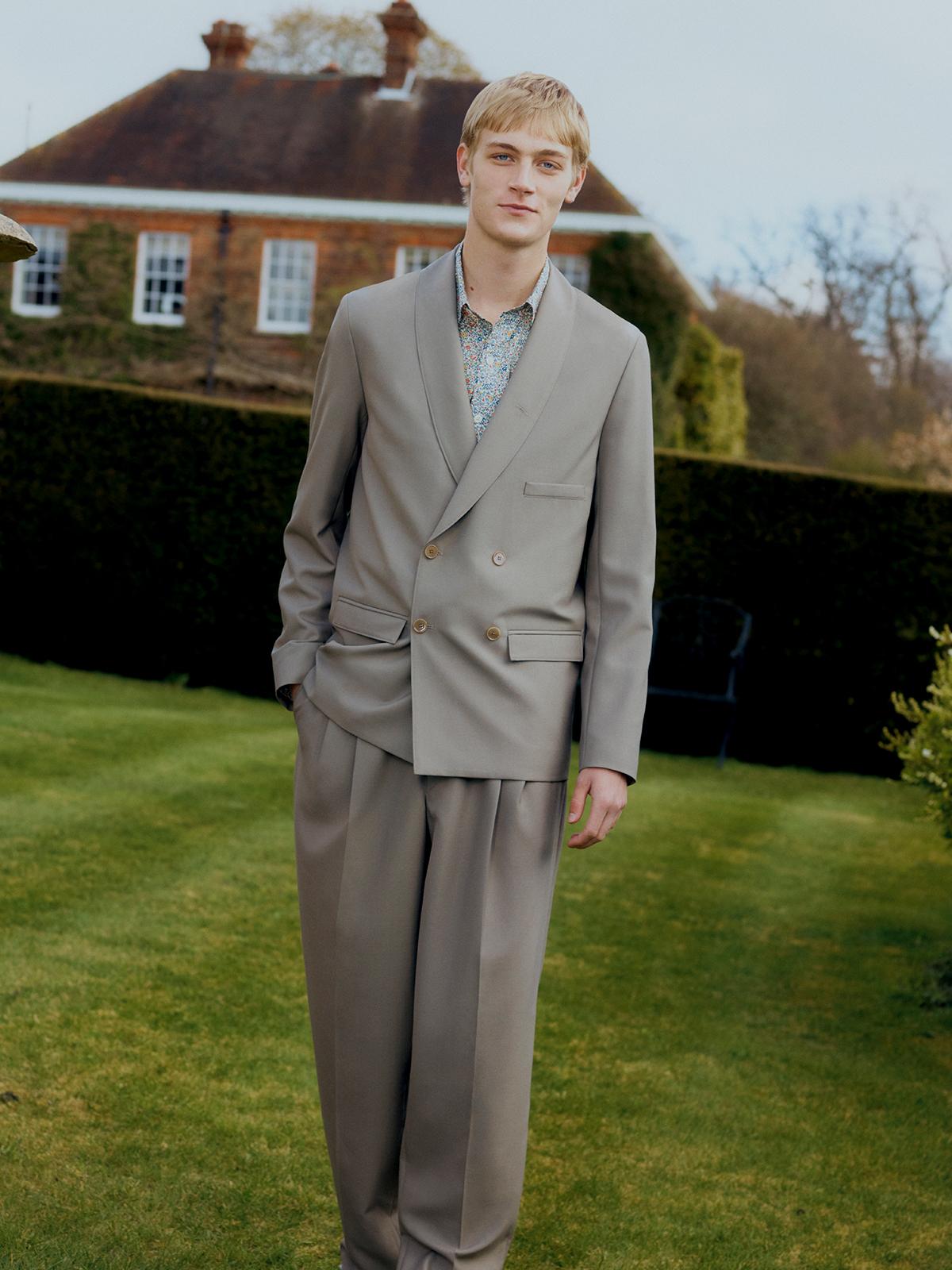 Something New, Something Blue
The Wedding Guest
Ding dong! The bells are going to chime - everyone's favourite summer event makes its joyous return
Shop Occasionwear
Wedding season is upon us and our favourite big name designers and indie labels have been let loose. Summer arrives and with it comes big, breezy silhouettes and untamed colour palettes from our forever-favourite fashion houses and newly-discovered, cult labels. This event season think island hues, wallpaper prints and power suits for playtime - see you on the dancefloor.
The '80s suit is back. Lemaire's take on the item everyone threw out in the '90s makes a persuasive case for going double-breasted and oversized. The slouchy fit brings a slight streetwear feel, making your latest trainer purchase the only accessory you need.
Acne Studios' clever cuts can persuade us to wear anything so, this season, mustard corduroy it is. Paired with Liberty Fabrics prints, this look is a contemporary take on '70s flamboyance that is perfect for the summer wedding guest who wants to be noticed – just add aviators.
Dries Van Noten picks up the old adage for 'something blue' with this elegant sky blue pairing. Ready for a warm wedding weekend spent poolside or on the coast, we'd add minimalist sandals and a pale yellow shirt, or style it like the brand and pair with the summer collection's most flamboyant prints.
Preppy pinstripes are a failsafe look for a summer wedding. Maison Labiche bring us preppy with an edge with this patchwork, candy striped shirt embroidered with one of its signature slogans. Reading 'THE DUDE', it's a subtle way to tell people you're ready for whatever the day may throw at you.
Dries Van Noten does fits like no other. This caramel-hued, double-breasted suit highlights the designer's easy formality and unique brand of cool. Do your hair, add a white t-shirt and let Dries Van Noten's immaculate tailoring do the talking.
For the wedding guests who wants to stand out, Japanese label Auralee has your back. Designed by fabric expert (and Auralee founder) Ryota Iwai, this jacket and trouser combo is crafted in vivid raspberry linen-cotton with a woven, textured handle – a highly tactile piece that won't go unnoticed on the dancefloor.