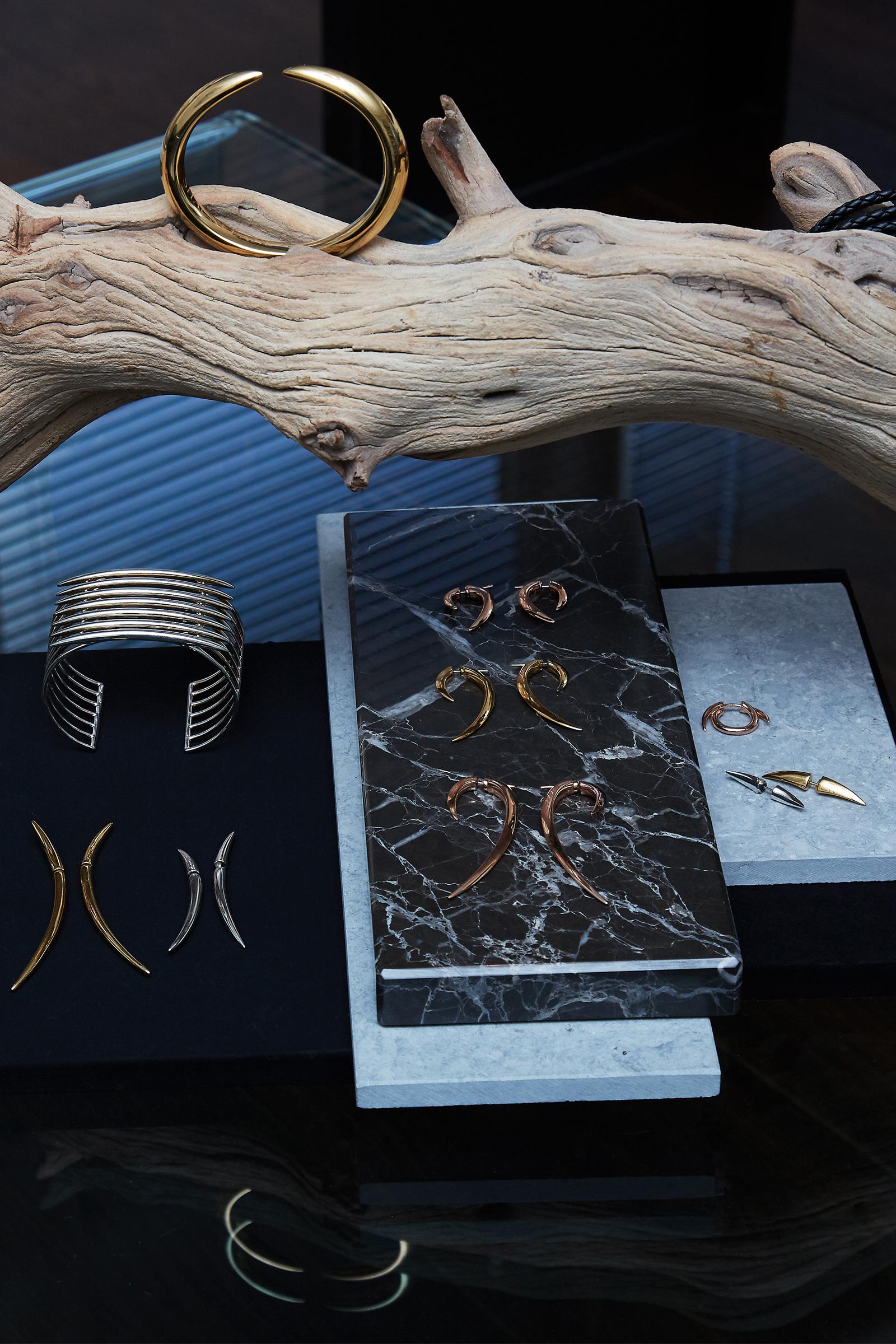 In the Studio
Shaun Leane
The renowned British jewellery designer reveals all on his boundary-pushing creations and collaborating with Alexander McQueen
Shop Shaun Leane
A longtime collaborator of the late Alexander McQueen, Shaun Leane's innovative jewellery inspired a new wave of designers when it hit runways in '92. A classically trained goldsmith who cut his teeth in London's Hatton Garden, Leane's attention to detail and sheer extravagance set a new, extraordinary standard – and his sculptural necklaces, earrings, headpieces and body adornments went on to accessorise McQueen's most striking shows. Today, the British designer's elaborate creations are recognised the world over – and his wearable hook and talon earrings have amassed a cult following. As Leane's cutting-edge pieces touch down in-store at Liberty, we visited his neighboring Mayfair studio to see the artist at work.
Why jewellery design?
From a young age, I knew I wanted to work within fashion. Before I left school aged 15, I was encouraged to take a traditional apprenticeship in Hatton Garden with a company who produced beautiful diamond pieces for the high-end jewellers on Bond Street. I loved the idea that jewellery will remain and be treasured forever. There is something very romantic about that, the stories and sentiment behind a piece; to know that it has been greatly treasured and loved through generations.
Where did you learn your craft?
I attended Kingsway Princeton College and took a Foundation Course in Jewellery Design and Making. It was here that I particularly fell in love with the process of crafting. It was the first time in my education I felt I had found something that gained my devoted attention. That beauty in seeing something you had designed and envisaged then being formed and crafted by my own hands was so rewarding. Then my journey began and even at college I wanted to explore different possibilities of design and technique to push the boundaries of my designs.
What's your design ethos?
Our aspiration is to create something new, precious and eternal - we believe in designing beautiful objet d'art with longevity, at the same time, distinctive and with a sense of timeless elegance.
I

do have a

love

of

diamonds

for

their brilliance

and

history. T

he

youngest diamond

is

900 million years old. T

o be able to

wear

a

part

of the

earth's history such

as this is

remarkable.
How would you describe the aesthetic of your jewellery?
Shaun Leane designs all explore recurring themes of linear shapes, twisting forms, flowing movement, softness and elegant curves.
How long have been at your current studio?
We have been based in Mayfair just over three years and it has been fantastic. Having all departments in one building means the pieces can be designed and crafted all within the House. Plus, the location is perfect for our bespoke clients.
You were previously in Hatton Garden; did this influence the way you create?
I worked for a small company called 'English Traditional Jewellery' alongside two masters, Brian Joslin and Richard Bullock. They were brilliant. I sat in between the two of them and they taught me everything I could ever possibly need to know about goldsmithing. One taught me technique and attention to detail, and the other taught me speed. I had the best of both worlds and remained working there for 13 years. I learnt every element which included working on diamond solitaires and tiaras. I also restored some of the most beautiful antique jewels; from Art Deco to Art Nouveau, Victorian to Edwardian.
How many people are in your team today?
Currently we have six people in workshop and design studio including myself. We also have 11 people based in Head Office and five people in our retail division.
I

t is

about creating

a

new genre

of

jewellery

that

taps

into the

emotive meaning

and

history

of

jewellery

and at the

same time, breaking entrenched traditions

to

create designs

that are

relevant

to

today's world.
Can you tell us about your creative process?
With Shaun Leane, it is about creating a new genre of jewellery that taps into the emotive meaning and history of jewellery and at the same time, breaking entrenched traditions to create designs that are relevant to today's world. Coming from a goldsmithing background, we celebrate our heritage of using traditional jewellery techniques, while constantly pushing the boundaries of luxury jewellery design.
What's your favourite part?
My favourite part is thinking of the concept and then drawing it. This starts the process and then I am able to see my idea made into 3D object and take on its own personality. To this day, it still fills me with excitement.
What are your main sources of inspiration?
As a designer, your eyes are always searching for inspiration; it is all around us. A huge influence for the House is nature – its fragility and strength, its organic forms and details which allow it to be beautifully portrayed and preserved in an array of metals and gemstones. I feel that art, fashion, architecture, and all elements of design feed each other into my designs. In particular I find the sentiment and romance in literature and poetry to be very inspiring. These ideas are reflected in our collections; combining traditional jewellery craftsmanship with avant-garde ideas to create jewellery which symbolises modern romance.
What are your favourite materials to work with?
The beauty of our House is that we use an array of materials from diamonds to crystal, platinum to aluminium, and we will always use a material which will complement the design and help enhance the concept of the piece. However, I do have a love of diamonds for their brilliance and history. The youngest diamond is 900 million years old. To be able to wear a part of the earth's history such as this is remarkable.
Where do you source them?
Shaun Leane only sells jewellery made with precious or semi-precious gemstones. All of our diamonds are from traceable sources. We use Conflict Free Diamonds who are part of The Kimberley Process, who committed to remove conflict diamonds from the global supply chain. Do you have a particular person in mind when conceiving your ideas? My collector is a person who has respect for fine detailed craftsmanship and who likes to wear pieces that make them feel strong, confident and sexy.
Lee McQueen

was, and will

always

be

, one

of the

main influences

on my

career. F

rom a

classically trained goldsmith

he

challenged

me to

think outside

of the

box

and

apply

my

skills

to a

different medium

to

create

the

pieces

we did

."
You had a long-standing collaboration with Alexander McQueen. How did it initially come about?
Lee and I became friends through a mutual friend Simon Unglus who was on the on the same MA course at Central St Martins as Lee. I had just finished my apprenticeship as a fine goldsmith in Hatton Garden and Lee would often visit my atelier. He was fascinated by my skill and attention to detail, not to mention the beautiful materials I was working with. It was here where Lee then asked if I would create jewels for his catwalk shows. At first, this was a very daunting task as I was fine goldsmith and conditioned that way. I found it hard to imagine how I could create large pieces for the show in the materials I was used to working in. However, Lee encouraged me to apply my skills to other materials and he helped change my thought process, explore different materials and methods to create the pieces for the show. This was a very exciting and challenging time, Lee had given me a creative platform where there were no boundaries, where I could experiment and explore and push my design and craft skill to the ultimate.
Has this had an impact on your subsequent work?
Lee McQueen was, and will always be, one of the main influences on my career. From a classically trained goldsmith he challenged me to think outside of the box and apply my skills to a different medium to create the pieces we did. He gave me a creative platform on which there were no boundaries. It allowed me to use my craft as a vehicle to express my ideas and to grow to be the designer I am today.
From those collaborations, what were your favourite pieces?
The Tusk earring from the Hunger S/S 1996 to the Star and Moon headdress for 'In Memory of Elizabeth Howe'.
Are there any other designers you would like to work with?
JAR. I really appreciate his designs and diverse use of materials. He will use whatever materials necessary to achieve the design's greatest capacity, as do I.
T

o have our

work

in

store

at

Liberty

is an

honour

and the

perfect fit

as we are

British designed

and

British made. T

o me, it's a

perfect marriage!
What has been the highlight of your career so far?
Seeing my creations hit the catwalk with Lee Alexander McQueen were always moments of pride and excitement. When we won our first award in 2004 for Jewellery Designer of the Year, this was a very proud moment for my team and I, to feel our vision was appreciated and admired. Winning International Jewellery Designer of the Year at the Andrea Palladio Awards in 2015 still continues to fill me with pride. Every time we create a piece that fulfils our vision and evolves the house further with the aspiration to always create the new and the beautiful, is always a landmark in my career.
Why launch at Liberty?
I always shop at Liberty. It's quintessentially British and the selection of products is always inspiring. Even in a busy period there is a calmness to the store which always makes my shopping experience pleasurable. To have our work in store at Liberty is an honour and the perfect fit as we are British designed and British made. To me, it's a perfect marriage!
Shop Shaun Leane